Let's cut right to the chase: you don't get a nickname like "Live Music Capital of the World®" without having some serious chops to back it up. Sure, festivals like South by Southwest or institutions such as Austin City Limits are prime examples of why the Texas state capital deserves this accolade, but Austin's devotion to live music goes much deeper than that. All of which means that no visit to the city is complete without checking out the musical action. While you'll find great bands playing in bars every night of the week from East Austin to South Lamar, to really get a taste of the local scene, we encourage you to get a little, well, weirder, and explore some of the most Austin ways to experience music. Because trust us… you're not going to be able to belt out Whitney Houston lyrics in a heavy metal church in any other city.
Be greeted by live music at the airport
In every other city, travelers are welcomed with a playlist over the PA system. In Austin, your live music immersion begins as soon as you deplane. On weekday afternoons, several shops and restaurants at Austin's airport host live bands, and most of the musicians are local acts. Take, for instance, the Waterloo Records outpost at Gate 15; it reps Austin City Limits and features bands like the aptly-named alt-country group Airport Boulevard. At other gates, the performances include everything from R&B to country to folk and even Brazilian jazz. It's all to let visitors know that they are, in fact, in the "Live Music Capital of The World" -- and it makes hanging at the airport before your flight just a tad more enjoyable. (Because Texans are pretty accommodating people, y'all.)
Nerd out to throwback covers in a downtown courtyard
In Austin, you'll find a live band playing in nearly every bar, but also an impressive number of outdoor venues. Cedar Street Courtyard stands out thanks to its ivy-covered walls, festive lighting, and the fact that it's been booking live music every night of the week (and slinging tequila cocktails, to boot) for the past 15 years. Set in a sunken patio in an alleyway off 4th Street, its prime downtown location near the action of 6th Street and the Warehouse District makes it a key stop to see national acts during SXSW. If you're heading to Austin any other time of the year, though, you'll find throwback parties here on the regular, with cover bands like The Spazmatics, Suede, SkyRocket!, and LC Rocks taking the stage to play old favorites from the '70s, '80s, and '90s. So pack your leg warmers, bell bottoms, or grunge flannel, because it won't be out of place here.
See a live show with a side of Texas brisket
You're in Austin, so if you don't eat half your weight in brisket before the trip is over, you've done it wrong. To make sure that happens, do the two most Austin things imaginable at once: see a live show and get your barbecue on at the famous Stubb's. When Stubb's opened its original location in Lubbock, Texas, in the '60s, it was a high-profile pit stop for artists like Willie Nelson, Johnny Cash, and George Thorogood -- who would literally sing for their supper. Even though that original spot has closed, the downtown Austin location continues that tradition, with live music nearly every night of the week. Acts range from a weekly Gospel brunch featuring local bands on the indoor stage to big names (Miguel, Matt and Kim) playing the outdoor Waller Creek Amphitheater. The best part, though, is that all the meat is smoked low and slow over Texas post oak -- and singing for it is not required (though we won't stop you).
Dance to music videos in a historic movie theater
You may have heard of Alamo Drafthouse. You may even have one in your city. But no one does the cinematic experience quite like Austin, where the original Alamo opened in 1997. Today, the downtown location is on E. 6th Street (a must-hit drag for any Austin visitor) in the former Ritz Theatre, which dates back to 1929. That theater, and a few other Alamos around Austin (the Slaughter Lane and Lakeline locations, for example), host dance parties themed around artists or years (Beyoncé, hits of 1998) where music videos get projected on the huge screens, turning the auditorium into a giant dance club. Plus, each screening features specially-crafted cocktails and props to match the theme. It may not be live music, but it's probably the only time it will be acceptable to literally dance down movie theater aisles.
Watch bands play under hundreds of Christmas lights
Spider House is an Austin institution thanks to its reputation as the favored meetup spot of locals for everything from Tinder coffee dates to checking out slam poetry. Since opening more than 20 years ago, Spider House has expanded from a simple coffee shop/bar into a music venue, food truck courtyard, and community gathering space. Beyond the main Spider House Cafe (set inside a potentially-haunted,1930s-era house), there's both an outdoor stage, set under a chandelier in the backyard patio (which is famously strug with Christmas lights year-round), and the indoor Spider House Ballroom, where nightly events include album release shows and burlesque performances.
Sample dozens of Texas craft beers while you rock out
When you're checking out live music, what's on tap is almost as important as who's on the lineup. Craft Pride is frequently named one of the best beer bars in not just the Lone Star State, but the whole country. Besides offering a Texas-only beer (and wine) list that's about the size of an East Coast diner menu, their backyard patio on Rainey Street is one of the neighborhood's prime spots to see live music (on a strip that is not lacking for options) four days a week. You'll catch folk artists on Mondays, while a schedule of acts including blues, funk, and country occupy the stage nearly all day on Saturdays. There's also a weekly showcase for their resident artist on Thursdays, plus live music during Sunday brunch. Lest you drink (or dance) on an empty stomach, the on-site food trailer Via 313 dishes out Detroit-style pizza slices seven nights a week.
Play a game of Chicken Shit Bingo at a honky-tonk
What's "Chicken Shit Bingo," you ask? For those unaccustomed (read: Northerners), it's the Austin bingo game that involves live chickens and... well, you can probably figure out the rest. If you're going to play, you should really do it in the honky tonk that's been around for more than four decades: The Little Longhorn Saloon. Here, they have both kinds of music -- country and western (as well as folk, rockabilly, and rock 'n' roll) -- and feature more than 600 bands annually, with at least 10 performing each week. For bingo, though, you need to come on Sundays from 4-8pm -- and be sure to take advantage of the free hot dogs and $2 beer special that goes along with it.
Sing karaoke in the Twin Peaks Black Lodge
The Highball is not your average karaoke bar. Besides a song list that's nearly 14,000 tunes strong (including 24 Whitney Houston jams to test your skills), Highball boasts seven private karaoke rooms created by Space Warp Designs, a local firm that takes the "Keep Austin Weird" motto to a whole other level. Case in point: a room modeled after the Black Lodge from Twin Peaks. Not into '90s murder mysteries and "damn fine" cups of coffee? There's also a room that looks like an 8-bit video game, one with a heavy metal church theme, and another designed to make you feel like you're lost in space. Plus, their menu features seasonally-crafted liquid courage (read: cocktails), too.
Take a dip in Barton Springs, then listen to live music in a pecan grove
If you're traveling to Austin, you've probably heard of Barton Springs, the naturally-fed swimming pool surrounded by the city's best parkland. In the sweltering Texas heat, it beckons everyone (from hippies to tourists to dudes in 10-gallon hats) to cool off. So, it's no surprise that there's live music to be found around here, too -- and we're not talking about those people with the ukuleles. Just five minutes up the road is Shady Grove, a favored post-swim spot for that classic Texas dish, Frito Pie, and home to radio station KGSR's free, weekly "Unplugged at The Grove" concert series. A tradition since '92, this Thursday evening event (running April to September) features live bands in an outdoor space lined by Shady Grove's pecan trees. Headliners range from soul and alternative punk groups to the Dirty River Boys, aka the group the Dallas Observer called Texas' best live country band -- which we imagine is a pretty tight competition in these parts.
Experience two legends of Austin music history in one block
South Congress Avenue is home to two music venues rooted in Austin's beginnings as the Live Music Capital of the World®: The Continental Club and C-Boy's Heart & Soul. Continental Club, which opened in 1955, has seen everyone from Stevie Ray Vaughn to Robert Plant to The Replacements grace its stage in the last six decades. Today, you'll find multiple acts playing the main stage every night of the week, but for a more intimate atmosphere, check out the Continental Gallery (also on site), where jazz, soul, and acoustic singer-songwriters perform in a speakeasy-like setting. While C-Boy's the venue has only been around since 2014 (it's owned by the same folks behind the Continental Club), its name is a tribute to Louis Charles "C-Boy" Parks, manager of the legendary Rome Inn -- another key venue that helped establish Austin's music scene in the late '70s. Here, you can listen to live blues, soul, and R&B acts, then grab a drink in the Jade Room upstairs -- a hidden lounge that's modeled after 1950s Japanese GI bars.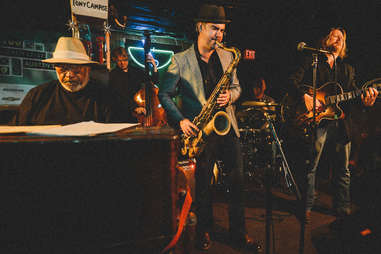 Listen to smooth jazz in an underground dive bar
Austin loves its dive bars -- so it's not surprising that the best place to hear horns and cool jazz sets is a place with dollar bills plastered to the walls. Elephant Room is an intimate, hard-to-find venue located in a basement on Congress Avenue, with a nationally-known reputation for great jazz. Again, you'll find someone performing nearly every night of the week here -- including both local and touring artists. Oh, and pro tip: beer and wine are for sale, but you'll have to bring your own liquor. (The bar does have mixers for purchase, though.) If you get hungry, the restaurant above, Swift's Attic, is a farm-to-table spot that's perfect for a date -- making this the ideal dinner-and-a-show pairing.
See bands under the big top… sort of
Speaking of dive bars, Carousel Lounge is one of Austin's originals; it's been open on the city's east side since the '60s. But this isn't your run-of-the-mill dive -- the space is decorated like a big top circus, complete with blue and white striped walls, a giant pink elephant on the stage, and a makeshift carousel behind the bar. (Which, of course, is cash-only. We said it was a dive.) For music, there's a packed schedule of shows from local acts (as well as the occasional theatrical performance) in genres that range from old-school funk and soul to peaceful, Sunday-afternoon acoustic guitar sets.