10 Perfect Summer Road Trips When You Need to Escape Austin
Get away without going far.
Yes, the city has gone nuts over this month's Virgin Atlantic launch at AUS, but it's not all about international travel just yet, folks. For starters, we still have to test to come back (do you really want to risk getting stuck in a sad hotel room for days?), and well, inflation is putting a serious damper on many big vacation plans. So, what's the solution for that big summer vacation? Road trips. We're fortunate that Austin is slap bang in the middle of it all, so a visit to a fun-filled weekend getaway with adventure is never too far away. Whether you're into tubing alongside Texas Hill Country's finest, feasting on state-famous barbecue, or glamping with a herd of rescue animals; you need only a tank of gas (unless you're down with the EV crowd), a cooler, and a bottle of sunscreen. Here are our picks of nearby road trips this summer if you're looking to escape Austin.
Distance from Austin: 48 miles southwest; 50-minute drive
With Hill Country charm, historic German roots, and natural beauty, New Braunfels is a solid pick for a day trip or weekend away from Austin. Summers are most popular for tubing, and year-round you'll want to head downtown for kolaches, pretzels, and strudels at Naegelin's Bakery, the oldest bakery in Texas, before browsing 16,000 square feet of books, records, furniture, glassware, and jewelry at the Downtown Antique Mall. After that, you can practice your "prost!" at Krause's Cafe, which in addition to traditional German eats, has an enormous Biergarten lined with communal tables and over 60 Texan and German beers on tap. On the edge of town, swing by Gruene (pronounced "green"), where live music at the historic Gruene Hall is scheduled almost daily.
Distance from Austin: 72 miles west; 1.5 hours drive
Named after German nobleman Jakob Luckenbach, who helped settle the Texas Hill Country, Luckenbach is commonly known as a ghost town due to its deep western roots and tiny population that hovers around a dozen residents. But don't be fooled by size—the town has attracted and swooned big-name country stars who've traveled all the way to perform, from Willie Nelson to Waylon Jennings, the latter of which coined the motto "Everybody's Somebody in Luckenbach." Today the adorable town remains a busy weekend draw. There are just two working buildings; a dance hall, where events are scheduled on most days, and a saloon meets general store that's more of a souvenir shop, where you can purchase a t-shirt emblazoned with Jenning's famed slogan. When you're done, Fredericksburg is just a 15-minute drive away.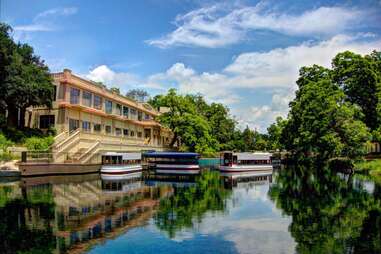 Distance from Austin: 31 miles south; 48 minutes drive
Need to beat the heat? Retail therapy may be your answer. San Marcos is a mecca for hardcore shoppers year-round. Head to Tanger Outlets and San Marcos Premium Outlets for bargains on brands from Kate Spade to Nike and Disney, or if you have more cash to blow check out the neighboring complexes which carry discounted designers like Valentino and YSL. Shopping aside, there's a bunch of other things to do. The San Marcos River is good for tubing, paddle boarding, or a swim, but if you'd rather explore the river without getting wet, take a $10 glass boat tour from the Spring Lake Natural Area. Downtown is surprisingly bustling after dark when the nighttime revelers come out to play. Young sixth-streeters love Shade Rooftop Patio Bar, while queers and their pals party with delicious drag and karaoke at the Stonewall Warehouse.
Distance from Austin: 33 miles southeast; 45-minute drive
Bastrop is growing in popularity among Austinites, thanks to its easy access and slew of things to do which satisfy the whole family. For culture vultures, it's all about downtown. Main Street is lined with funky local stores and galleries like The Painted Porch and Monarch Art Gallery, which you could easily spend hours browsing. Stop at 602 Brewing for amazing craft beer on tap with lunch, and then venture inside a 1930s fire and police station to check out the Bastrop County Museum, a local institution dedicated to the town's beginnings as a German colony. For the outdoorsy set, Bastrop State Park is where to go to marvel at the towering Lost Pines—hike through them or zip over them, depending on your state of mind. Kids of all ages will get a kick out of Dinosaur Park, where exhibits feature life-size dinosaur replicas in a natural outdoor setting (wait till you get a load of Mr Brachiosaurus). It's as close to Jurassic Park as you'll get in Texas. Then kick things up a notch by peeping some modern-day monsters at the Texas Reptile Zoo, where you'll get up close and personal with 200 species and maybe even catch a feeding. Who would have thought a 45-minute drive could offer so much to do?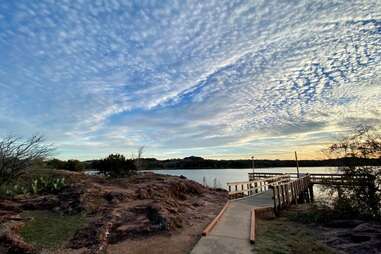 Distance from Austin: 46 miles northwest; 1-hour drive
Though Marble Falls is best known for ice skating and Christmas lights, summers offer an equally magical time. Factor in half a day to explore this lil' town. The Downtown District makes for a breezy summer stroll, complete with an all-day breakfast at the legendary Blue Bonnet Cafe that comes with all the pancakes and biscuits. In terms of outdoor draws, Inks Lake State Park remains one of Hill Country's sparkliest gems with shimmering blue waters set against a backdrop of multicolored rocks. Our favorite under-the-radar spot? Bay View Restaurant, with the best overlook of Hill Country in the state—enjoy a cocktail at sunset or join in on summer fun and games on the patio.
Distance from Austin: 102 miles north; 1.75-hour drive
If you're a regular Austin to Dallas commuter, then you know Waco as the halfway point along the drive or bus route. However, the town itself is worth a day of exploration. Soda-lovers should stop by the Dr Pepper Museum, the site where the fizzy refresher got its start. It spans three floors of fascinating exhibits plus soda fountains and a gift shop. Next, take your road sodas five minutes up the road to Cameron Park, one of the largest municipal parks in Texas, and crack them open by the Brazos River or under the towering trees on a mild winter's day. The Cameron Park Zoo is cute for the kiddos, but adults might prefer getting to know the mammoths who once roamed the area instead at the Waco Mammoth National Monument. The paleontological site was added to the NPS by President Obama in 2015, protecting and promoting the fossilized Ice Age remains. The wildlife experiences don't just end there. Close by, Blue Hills Ranch is a non-profit animal sanctuary, home to free-roaming bison, zebra, deer, and giraffe. You can even bottle-feed their baby residents and stay overnight in a cabin (with AC) to fully immersive yourselves. Finally, grab your souvenirs at Magnolia Market downtown before skedaddling back to the big city.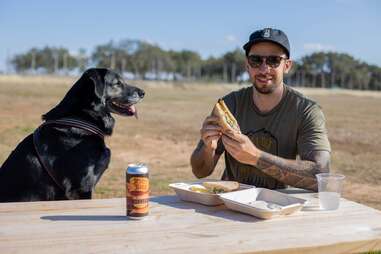 Distance from Austin: 24 miles west; 40-minute drive
Just a short jaunt outside of Austin, Dripping Springs is a boozy oasis home to some of the state's top breweries and distilleries. (Pro tip: Assign a DD.). Start at Jester King Brewery, take the tour or simply sample your way through their award-winning farmhouse ales under the shade of ancient live oak trees. Just down the road, you'll find gin and liqueur producers Revolution Spirits, dog-friendly booze emporium Treaty Oak Distillery, crafty outpost Last Stand Brewing, and Beerburg Brewing, a beer hall stocked with farm-to-table food offerings. If you want a one-stop-shop destination, Dripping Springs Distilling is tough to beat. The first licensed distillery in all of Texas Hill Country, they produce artisanal vodka, gin, and bourbon in small batches using limestone-filtered spring water native to the region. Continue the party at Dreamland where a taproom awaits, then go work off those liquid calories by enjoying onsite mini-golf, pickleball, art and sculpture, live music, and more.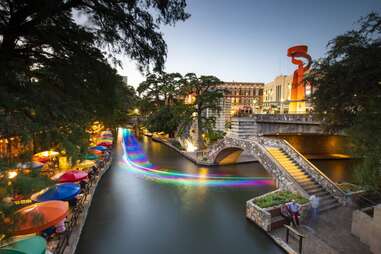 Distance from Austin: 80 miles southwest; 1.25-hour drive
San Antonio has always been buzzing, but over the last decade the city has undergone a seriously stylish glow-up. Spend a weekend exploring the city's offerings with a stay at the new Canopy by Hilton San Antonio Riverwalk, which, as you'll guess by name, sits pretty along the famed waters. Check out two awesome exhibits starting with the San Antonio Museum of Art and followed by the funky immersive experience at Hopscotch. Then head to Pearl, a massive mixed-use space built using the historic bones of the former Pearl Brewery, for shopping, chowing down, or just hanging out and enjoying one of the spot's green spaces. Standout stops include Best Quality Daughter for char-siu served family-style, Cured for a wide selection of juicy meat, and The Bottling Department food hall's Caribbean specialist Mi Roti. Need a lie-down? Book a pamper session at the magical La Cantera Resort and Spa.
Distance from Austin: 33 miles south; 35-minute drive
Meat-lovers, behold Lockhart—AKA The Barbecue Capital of Texas—and consider making a pilgrimage to the town's many formidable 'cue destinations. Kreuz Market is enormous and stuck in time in the best way (just don't dare ask for a fork or sauce for your ribs). Pop over to Black's Barbecue, established back in 1932, for melt-in-your-mouth brisket then swing by Smitty's Market for juicy, coarse-ground sausage with just the right snap. Immerse yourself in Lockhart's boot-scootin' history with a visit to the Caldwell County Jail Museum (open weekends 1 pm - 5 pm), admire the architecture of the historic Dr. Eugene Clark Library, or peruse antiques at Fields Stables. Last but not least, Lockhart's walkable main square offers some great food and drink options, from unfussy, comforts at Commerce Cafe and beers from historic saloon The Pearl to Little Trouble, a hip speakeasy-style spot serving cocktails and a Texas-centric menu laced with Mexican and German influences.
Distance from Austin: 80 miles west; 1.5-hour drive
The charming village has something for everyone: German culture, natural attractions, and a boatload of locally produced wine. In fact, there are more than 50 wineries, vineyards, and tasting rooms scattered throughout the region. Kick things off at Ab Astris, a family-owned boutique winery that cranks out exceptional vintages using Texas-grown fruit. Meanwhile, Ranch Road 1 offers bike tours of the region for those itching to sweat it out between sips. Back downtown, hit up Main Street, a haven spanning 150 shops, art galleries, and boutiques, plus a vibrant and varied restaurant scene including culinary wonders like West End Pizza Company, Chase's Place Cocktails & Kitchen, Otto's German Bistro, and Granite House Lounge. On your way out of town, stop off for a hike up to the soaring summit of Enchanted Rock. The massive, otherworldly pink granite dome is said to be haunted by the spirits of Native Americans, who considered the site supernatural. Or you could also get your steps in the Vereins Kirche Museum at Marktplatz, a local landmark spotlighting the town's rich history.