The Definitive Guide to Doing Austin BBQ Right
Roll up your sleeves and put on your eating pants.
Paid Content For
It is public knowledge that Austin has changed a lot over the last few decades. Demographics have shifted and the skyline is almost unrecognizable from what it looked like just a couple of years ago. But no matter what changes, Austin is still a part of Texas , and therefore, has damn good barbecue. The tradition of smoking meat "low and slow," then devouring it by the pound, is linked to the state's identity like New York and pizza or Maine and lobster rolls.
Stepping into any city and trying to find the best version of its signature dish will always invite some trepidation. Someone new to town might be intimidated by the giant wood stacks and butcher-style counters. But the goal is simple: find a place that sells good smoked meats and eat it. No matter where you're at in your barbecue knowledge, however, we've put together a guide to ensure that you know where to go, what to order, and how to eat it.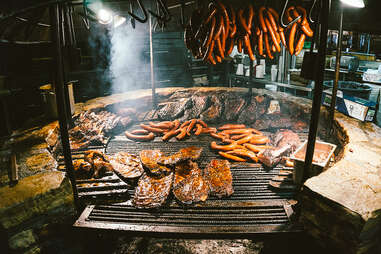 How to spot a legit joint
If you've never had half-decent barbecue, any three-meat plate might be life-changing. But all barbecue is not created equal. The first clue you're in a real place will be the smell. A crisp, smoky aroma, something between a backyard cookout and a walk through a forest, should immediately sink into your nostrils and stick to your clothing. Second, you should see a pile of wood and a hulking pit on display, front and center. The third is an entirely different aroma, that of a sweaty pitmaster walking past you in an apron stained with ash and meat juices. Fourth, there'll likely be a line. Fifth, at the front of that line will be a butcher-style counter where someone cuts the meat to order. Sixth, your meat shouldn't be served in a sea of sauce (more about that later). Seventh, you'll be given the option to order by the pound. (The best value is typically to order for a full group, rather than choosing individual plates.)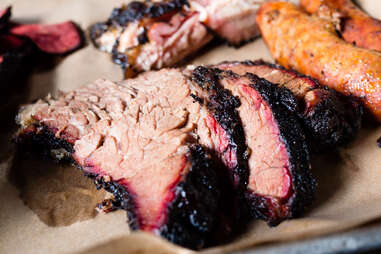 Brisket is king in Austin
A quick primer on barbecue regions—Texas (mostly) eats beef, and everywhere else cooks pork. The main course of every barbecue meal in Austin, and much of the state, is brisket. In other parts of the country, the unwieldy cut of meat from the breast of the cow is most commonly cooked as a pot roast, but, in Texas, it is traditionally rubbed with salt and pepper and smoked over post oak wood for anywhere from eight to 20 hours. It's a tough cut of meat to cook because one area (the point) is distinctly fattier than the other (the flat). As such, most restaurants offer a choice between moist (or fatty) and lean. If you're looking for that melt-in-your-mouth texture, go moist. Choose lean if you're not a fan of the fatty texture.
How lines work
It's important to note that many BBQ joints operate on an "early morning till—sold out" basis. A lot of the premier places in town can command serious lines depending on when you are trying to go. Famed Franklin Barbecue is one of the few that command a true day-long commitment (people begin lining up at sunrise), but you can expect a decent wait at many of the best places, so plan accordingly.
Where to find the best BBQ in Austin?
Franklin's Barbecue has been the darling of just about every food magazine for the better part of a decade. Its renowned brisket has often been touted as the best in the world. And if you are up for the long, tailgate-style lines, the thing is, it really is that good. But there are plenty of places, old and new, that are in the same tier. How you want to stack each of them against one another is a matter of great debate. But unless you want to read a 10,000-word dissertation, it's probably best left understood that a lot of these joints are punching in similar weight classes. You really can't go wrong, here are some of our favorites and what they do best:
Micklethwait Craft Meats: Serves excellent Tex-Czech sausage and great sides like Jalapeño Cheese Grits.
Sam's BBQ: Legendary East Austin joint spot that has survived multiple fires and gentrification buyout offers. It serves no-frills brisket, ribs, and mutton.
Franklin's Barbecue: Arguably the biggest name in Austin BBQ. Find top-class brisket and the accolades and long lines to prove it.
Terry Black's BBQ: A local favorite that has long hours on most days. It's an all-rounder and hits the right balance of quality without an overly long line.
LeRoy and Lewis Barbecue: Number five on Texas Monthly's 2021 top 50 Best BBQ Joints. It's "New School BBQ," with "Old School Service."
Interstellar BBQ: Took number two on Texas Monthly's 2021 top 50 Best BBQ Joints. It serves top-quality brisket and pork ribs as well as Hefeweizen marinated turkey.
Valentina's Tex Mex BBQ: Representing South Austin, Valentina's offers delicious Tex Mex BBQ breakfast tacos that you just can't get at most places.
La Barbecue: A proud purveyor of Central Texas barbecue, it is known for sausage, brisket, and chopped beef.
Distant Relatives: Prides itself on pulling together flavors and textures across the African American diaspora. It is known for its pulled pork with tamarind molasses BBQ sauce, and brisket made with smoked mustard butter sauce.
It's what's for lunch
Texas pitmasters swear by a "low and slow" philosophy, cooking meats at lower temperatures for extremely long periods (those aforementioned eight to 20 hours). Because the meat cooks overnight and there's finite space on the smoker, quantities are capped, meaning it's impossible to crank out more food on a busy day. Most places only make enough to last through a lunch rush and close once they sell out in the mid-afternoon—which, sadly, leads to lots of disappointed tourists. Don't be one of those amateurs; make sure you get to your desired spot early and prepare for a midday feast. If you do miss the lunchtime boat, don't sweat it. Many places do operate through dinner. Stiles Switch BBQ and the Salt Lick are two shining examples. Just be extra sure to check the hours before you head out to any barbecue place. Many are fully closed on Mondays or Tuesday, or some other random day of the week.

The Texas Trinity
We've already established that brisket is king, but the rest of the royal family consists of sausage and pork ribs.
Sausage-making dates back to Czech and German immigrants, but these days you'll find a wide variety of internationally-flavored options. Most places offer a traditional "hot guts" beef sausage and a jalapeno cheddar, but there are also innovators using casing proteins, like duck, or making regional varieties like pork andouille. Micklethwait is also known for its specialty sausages and offers a selection that changes daily.
The style and cut of pork ribs varies; some serve baby backs, others spares. Expect the ribs to lack the sticky, sweet sauce you'll find in other barbecue meccas, like Memphis—most Texas ribs are dry-rubbed, with a light glaze of sauce, if any at all. Brown's Bar-B-Que, a humble trailer parked outside Corner Bar on South Lamar Boulevard, smokes some of the city's best alongside La Barbecue, whose third-generation-pitmaster pedigree means consistency is prized above all else.
The innovators
Texas barbecue reveres tradition, with cooking techniques and lore passed down from generation-to-generation. But its recent boom in popularity has led cooks to make the cuisine their own. One of the best is Valentina's Tex Mex BBQ, which smokes a mean Texas brisket, but also makes its own tortillas and simmers some of the best carnitas in town. Kemuri Tatsu-ya and Loro both combine Texas techniques with Asian flavors to great acclaim, with dishes like brisket ramen and char siu pork shoulder.
To sauce or not to sauce
Most pitmasters scoff at the idea of "rules" for eating Texas barbecue, but one definite faux pas is to drown your meat in a pool of sauce. There's nothing intrinsically wrong with barbecue sauce, and pitmasters take pride in creating a tomatoey complement to their meat, but dousing a slice of brisket in it masks those 20 hours' worth of smoky flavors. Do your taste buds a favor and just make a little puddle on the side for dipping.
Don't skimp on the sides
A good barbecue meal does not include just meat and meat alone. Good slaw, plain white bread, and brisket beans can be found just about anywhere. Beyond those standbys, there's a wealth of worthy sides that you simply can't miss, like Micklethwait's country potato salad, a variety of kimchi dishes at LeRoy and Lewis, smoked street corn at Valentina's, and chipotle slaw from La Barbecue.
Get out of town
Austin may have the highest concentration of excellent barbecue in the world, but there are some experiences you can't get without leaving city limits. Within an hour of the city, there's a wealth of old-school institutions with an atmosphere that could never be reproduced elsewhere (we're looking at you, Brooklyn). Louie Mueller Barbecue in Taylor is perhaps the most legendary (it's now on its third generation of pitmaster), Lockhart has three fantastic old-school options—Black's, Kreuz, and Smitty's—and every Austinite has a soft spot for the bucolic country roads leading to the original Salt Lick in Driftwood, with its rolling pastures and babbling streams.
And that's a wrap for now. If you're not already in line at any one of these places it's time to get moving.