6 Reasons to Drive to Dripping Springs
Texas Hill Country beckons.
Known for an eye-catching landscape, abundant vineyards, stylish stays, and a dining scene that rivals Austin's finest, Dripping Springs has long been an in-demand locale for dreamy weddings. But even for the non-nuptial crowd, the area is a destination worthy of weekend wine crawls, glamping under the stars, and high-end eats courtesy of some seriously lauded chefs.
Take the short drive to Dripping Springs—not to mention neighboring Driftwood—and see for yourself via these six handpicked, beautiful-to-behold, and just plain fun ways to experience this little nook of the Texas Hill Country.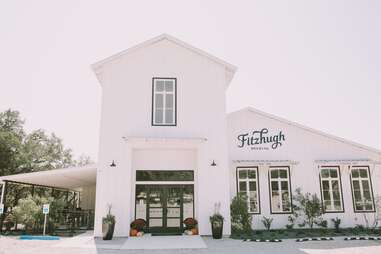 See what's brewing along the hill country craft ale trail
The Texas Hill Country has long been synonymous with great wine but in recent years, the picturesque region has seen a serious uptick in craft brewing. And, Dripping Springs is home to a solid cross section of established and newer outposts specializing in everything from crisp summer sippers to funky farmhouse ales. Get tasting at Twisted X Brewing, Acapon Brewing, 12 Fox Beer, Ghost Note Brewing, and Hedgehog Brewing before sitting down for lunch. Hungry? Grab a hand-tossed pizza at Suds Monkey Brewing Co., smoked meats and sandwiches at Bell Springs Brewery, or comfort food inside Fitzhugh Brewing's kid-friendly, modern farmhouse digs. Elsewhere, Family Business Beer Co., co-owned by actors Jensen and Danneel Ackles (of Supernatural and One Tree Hill fame), is a popular destination for folks seeking great beer in a family-friendly setting. (Fun fact: the on-site Cajun truck, Jep's Southern Roots is owned by Duck Dynasty's Jep Robertson.)
There are also a few breweries sitting just outside Dripping Springs' city limits that shouldn't be missed. Situated on a 165-acre ranch, Jester King Brewery focuses on wild fermentation resulting in (wildly) unique beers that have earned the brand countless international awards. (And, their pizza is top-notch.) Walk over to Last Stand Brewing for a quick pint before ending your day at Vista Brewing, just 7 miles southeast in Driftwood. Sip on European-style beers that thoughtfully highlight the local terroir while feasting on Vista's hyper-local, farm-to-table menu offerings.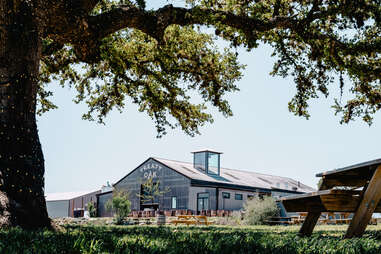 Discover destination-worthy distilleries
Whether your go-to drink is a vodka soda or an Old Fashioned, you're bound to stumble onto (or into) a boozy Dripping Springs outpost schooled in both spirits and hospitality. Treaty Oak Distilling is a one-stop-shop for whiskey buffs, cocktail nerds, and foodies. Set aside an entire afternoon to roam the distilleries' oak tree-covered, 28-acre ranch in search of whiskey and gin, tours and tastings, cocktails, live music, and fantastic BBQ at Alice's Restaurant. For summer-ready crushable cocktails, hit up Deep Eddy Vodka for (real fruit) flavored vodka flights, cocktails, and food truck fare in the tasting room or on the dog-friendly patio. A quick stop in between larger producers can be spent at Remington Family Distillers for whiskey, vodka, and coffee liqueur before hopping over to Frog Pond Distillery for small-batch gin and vodka. Agave enthusiasts, make a beeline for Desert Door Distilling in Driftwood for sotol tastings and cocktails. (Sotol, a cousin to mezcal and tequila, is made from wild-harvested West Texas desert spoon plants.) The Instagram-worthy, rustic-chic tasting room and amazing farm-to-table cuisine from Eden West (the same team from Eden East) make Desert Door a must for anyone with great taste.
Stroll stunning vineyards and sip on world-class wines
From quirky natural wine producers to stately villas with sprawling vineyards, the Texas Hill Country is peppered with wineries of all shapes and sizes. In Dripping Springs proper, stop in for tastings, tours, and bites at Solaro Estate Winery, Graveyard Vineyards, Hawk's Shadow Winery, Hamilton Pool Vineyards & Farms, Parmeson Wines, and Bell Springs Winery. (Bell Springs Winery is also home to Bell Springs Brewery and The Sidecar, a Prohibition-style wine bar.)
Those looking to stretch their legs can truck out over to nearby Driftwood and pay a visit to Duchman Family Estate, Driftwood Estate Winery, and ever-popular Salt Lick Cellars. Afterwards, head north to Fitzhugh Road to the tasting room shared by Wine for the People and C.L. Butaud, two unique winemakers producing classic and crushable wines with 100% Texas-grown grapes.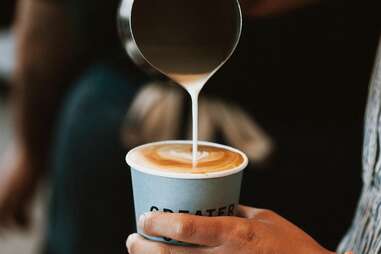 Eat your way through an impressive lineup of restaurants and bakeries
Much like the dizzying array of boozy offerings, Dripping Springs culinary landscape also oozes with artisanal creativity and quality, with chefs adding a local spin to everything from French haute cuisine to pizza. Kick things off with a locally roasted coffee from Greater Goods Roasting Co. then nosh on pastries, bread, and pizza made with local heritage grains from Barton Springs Mill at Abby Jane Bakeshop. In the mood for something hearty? Thyme & Dough has casual diner fare on lock, while Alice's Restaurant at Treaty Oak Distilling does incredible BBQ and sides.
For wedding groups and special occasions, nothing beats Tillie's. Located at Camp Lucy, the upscale eatery melds Texas Hill Country flavors with global accents in an architecturally stunning space. Alternatively, newcomer Le Vacher churns out classic French brasserie classics with a Texas spin—think local Akaushi beef, roasted bone marrow, and an expertly curated wine selection.
Have a sweet tooth? Don't miss Skull & Cakebones for locally sourced pastries you'd never guess were vegan. Down in Driftwood, hit up Hays City Store & Ice House, a local institution that covers all its bases from the sports-fueled cheap beer crowd to craft cocktail-loving foodies. And if you're still lamenting the closing of East Austin's Eden East (who isn't?), you'll be glad to know that it just moved down the road to Driftwood. Chef Sonya Coté's Eden West food truck at Desert Door Distillery is keeping the original outpost's creative take on farm-to-table delights alive and well. You can't go wrong with the hot quail knots, scrumptious quail bites with a crispy blue corn crust served with carrot mole and fermented hot sauce. On your way back to town, pick up a pizza or pastrami sandwich at Pieous. The chewy sourdough crust, garden fresh toppings, and house-cured pastrami make for a mouthwatering experience well worth the trek.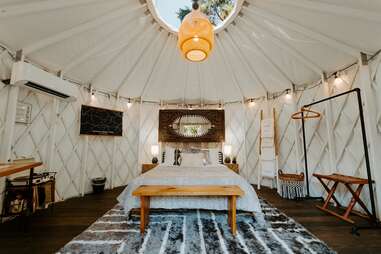 Soak up Hill Country charm while glamping in a stylish yurt, unwinding at a luxe resort, or kicking back in a cozy cabin
Whether your ideal accommodations are uber romantic, one-with-nature, or simply the kind that gives your followers major FOMO, Dripping Springs has your number. For those seeking a luxury experience, Camp Lucy is unrivaled. The name might evoke childhood memories, but the sprawling ranch and breathtaking resort are beyond sophisticated. From the interior design that looks plucked from Elle Decor magazine to the dreamy chapel, vineyard, and canopy of ancient oak trees, Camp Lucy is, to put it plainly, #goals.
Over at Lucky Arrow Retreat, guests are free to choose their own adventure. Stay in a (air-conditioned and heated) yurt decked out in smart Texas Hill Country style, post up in a breezy cabin, or take over a full-size home fit for the entire crew. No matter where you opt to lay your head, you'll definitely find yourself stargazing on the Moon Deck, hanging out poolside or in the Beer Garden, or sitting around the campfire with friends come nightfall.
Just off Fitzhugh Road, The Liney Moon provides accommodations that are equal parts modern and quirky. Book a room in the main house with your group or get back to the land by reserving one of the tiny cabins that pepper the property. If doing yoga while overlooking a tree-filled valley is more your tempo, check out 13 Acres Retreat where small, stylish cabins line the hillside for truly awe-inspiring views of the area's famously technicolor sunsets.
Take a dip, set out on a hike, go for a swing, or simply lay back and stare at the starry skies above
Home to both one of the state's most captivating natural escapes as well as an outdoor family-friendly sports funplex, opportunities to cherish the great outdoors are not in short supply. Start out by booking a reservation at the historic Hamilton Pool Preserve, where visitors can hike the trails before cooling off with a swim in the otherworldly natural swimming hole. The "pool" was created when the dome over an underground river eroded, leaving a jade-colored water feature rimmed by a collapsed limestone grotto with a 50 foot waterfall in its wake. (As a result of the unprecedented freeze this past winter and its effect on rock stability, swimming may or may not be allowed, check the current restrictions here.)
At Reimers Ranch Park, active folks can get their fresh air fix by swimming, fishing, hiking, mountain biking, rock climbing, and gazing up at the cosmos thanks to an onsite observatory equipped with two powerful telescopes open for public use. Elsewhere, newly debuted kid- and pet-friendly Dreamland acts as a outdoor entertainment venue with concerts, food, a beer garden, and sports facilities including a 42-acre disc golf course, a mini-golf course considered to be one of the most challenging in the country, pickleball courts, lawn games, and public art.