7 Reasons to Drive to Dripping Springs
Texas Hill Country beckons.
Though widely hailed as the wedding capital of Texas, Dripping Springs ain't no one-trick pony. Alluring landscapes, flourishing vineyards, gorgeous glamping, and a dining scene that rivals Austin all make it worthy of a weekend jaunt outside of nuptial events. And there's most definitely something for everyone here (and in neighboring Driftwood, too); couples can wine and dine under the stars, friends can adventure out into nature, and families can make oodles of daytime memories at the new Dreamland. The gateway to the Hill Country, Dripping Springs, and all its charms await, just a short 25-minute drive west of Austin. Not convinced? Take a look at our seven reasons to visit before you make up your mind.
Enjoy fun and games at Dreamland
Dreamland may only have opened in 2021, but it's already become a beloved family tradition. The 64-acre property has everything when it comes to outdoor entertainment, recreation and arts, from mini-golf and pickleball to art and sculpture gardens. Seasonal specials are a must—there's karaoke, fireworks and country music in the summer; Oktoberfest, pumpkin painting, and spooky games in fall; and ice skating and Christmas lights in the winter. While kids wander the colorful grounds, adults can kick back at the shaded outdoor beer garden and taproom featuring local craft beers, hard seltzers, ciders, kombuchas, and Central Texas wine.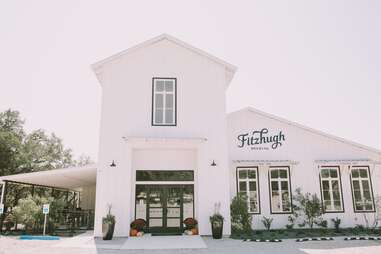 See what's brewing along the hill country craft ale trail
The Texas Hill Country has long been synonymous with great wine but in recent years, the picturesque region has seen a serious uptick in craft brewing. Dripping Springs is home to a solid cross-section of established and newer outposts specializing in everything from crisp summer sippers to funky farmhouse ales. Get a tasting at Twisted X Brewing, Acapon Brewing, 12 Fox Beer, Ghost Note Brewing, and Hedgehog Brewing. There are also a few breweries sitting just outside Dripping Springs' city limits that shouldn't be missed. Set on a 165-acre ranch, Jester King Brewery focuses on fermenting wildly unique beers that have earned the brand countless awards. Walk over to Last Stand Brewing for a quick pint before ending your day at Vista Brewing, just seven miles southeast in Driftwood.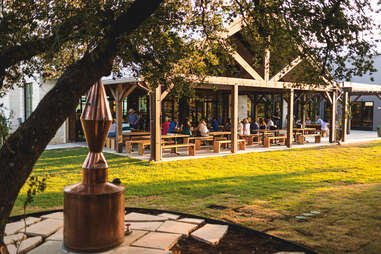 Discover destination-worthy distilleries
Whether your go-to drink is a vodka soda or an Old Fashioned, you're bound to stumble onto a boozy Dripping Springs outpost schooled in both spirits and hospitality. Dripping Springs Distilling is the most picturesque of the bunch, with a happening bar, while Treaty Oak Distilling is a one-stop shop for whiskey buffs, cocktail nerds, and foodies. For summer-ready crushable cocktails, hit up Deep Eddy Vodka for (real fruit) flavored vodka flights, cocktails, and food truck fare in the tasting room or on the dog-friendly patio. A quick stop in between larger producers can be spent at Remington Family Distillers for whiskey, vodka, and coffee liqueur before hopping over to Frog Pond Distillery for small-batch gin and vodka. Agave enthusiasts, make a beeline for Desert Door Distilling in Driftwood for sotol tastings and cocktails. (Sotol, a cousin to mezcal and tequila, is made from wild-harvested West Texas desert spoon plants.) The social-media-worthy, rustic-chic tasting room makes Desert Door a must for anyone with great taste.
Stroll stunning vineyards and sip on world-class wines
From quirky natural wine producers to stately villas with sprawling vineyards, the Texas Hill Country is peppered with wineries of all shapes and sizes. In Dripping Springs proper, stop in for tastings, tours, and bites at Solaro Estate Winery, Graveyard Vineyards, Hawk's Shadow Winery, Hamilton Pool Vineyards & Farms, Parmeson Wines, and Bell Springs Winery. (Bell Springs Winery is also home to Bell Springs Brewery and The Sidecar, a Prohibition-style wine bar.) Those looking to stretch their legs can truck out over to nearby Driftwood and pay a visit to Duchman Family Estate, Driftwood Estate Winery, and ever-popular Salt Lick Cellars. Afterward, head north to Fitzhugh Road to the tasting room shared by Wine for the People and C.L. Butaud, two unique winemakers producing classic and crushable wines with 100% Texas-grown grapes.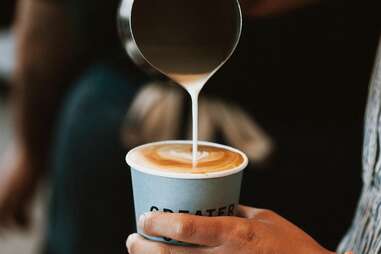 Eat your way through an impressive lineup of restaurants and bakeries
Much like the dizzying array of boozy offerings, Dripping Springs' culinary landscape also oozes with artisanal creativity and quality, with chefs adding a local spin to everything from French haute cuisine to pizza. Kick things off with a locally roasted coffee from Greater Goods Roasting Co. then nosh on pastries, bread, and pizza made with local heritage grains from Barton Springs Mill at Abby Jane Bakeshop. In the mood for something hearty? Thyme & Dough has casual diner fare on lock, while Alice's Restaurant at Treaty Oak Distilling does incredible BBQ and sides. For wedding groups and special occasions, nothing beats Tillie's at Camp Lucy—the upscale eatery melds Texas Hill Country flavors with global accents in an architecturally stunning space. Alternatively, Le Vacher churns out French brasserie classics with a Texas spin.
Have a sweet tooth? Don't miss Skull & Cakebones for locally sourced pastries you'd never guess were vegan. Down in Driftwood, hit up Hays City Store & Ice House, a local institution that covers all its bases from the sports-fueled cheap beer crowd to craft cocktail-loving foodies. On your way back to town, pick up a pizza or pastrami sandwich at Pieous. The chewy sourdough crust, garden-fresh toppings, and house-cured pastrami make for a mouthwatering experience.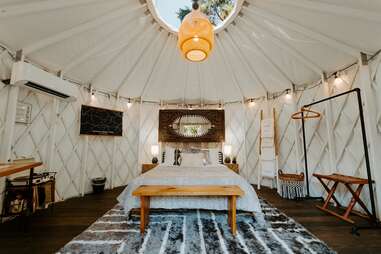 Soak up Hill Country charm while glamping in a stylish yurt, unwinding at a luxe resort, or kicking back in a cozy cabin
For those seeking a luxury experience, Camp Lucy is unrivaled. The name might evoke childhood memories, but the sprawling ranch and breathtaking resort are beyond sophisticated. From the interior design that looks plucked from Elle Decor magazine to the dreamy chapel, vineyard, and canopy of ancient oak trees, Camp Lucy is, to put it plainly, #lifegoals. Over at Lucky Arrow Retreat, guests are free to choose their own adventure. Stay in a (air-conditioned and heated) yurt decked out in Texas Hill Country style, post up in a breezy cabin, or take over a full-size home fit for the entire crew. You'll find yourself stargazing on the Moon Deck, hanging out poolside or in the Beer Garden, or sitting around the campfire with friends come nightfall.
Just off Fitzhugh Road, The Liney Moon provides accommodations that are equal parts modern and quirky. Book a room in the main house with your group or get back to the land by reserving one of the tiny cabins that pepper the property. If doing yoga while overlooking a tree-filled valley is more your tempo, check out 13 Acres Retreat where small, stylish cabins line the hillside for truly awe-inspiring views of the area's famously technicolor sunsets.
Immerse yourself in the beautiful natural surroundings
Home to one of the state's most captivating natural escapes, opportunities to cherish the great outdoors are not in short supply. Start out by booking a reservation at the historic Hamilton Pool Preserve, where visitors can hike the trails before cooling off with a swim in the otherworldly natural swimming hole. The "pool" was created when the dome over an underground river eroded, leaving a jade-colored water feature rimmed by a collapsed limestone grotto with a 50-foot waterfall in its wake. At Reimers Ranch Park, fitness enthusiasts can get their fresh air fix by swimming, fishing, hiking, mountain biking, rock climbing, and gazing up at the cosmos thanks to an onsite observatory equipped with two powerful telescopes open for public use.
James Wong is a Libra who spends his time pretending to be a vegan, watching wildlife clips, and booking plane tickets. Born in London, lived in Tokyo, and now residing in Austin, his greatest achievement is giving Posh Spice a hug in 2016.