A luxury escape to San Antone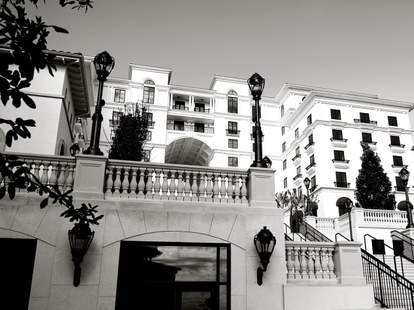 Since the heroes of the Alamo clearly fought so that one day you'd have the freedom to spaz out to some German band called Talking to Turtles, pay them back by heading to the newly opened Hotel Éilan. The Tuscan-inspired enclave boasts cuisine from Dallas celebrity-chef Stephan Pyles, and rests on 120 acres of Hill Country not currently alive with the sound of music/whatever the Turtles say in response.
Amenities include two pools (indoor for laps, outdoor w/ swim-up bar), a spa with two Turkish Razul (Ra-Zuul? Some horrifying merging of the Egyptian sun god and the Gatekeeper of Gozer? Your soul is toast!) mud rooms, platforms for Thai mat and Ashiatsu massages, a 10000sqft fitness area, and a golf simulation room where you're encouraged to get your Tiger on, and pull out your Wood if you fall short of the simulated ladies' tee.
The resto (Sustenio) -- which actually offers farm-to-room service -- features touches like a ceviche bar and wine tower, and upscale mod-S'western gluttony like Bacon-Wrapped Devine Wild Boar Loin (w/ sweet potato-candied ginger tamales & pickled blackberries), Sous Vide Texas Venison Loin sided by yucca-huitlacoche hash, and Coriander-Cured Rack of Lamb w/ Ecuadorian potato cake, tomatillo green beans, and cranberry mojo, which is weird, because Jim Morrison was famous for not lingering.
For in-food-tainment, they've also got a private dining room featuring an exhibition kitchen, so you can storm the chefs' redoubt, and they'll have absolutely nowhere to retreat to.