Paid Content For

10 California Hotels Where You Can See Stars (The Celestial Ones)
Count your lucky stars at these California resorts.
Paid Content For

Ritz-Carlton Rancho Mirage
You can spot plenty of stars of the A-list variety in Los Angeles. But slip away from the big city and the flashing lights, and you can marvel at stars with celestial status in California's unobscured night skies. To help you, many hotels have spectacular stargazing programs, granting VIP access to high-powered telescopes or bringing in astronomers to assist you in navigating the night sky.
From "star bathing" in Big Sur's redwoods to a constellation concierge in Healdsburg, these experiences at 10 California hotels are for serious astronomical aficionados.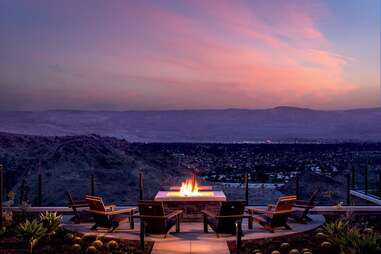 Perched on a bluff that keeps watch over Palm Springs, this glam resort offers a complimentary stargazing experience led by a recreation attendant. Guests at the Ritz-Carlton Rancho Mirage (from $489 a night) can peer into a powerful 11" computerized Celestron telescope that magnifies even the most distant astronomical wonders and galaxy gaze as they clutch a drink from the "Constellations and Cocktails" menu. Might we suggest, for a nightcap, the Milky Way that's made of Godiva White Chocolate Liqueur with Baileys Irish Cream? In addition to the on-property stargazing, two international Dark Sky Parks (Joshua Tree National Park and Borrego Springs) are both an hour's drive from Palm Springs.
Terranea Resort (from $395 per night) may be just 30 minutes from Los Angeles, but this oceanfront retreat, with Mediterranean-inspired architecture, feels a world away. The 102-acre resort is sprawled atop a bluff that overlooks the Pacific Ocean and makes for a perfect stargazing perch. Guests can purchase $30 stargazing kits and use their own star dial to spot Orion, Pegasus, the classic Big Dipper, and — perhaps if you wish upon a star — you'll have a chance to see a passing planet.
Stargazers have options at this resort in the Palm Desert region. Simply stargaze on the property's 45 acres that offers clear views of the desert sky. Or, embark on the "Camp'd Out Joshua Tree Experience" which combines an overnight glamping experience in the namesake national park with a hotel stay. With this three-night experience (from $2,450), you'll spend the first and last night at La Quinta Resort & Club, and one night in a dreamy camp setup complete with supremely comfy Waldorf Astoria bedding, a prepped camp meal for two, s'mores, stargazing, butler service, and morning coffee. You can also enhance the experience with a private dinner prepared fireside by a chef.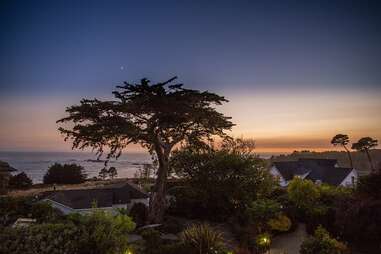 On a secluded stretch of the Mendocino Coast, Little River Inn offers a Stargazing Family Fun Package. Guests get a stargazing kit complete with binoculars, a star map, binoculars to borrow, and hot chocolate. While in the area, Mendocino National Forest and Howard Lake (a 20-acre lake in the forest) are fantastic spots for viewing the night sky out in nature. The Stargazing Family Package starts at $408, and it includes a two-night stay and activities for up to four people.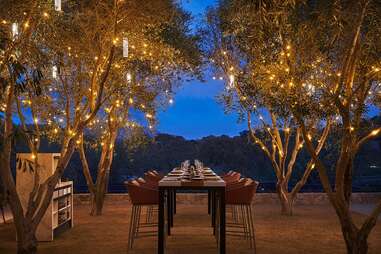 For a once-in-a-lifetime vacation, the Montage Healdsburg (from $1,295 a night) offers The Sky's the Limit package that includes a private tour of the Robert Ferguson Observatory and the use of telescopes while you're there. Afterwards, guests can take part in a personalized two-hour photography session with acclaimed astrophotographer Rachid Dahnoun, creating a limited-edition night sky image. The package at this refined wine country retreat is, not surprisingly, astronomically expensive: Rates start at $95,000 and the package is designed for up to six guests (perhaps invite your richest and most generous family member?) Included in the package are private roundtrip flights from anywhere in the United States and two nights in the luxury Guest House, with private chefs creating dinners and exclusive wine pairings on a terrace overlooking the Mayacamas mountain range.
Not ready to watch your budget blow up like a supernova? The resort is tucked away among the hills and has pockets unimpeded by artificial light, so you can stargaze on your own accord, too. Or, the hotel offers a "Constellation Concierge" that can help you spot faraway galaxies during the scheduled "Exploring the Night Sky" events.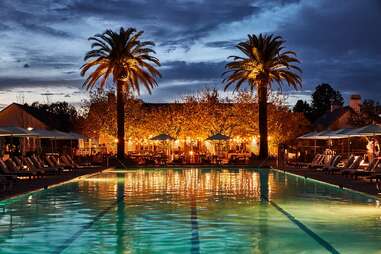 Combine a spa experience with stargazing at Solage, Auberge Resorts Collection (from $799 a night), which offers a "Starlight Nights Bathhouse Experience." Couples will get the spa to themselves during this after-hours experience ($950 a couple), which includes a rose petal bath, mud treatment, champagne, dessert, and more. After the sun sets, sink into a warm geothermal pool and watch stars light up the Napa Valley sky.
Tap into your halcyonic youth at Carmel Valley Ranch (from $325 a night), a sophisticated (but fun!) 500-acre playground where you can take archery lessons, mingle with alpacas and goats, and sway back and forth on a rope swing that hangs from a massive oak tree. When the sun goes down, the ranch offers "Stargazing with Monterey Institute for Research in Astronomy." Guests can meet professional astronomers, spot galaxies far, far away, and sip seasonal cocktails while listening to an educational presentation.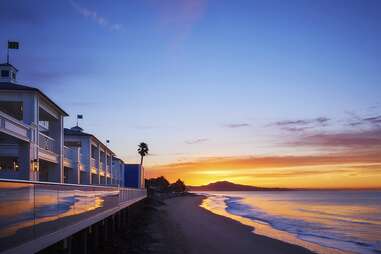 Just 90 minutes from Los Angeles, Rosewood Miramar Beach (from $1,770 a night) is an oceanfront resort where you get unobstructed views of the Pacific Ocean. Simply watching the waves lap the sand is a meditative experience, and stargazing is just as good, too. The luxury resort has a Stars & S'Mores (s'mores kits are $20) offering that allows guests to embark on a stargazing expedition with a telescope and an astronomer from the Santa Barbara Astronomical Unit, who gives a lesson on the sky's constellations and stars. Afterwards, toast marshmallows at the resort's fire pits.
Rolling meadows, towering redwoods, and awe-inspiring Pacific coastlines already lure outdoor lovers to Big Sur. But Alila Ventana Big Sur (from $1,500 a night), an iconic, adults-only resort, ups the ante with splendid outdoors activities like star bathing (think: forest bathing, but at night). During this guided experience ($150 a person), guests learn about the flora and fauna while ambling through the redwood forest that surrounds the resort. Once you reach the star bathing location — an enchanting circle of old-growth redwoods — flashlights are turned off, and you're invited to relax and soak up the vast nighttime sky. At the end of the hike, you'll get a guide to the constellations if you want to consider contemplating this vast universe on your own.
An International Dark Sky Community, Borrego Springs, is a desert town in San Diego County where a towering mountain range helps block big city lights in Southern California. Venture into the wilderness of Anza-Borrego Desert State Park for epic stargazing, and make LaCasa Del Zorro Desert Resort & Spa (from $159 a night) your base camp. The resort has its very own Star Gazing Theater where guests are encouraged to roll out their blankets and look up at the twinkling sky. If you happen to sync up your visit with a meteor shower, you're in for a real treat.
As we all look forward to the time when we ease back to travel, these hotels certainly have us excited about some out-of-this-world offerings.
Clorox wants to help give you confidence to get back out there. That's why they've partnered with the Cleveland Clinic and CDC Foundation to form the
Clorox Safer Today Alliance™
, helping brands like United Airlines, Enterprise, and AMC Theaters create healthier public spaces for us all.
Clorox® Disinfecting Wipes
also come in convenient on-the-go sizes, so you're covered wherever you go.