10 LGBTQIA+ Beaches to Escape to This Holiday Season
These beaches don't look like a winter wonderland, but their waters are warm and their reception is even warmer.
Presented By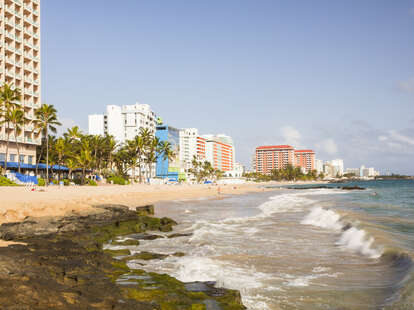 Condado Beach in San Juan, Puerto Rico

| UniversalImagesGroup/Getty Images
Condado Beach in San Juan, Puerto Rico

| UniversalImagesGroup/Getty Images
As we all saw with Happiest Season last year, the holidays can be a complicated time for the LGBTQIA+ community. Merriment, caroling, and baking are all well and good, but, for some, it's a season fraught with awkwardness or exclusion. That's why the holidays are an apt time for a beach trip with your besties or special someone—anyone who's worthy of being part of your chosen family.
Especially for queer people who struggle with traditional family roles, a vacation with your chosen family can be far more appealing than even the tastiest gingerbread person. If you're looking for an LGBTQIA+ beach to escape to this holiday season, here's where to go.
South Beach in Miami, Florida
When it comes to quintessential vacation destinations, Miami Beach is a veritable fun-in-the-sun mecca. Unabashedly queer-friendly, artsy, and androgynous, the Magic City is rightfully well known for its nightlife, sexy restaurants, and sexier beaches, especially the world-famous South Beach. Sprawled along the southern portion of Miami Beach, it's a haven for swimming, suntanning, and cocktail-sipping amidst a diverse crowd of international travelers and LGBTQIA+ beachgoers. Off the sand, there's plenty to explore with your chosen family, including nightclubs that stay open 'til 5 am, drag brunch at Palace, a gay and lesbian walking tour through the pastel-hued Art Deco District, and a pool party at AxelBeach Miami, a hotel so queer that its motto is "We Are Hetero-Friendly." Bonus: Hurricane season is over, so you're guaranteed a warm and sunny holiday.
Canaveral National Seashore in Titusville, Florida
An easy drive east from Orlando, Canaveral National Seashore is a beach that attracts nature-lovers, NASA-lovers, and nudists. The serene national park site, anchored by 24 miles of undeveloped beachfront along a barrier island in Titusville, is the rare place where alligators, rockets, and nude beaches coexist, making it a choose-your-own-adventure vacation. A peaceful alternative for the holidays, here you can kayak on Mosquito Lagoon, picnic on the beach, watch rockets launch from nearby Kennedy Space Center, splash around in Florida's famously warm waters, or play a game of frisky frisbee on Apollo Beach, the designated clothing-optional beach for those who prefer to spend the holidays in their birthday suit. National parks draw a diverse and welcoming crowd, so you can live your best life knowing you're among friends and allies.
Tybee Island, Georgia
A 20-mile stone's throw from Savannah, a culture-rich city bursting with queer charm and nightlife, Tybee Island makes for a fun day trip or weekend excursion along Georgia's northernmost coast. Because, really, after a late night of drag shows and dancing at Club One, there's no better hangover cure than sand in your toes. Just like Savannah, Tybee Island has a casual and inviting vibe free of pretension and judgement, with quirky gift shops, laid-back patio bars, and LGBTQIA+ events year round, like springtime Mermaid Fest hosted by Savannah Pride and the family-friendly Tybee Equality Fest in September.
Jekyll Island, Georgia
Looking for an LGBTQIA+ beach to escape to this holiday season that's a little luxurious? It doesn't get any dreamier than Jekyll Island. On the southern end of Georgia, this bougie barrier island skews more opulent than Tybee Island, as evidenced by its palatial mansions, meticulously manicured golf courses, and the fact that the island's marquis hotel, the Jekyll Island Club, has been a go-to vacation destination for the likes of the Vanderbilts and Rockefellers. So if you're feeling extra, gather your chosen family and go all in on one of the Club's historic cottages, which are really just majestic and historic manors resembling rooms from the Clue board game. Despite its upscale roots, Jekyll Island is a playground for all and a holiday paradise with its beachside tequila bars, mini golf course, miles of unobstructed beachfront, and top-tier seafood. The Wharf, for example, is a casual, open-air restaurant on a dock with Southern specialties, including fried green tomatoes, smoked fish dip, and buffalo shrimp tacos. You may not be a Vanderbilt, but it's a fitting holiday destination for any family.
Myrtle Beach, South Carolina
While it may not have the scantily clad nightlife of South Beach, South Carolina's Myrtle Beach has more of a refreshing come one, come all atmosphere—and a vibe so laid-back that long-standing bars proclaim "no shirt, no shoes, no problem!" Welcoming for every type of family, and mercifully mild through the winter, the coastal haven is the epicenter of the Grand Strand, a string of beaches lined with amusement park rides, margarita bars, a giant Ferris wheel, and kitschy fun, like Alligator Adventure and a pirate-themed dinner show. It's also such a mini golf mecca that Myrtle Beach hosts the US ProMiniGolf Association Master's National Championship, so there's no shortage of fun to be had. Come sunset, keep it going at one of Myrtle Beach's LGBTQIA+ bars, like Pulse Ultra Club or St George, clustered in the queer-centric 5 Points neighborhood.
Dauphin Island, Alabama
If your chosen family includes those with four legs, then Dauphin Island is calling your name. The peaceful barrier island is located just south of Mobile, a surprisingly vibrant city with a surprisingly robust queer scene—the Human Rights Campaign ranked it as Alabama's most gay-friendly city, thanks to long-standing rainbow-clad bars, including B-Bob's Downtown and Gabriel's Downtown. An ideal break from the city bustle, Dauphin Island is so tranquil and quaint that it doesn't even have a traffic light; most people zip around on bike trails, sail on dolphin-watching cruises, or stroll the miles-long beaches with sand so sugary-white that it'll scratch your itch for snow without giving you frostbite. Also, it's the only pet-friendly public beach in Alabama with a campground to park an RV, in case your holiday retreat just isn't complete without the whole family.
Long Beach, California
On the west coast, it doesn't get any queerer or greater than Long Beach. As one of two cities in California to earn a perfect score on the Human Rights Campaign's LGBTQIA-inclusion index, it's no wonder the coastal city has become such a staple for the SoCal queer community. Not only are the beaches indeed long—with 28 miles of sandy shores on the Long Beach Peninsula—but the city itself is famously out and proud with LGBTQIA+ events and venues, including summertime Long Beach Pride, an Out of the Closet thrift store, Mineshaft leather bar, and Hot Stuff, an LGBTQIA+ adult novelty store. This being Southern California, it's safe to expect endless sunshine and warmth year round; coupled with the fact that Long Beach is more laid back and less expensive than other queer enclaves, like West Hollywood or Palm Springs, it's an apt choice for an LGBTQIA+ beach to escape to this holiday season.
Black's Beach in San Diego, California
Ideal for same-sex couples or friends who aren't shy, Black's Beach in La Jolla offers a comfy escape from the holiday hoopla—assuming your version of "comfy" involves being nude. This San Diego getaway, a secluded alcove tucked beneath some craggy bluffs by Torrey Pines State Beach, is a clothing-optional beach where the vibe is quiet, the crowds are inclusive, the surfing is iconic, and the views—far removed from the din of downtown San Diego—are breathtaking. La Jolla is not only renowned for its coastal nature and scenic hiking trails, but for its queer-friendly scene. Once you've put your clothes back on, you'll feel right at home beside the pink parakeet wallpaper at Parakeet Cafe, munching on cacao waffles and almond butter toast, or crooning to live jazz with a side of eggplant Parmigiana at the romantic Manhattan of La Jolla.
Galveston, Texas
Texas may not seem like the most obvious destination for a queer holiday vacation, but Galveston has become a go-to beach for nearby Houstonians, many of whom are part of the LGBTQIA+ community. Open-minded, frills-free, and welcoming to all, this beach town is quirkier and funkier than most communities along Texas' coast, thanks to an artsy and kitschy ambience more akin to a Key West. Along with 32 miles of blissfully sandy shores and pleasant weather throughout the winter, Galveston offers plenty of recreation and entertainment opportunities worthy of any holiday gathering. The Galveston Island Historic Pleasure Pier is a colossal boardwalk-style pier filled with carnival games and amusement rides, while The Grand 1894 Opera House is a prime spot to watch The Beach Boys or Charles Dickens' A Christmas Carol. For nightlife shenanigans, Robert's Lafitte is a LGBTQIA+ mainstay for drag shows, patio cocktails, dancing, and fun events, like "Shipwreck Talent Shows" and "Tone Deaf Karaoke."
Condado Beach in San Juan, Puerto Rico
Find turquoise tranquility on the sun-soaked shores of San Juan this holiday season. With its Instagram-worthy beaches and water so turquoise-blue it almost looks animated, San Juan's beaches are as dreamy as they come, especially considering the average temperature in December is 82 degrees. The cream of the coastline crop for LGBTQIA+ travelers looking for a holiday escape is Condado Beach. Unofficially known as San Juan's gay beach, most of the visitors here are members of the LGBTQIA+ community. On the beach or in the streets, it's the type of setting where travelers can feel comfortable holding hands with anyone. Check out Oasis Tapas & Lounge, a queer-centric bar right off the beach, or take in a drag show at Scandalo. Looking for someplace to stay? Coqui del Mar is a gay-owned, adults-only hotel exclusively for members of the LGBTQIA+ community, and it also organizes adventure tours, including rainforest treks and naked beach tours.
Orbitz
believes everyone should be able to travel freely, no matter who you are, who you love, or
where you're going. Discover LGBTQIA-welcoming hotels, plan queer-friendly trips, and get inspired to vacation. You'll feel welcomed whenever you book with Orbitz. Travel As You Are™
Matt Kirouac is a travel writer with a passion for national parks, Disney, and food. He's the co-founder and co-host of Hello Ranger, a national parks community blog, podcast, and app. Follow him on IG @matt_kirouac.