The new apps & services for Summer you can't travel without
Summer is that wonderful time of the year when the sun is out and you get to get away from the computer, go outside, and stare at a slightly smaller computer. Whether that's an iPhone or an Android, we've got you covered with the best new apps & services for Summer travel.
Google
Field Trip: Google's mapping team knows the world pretty well, and their expertise has been poured into this app. Essentially, it's designed to periodically look at where you're located, and then offer nearby attractions to visit. It'll either pick a spot based on your interests, or you can have it select a totally random place (which is clearly just copying Apple Maps).
Maplets
Maplets: It's not impossible to travel to a place where it's tough to find a cell signal, so whether you're in the mountains, the desert, or with AT&T, this app enables you to download hiking trails and public transport routes ahead of time, allowing offline access to the maps that you need once you're off the grid.
City Notes
City Notes: These dudes are offering a pretty unique take on the city guide -- just launched with NYC & SF, Notes goes hyper-minimal with just 20 recommended locations dotted around the urban area, all of which promise to be "the best and most interesting", obscure, and little-known highlights, which the residents of Williamsburg will be so over by the time you get to them.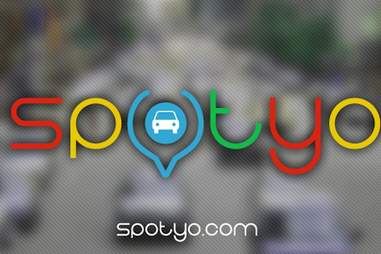 Spotyo
Spotyo: Finding a spot to park is usually super-difficult (unless you're actually in traffic, in which case it's usually impossible to move). Currently in early beta, Spotyo is hoping to curb some of that rage by allowing you to actually pre-book spots using an app by striking deals with parking garages, private companies, etc. all over the States.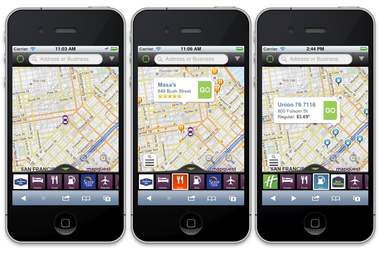 MapQuest
MapQuest Gas Prices: Pretty much the most trusted, up-to-date option in the land of gas price apps, MQ allows you to sort stations by distance or price, while also searching exclusively for stations that carry your fuel of choice (premium, diesel, E85, etc.), and ask the president what he's doing about those prices it even has a "gas calculator" to figure out if the journey will save you dough.