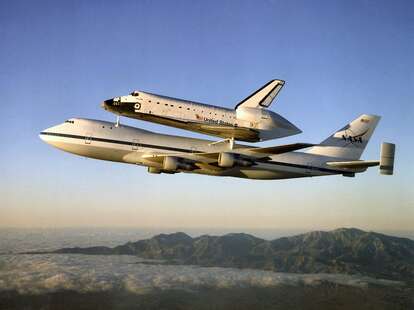 They call it the airplane boneyard, where once high-flying craft are dropped off when they're no longer needed, temporarily out of service, in need of refurbishing, or marked for cannibalization of their parts (RIP). These spaces must be arid and dry, conditions conducive to preserving big metal things. Therefore, long-term aviation parking lots are typically found in deserts—in the US, that usually means the Southwest.
Near Tucson, Arizona, Pinal Airpark pulls double duty as both a boneyard and an airport. Here, commercial planes interlock in rows, dormant, while on the single runway their smaller brethren fly off to explore new horizons. The largest commercial boneyard in the world (during the pandemic, when planes were grounded, the number of occupants ballooned from 89 to 400), Pinal Airpark comes with some serious history: During the Vietnam War, it functioned as the base for CIA front company Intermountain Airlines, now famous for their covert operations in Southeast Asia. Today, visitors can peer at the resident airplanes from outside the chain link fence or, even better, hop on a grounds tour —just call or email to make an appointment.
There's some recent history around these parts, too. Parked in the Pinal Airpark, among the sleeping Cessnas and whatnot, are a couple of worn Boeing 747-400s dating to 1991. Painted white with a stark red stripe, registration numbers indicate they were built to cart around Japanese government officials. The jets' interiors still reflect the dominant beige and tan color scheme of the time, their wide bodies partitioned by two narrow aisles.
In 2019, the planes were stripped of their engines. But if you can figure out a way around that, you can purchase them for a steal (or, at least, a lot less than the tens of millions they originally sold for). And while an airplane without an engine might sound like a giant waste of space, more than a few innovative 747 enthusiasts, it turns out, have managed to see the upside in these mechanical beached whales. Some have opted to balance one on top of a water park, like this incredible specimen in McMinnville, Oregon, while others have displayed them in aviation museums, like the Museum of Flight in Seattle. You can even turn your rescued jet into overnight accommodations—Jumbo Stay in Stockholm, Sweden makes for quite the novel airport hotel.
A solid business idea? Perhaps, but the window of opportunity for obtaining a piece of this repurposed action is sadly coming to a close. Considering the last Boeing 747 ever produced rolled off the assembly line on December 6, 2022, your chance to own one of the most influential designs in modern history is slimmer than ever. A design that, thanks to its offset upper level, kind of resembles a beluga whale. And a design that definitely defied the odds. Initially projected to cease production after the first 400, at final tally, a total of 1,574 Boeing 747s have hit the market since the airliner's 1968 debut, spanning six variants and multiple sub variants. And every single one of them forever changed the way we fly.
A lady to be reckoned with
They call her the Queen of the Skies. And for good reason: When it was introduced, everything about the 747 screamed "royal." With Boeing's first iteration measuring 231 feet, she was longer than the Wright Brothers' first flight (that was just 120 feet). To build her, Boeing constructed what remains the biggest building by volume in the world in Everett Washington. They say it could hold all of Disneyland, with room to spare.
The plane's creators christened her a superjet; it was the press that coined the nickname "jumbo." And it fit: The 747's tail rose as tall as a six-story building and her length dwarfed an entire generation of airliners. Armed with four engines and two passenger aisles, she was officially classified a wide-body. (Not for nothing, she was also the first plane to sport overhead bins. She is nothing if not practical.)
The 747 enraptured the public and revolutionized civil aviation. The planes were so big that runways had to be expanded; she carried so many passengers that airports were forced to reconfigure their layouts and baggage handling systems to accommodate her crowds. She expanded minds and experiences—now more people than ever could experience air travel for a lower price, to places that previously seemed out of reach, including the relatively new state of Hawaii.
Trippe said something along the lines of, "If you'll build it, I'll buy it." "If you buy it, I'll build it," Allen reportedly returned.
And those people? They traveled in style—in the beginning, anyway. You've probably seen pictures of vintage 747s, their upper decks filled with first class revelers kicking back in lavish cocktail bars like Qantas's famous Captain Cook Lounge. Perched atop a spiral staircase and sporting a nautical theme—complete with a portrait of Captain James Cook hanging on the wall—there was plenty of room for chairs that swiveled and drinks that packed a punch. Singapore Airlines's upper deck boasted seats that converted to beds. And for some airlines, luxury even spilled out into the economy rows. American Airlines converted some of the plane's ample space into a large inflight area for coach passengers. Included in that lounge? A piano bar.
But while the 747's very distinctive upper hump portion became synonymous with Champagne parties for the flying elite, those beluga noses were actually conceived with a much more practical purpose in mind. In fact, when that last jumbo rolled off Boeing's site destined for global airfreight giant Atlas Air, she was quietly harkening back to her very inception.
From products to people and back again
By the time those final cargo-bound 747s exited the conveyor belt in Everett, Washington—notably in the ceremonial presence of pilot and long-time jumbo fan John Travolta, among others—the production of passenger-oriented 747s was already a thing of the past. There hadn't been a new one built since 2017; its last customer, Korean Air. And as beloved as she was by the flying public, the cargo lot is actually a fitting end for the Boeing game-changer.
The Boeing 747 didn't set out to change the world. In the beginning, it didn't set out to do anything except fulfill a simple logistical request by the Air Force. In 1960, the military wanted to develop a plane to help transport bulky cargo and troops. Boeing put in a bid for the contract. Its design hinged on the inclusion of an upper deck to house the flight crew, a modification that allowed the nose to open up for frontloading freight access.
They ultimately lost the contract to Lockheed Martin. But Boeing's blueprints didn't go to waste, and cargo became a major component of the eventual 747 business plan. Right up until the end, the planes were configured for both passengers and cargo, a smart move that ensured their functional longevity.
The passenger-only version's development was encouraged by Pan Am founder and longtime company president Juan Trippe. His airline had been using Boeing 707s, but couldn't keep up with customer demand, which led to congestion at airports. Pan Am needed a larger craft, and, in 1965, Trippe approached Boeing president William Allen with the idea. Could they build something two and a half times larger than the 707? According to Northwestern libraries, Trippe said something along the lines of, "If you'll build it, I'll buy it." "If you buy it, I'll build it," Allen reportedly returned.
So Boeing built it, and Pan Am made the first order, reserving 25 747s at $20 million each. It was Trippe that suggested they convert the top deck into a first class lounge with a bar, reached by spiral staircase—it was originally going to be a resting space for crew. (Sorry crew.)
The 747's first test flight was on February 9, 1969, followed by a splash at the 1969 Paris Air Show, with over two dozen airlines putting in orders. Pan Am's first 747 flight took off on January 22, 1970. Stocked with 335 passengers and an unprecedented 20 crew members, the premiere commercial 747 voyage cruised from New York's JFK to London's Heathrow airport.
Others quickly followed, with TWA launching its service on February 25, 1970. The next month TWA dedicated the recently constructed Flight Wing One at JFK, the first terminal specially built to accommodate the 747 with seven wide-berth gates. The head house of Flight Wing One, part of celebrated architect Eero Saarinen's 1962 TWA Flight Center, still stands as the gorgeous mid-century TWA Hotel.
By the end of 1971, a host of international airlines including major carriers Air Canada, Air India, and Japan Airlines had all bought into Boeing 747 mania.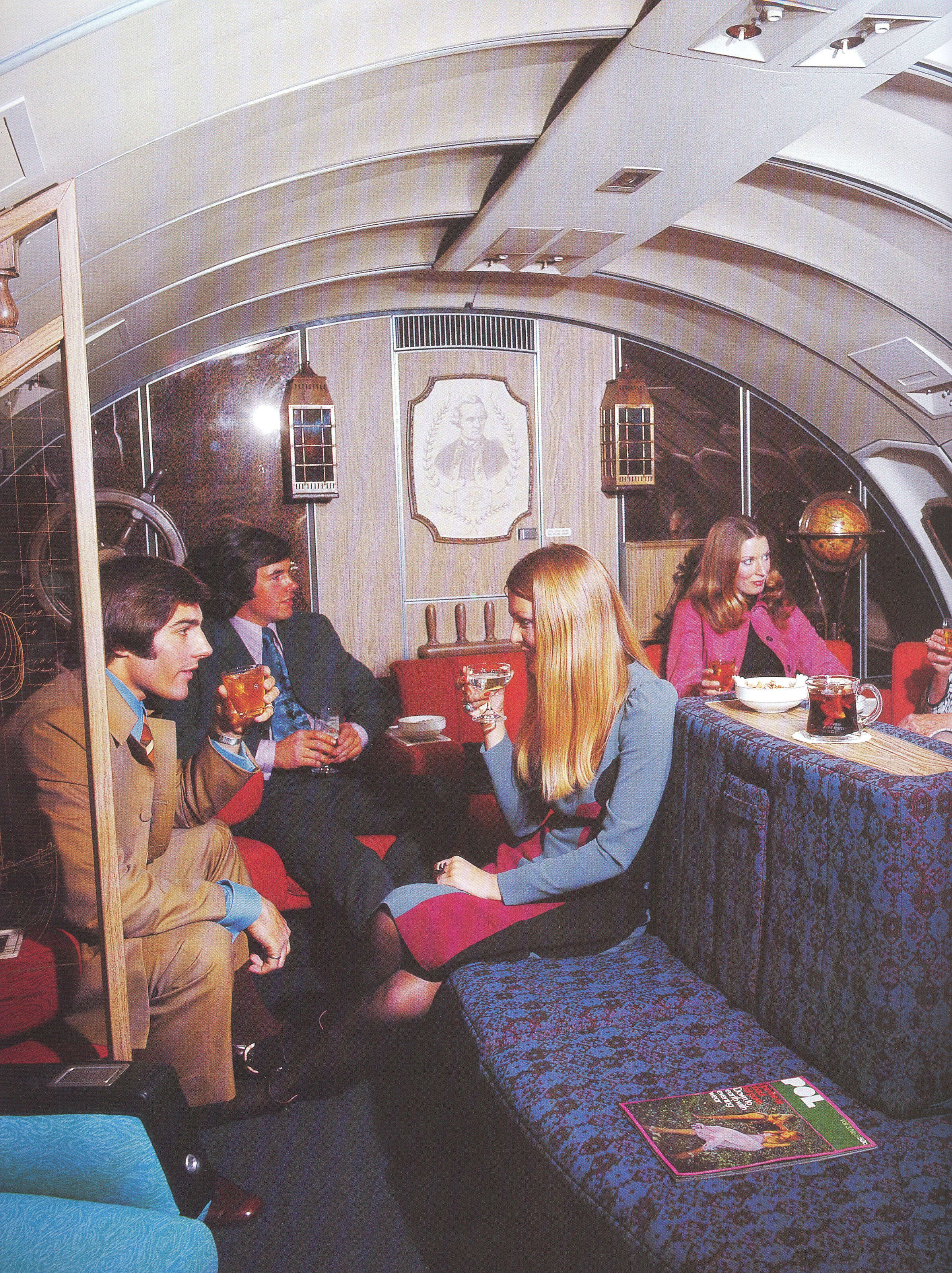 Making history (even when it didn't intend to)
Since that first Pan Am flight in 1970, some 3.5 billion passengers have buckled into the Queen of the Skies. Odds are, you're probably one of them. The 747 facilitated the hub and spoke distribution model we use today, where airlines shuttle up to 450 passengers per plane between major "hub" cities before shunting them off onto smaller planes better equipped to service less-trafficked "spokes." The process, developed by Delta in 1955 as an alternative to the more straight-forward point-to-point system, thrived on the ability to transport as many people as possible to those large hub airports. Toss a few 747s into the mix, and the reach and efficiency of civilian air travel increased exponentially.
And it wasn't just us land-dwellers that benefited from the 747's rise to glory. In 1977 a modified rendition built for NASA ferried the Space Shuttle from its landing spot back to Kennedy Space Center—and looked really cool doing it. So cool that she became the spaceship's primary chauffeur throughout the program's lifetime. The plane's low-slung wings helped beat out the competition, and customizations included adding mount points, and countermeasures to thwart heat-seeking missiles.
A true visionary, the 747 readily adapted to evolving business needs and a changing economy. Eventually, those opulent first class lounges gave way to more standard seating, gone entirely in most airlines by the end of the 1970s. But the images of those upstairs bacchanalians live on, eating caviar chilled by ice sculptures and flanked by flight attendants dressed in haute couture, evoking boozy— and roomy—Mad Men-esque glamor. They're an undying symbol of the Golden Age of Air Travel (RIP Pan Am), a gleaming reminder of when riding a plane was a vacation in itself.
Speaking of prestige, the 747 has been the plane of choice for Air Force One since 1990. Technically the name for any large-scale aircraft charged with carrying the Commander in Chief, just two 747s are equipped with the onboard electronics and security necessary for the job, not to mention the ability to convert to a mobile command center if needed. With 4,000-square-feet of floor space spread throughout three levels, these enormous machines are somehow also capable of refueling mid-flight, hovering for an unlimited time in the air while a fighter jet pipes in the goods.
And in the year 2000, the 747 made history yet again, albeit accidentally. Due to a weather disturbance, a British Airways aircraft caught some strong tailwinds and ended up setting a record for the fastest subsonic commercial flight across the Atlantic, narrowly beating out two Virgin Atlantic Airbuses. Its flying time from New York to London? 4 hours and 56 minutes.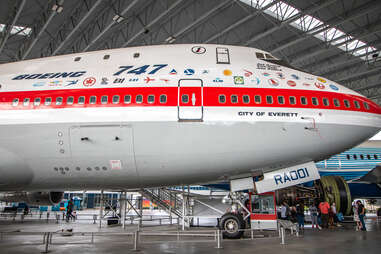 The 747 today
By all accounts, the Boeing 747 had a good run. She was, after all, only supposed to dominate for a short period of time, before supersonic jets took over (that idea never, um, got off the ground). The bump-nosed Queen of the Skies is now one of the most recognizable—and influential—aircrafts in the world, prompting the number of air travel passengers to quadruple between 1955 and 1972 alone.
But her reign couldn't last forever. As advances in technology allowed for more cost-efficient dual-engine planes to make longer flights, there was less need for jumbo four-engine passenger widebodies like the fated 747. Add that to the rising price of fuel—which the 747 used quite a bit of—and demand for the model began a steady decline which eventually came to a halt.
For those that have never had a chance to fly inside a 747, or at least see her glorious hump in passing, there's still time. Though several airlines have removed the plane from their fleets, there are still 396 Boeing 747s zipping around the friendly skies today. 311 of those are freight, 41 are assigned to private or VIP use, and 44 are passenger planes with airlines like Lufthansa, Korean Air, Asiana, and Air China.
However, should you want a more unconventional interaction with one, that can be arranged as well...
Splash down from a 747 waterslide
How about a 747 water slide? At the Evergreen Wings & Waves Waterpark in McMinnville, Oregon, a 747 sits atop the building, sprouting slippery winding tubes for easy transportation down to the pools below. A bonus for aviation enthusiasts: The waterpark is adjacent to the Evergreen Aviation and Space Museum, home to the largest wooden airplane ever built, Howard Hughes' Spruce Goose, which the famed magnate flew just once (probably because stuff began to fall off of it).
Wine and dine inside a grounded 747
Maybe you'd like to have a meal in a 747? A retired jumbo jet filled with red vinyl booths is the main attraction at Steak 21 in Bekasi, Indonesia. (There's also a karaoke room—make a night of it.) And at the aviation-themed nightclub and bar Hi-Flyerz in Johannesburg, South Africa, a preserved 747 cockpit pops up from the tile floor. You can't actually go inside it, but you can sit on a barstool and stare at it while you nurse your beer.
Get up close and personal with history-making 747s
Walk—or hop, or skip—through the first Boeing 747 ever built at the Museum of Flight in Seattle. The larger than life artifact is stamped with logos from all its initial 26 airline customers, including Pan Am, the first to order the plane, and Qantas, who, at one point, only flew 747s.
Later, explore the first 747-400 (the "high-tech jumbo," which introduced a glass cockpit and tailside fuel tanks) at the Delta Flight Museum in Hapefield, Georgia. The museum's 68,000-square-feet also spans a 737 flight simulator and several other aircrafts, including the only Delta passenger Douglas DC-3 in existence.
Spot a 747 in the wild
747s sometimes show up where you least expect them. Like at the Shijingshan Amusement Park in Beijing, where wandering through the massive plane is as amusing as some of the rides.
And sometimes, the 747s are right where you would expect them to be. Like at aviation museums including the Qantas Founders Museum in Longreach, Australia, the Musée de l'Air et de l'Espace at Paris's Le Bourget Airport, and the South African Airways Museum in Johannesburg (that one has two). Double your money at Independence Plaza inside Houston's Johnson Space Center, which houses the original NASA 905 Shuttle Carrier Aircraft, complete with a model Space Shuttle on top.
Spend the night in a (grounded) 747
You can sleep it all off at the Jumbo Stay Hotel at Stockholm's Arlanda Airport, which lets guests actually stay inside a converted 747. The 1976 model has been given an interior upgrade, with rooms accommodating one to three "passengers." Because why wander through a cockpit when you can make one your home? At least for the night.
And if all else fails, you can always drive by Pinal Airpark in Arizona. Tell them we sent you.
Vanita Salisbury is Thrillist's Senior Travel Writer. She will one day climb that spiral staircase.