This Maine Town Near Portland Has Its Own Blossoming Food Scene
Biddeford's exciting restaurants and bars are perfect for a weekend getaway from Boston.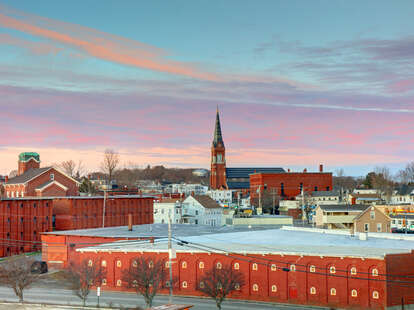 Biddeford, Maine

| DenisTangneyJr/E+/Getty Images
Biddeford, Maine

| DenisTangneyJr/E+/Getty Images
While the charming coastal city of Portland is often considered Maine's top culinary destination (it slays on the fine-dining, cocktail, and brewery fronts), a mere 20-minute jaunt down south lands you in Biddeford, a dining up-and-comer that demands your full gastronomical attention.
The longtime mill town is blossoming as a food-lover's haven, with higher-end gems going toe-to-toe with quality lunch spots, cocktail lairs, and breweries galore. Small wonder that the city got its first boutique hotel last year, and even smaller wonder that out-of-town diners are now mixing it up with locals and students from the nearby University of New England. Before you book your dining road trip, just one caveat: a lot of businesses are only open Thursdays through Sundays during the coldest months, and some take brief wintertime siestas to get ready for the high season (so do your due diligence).
Here are 9 reasons to drive to Biddeford, Maine for a weekend getaway from Boston.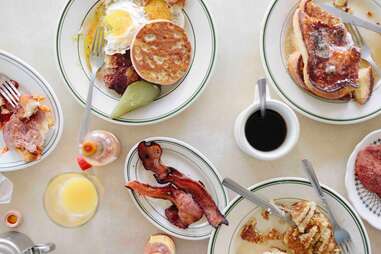 It's home to the best diner in Maine
Places don't get much more intimate than Palace Diner—just 15 seats at the counter of a revamped train dining car. But that only partly explains the endless wait times. People flock from all over the region to get their hands on the diner's Cheeseburger or Tuna Melt, as well as its many delectable breakfast offerings, especially the Deluxe Sandwich (bacon or sausage, egg, cheddar, jalapenos, mayo) and the Buttermilk Flapjacks. In fact, Palace Diner gets a lot of credit for putting Biddeford on the larger Maine dining map—and now is the most coveted seat in town.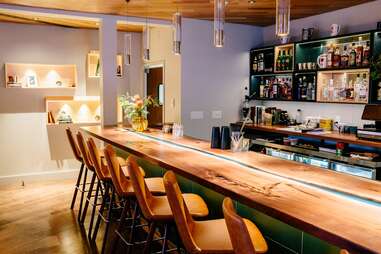 A burgeoning fine-dining scene showcases both edge and invention
When chef Bowman Brown first opened Elda at the end of 2017, many heads were scratched. Was downtown Biddeford ready for an edgy, prix-fixe dining experience on the second floor of a revamped mill building? But naysayers were quickly silenced by Brown's inventive cooking that celebrated the state's bounty in exciting new ways (there's a reason the New York Timestook early notice.) Biddeford has since added a second fine-dining spot to its dance card: Magnus on Water, a chic, intimate tapas spot with a seafood focus—chef Ben Jackson earned his stellar reputation at Portland's late, lamented Drifter's Wife—and an aesthetic straight out of Scandinavia.
Take your pick from casual eateries showcasing seafood, sandwiches, and pho
You don't have to pony up for a fancy meal to bask in the downtown dining scene.
Fish & Whistle—from married Portland restaurant expats Jason Eckerson and Kate Hamm—lures in lunchtime regulars with its Smoked Fish Dip, Fish & Chips, and the Marinara Squidwich featuring fried local squid. Dizzy Bird Rotisserie sources its organic, Halal-certified chickens from a single farm in Canada, which translates to an incredibly juicy bird (the BBQ Ribs are worth a return visit). At Rover Bagel inside the Pepperell Mill, the Classic Salmon smoked salmon bagel sandwich is fantastic—just get there early because their wood-fired bagel beauts sell out quickly. Those in search of authentic pho should beeline it to Que Huong for a no-frills but satiating meal. And the Italian sub at Part & Parcel rivals anything found in New York City—though older locals will argue that nothing beats the Classic Italian at George's Sandwich Shop, open since 1948 and recently saved from closure thanks to new owners. On Saturday mornings, don't miss brunch at Jack Rabbit. The Scandinavian bakery is Bowman Brown's latest venture and the Soft-Scrambled Eggs are a must-try.
The steller brewery scene serves suds of all kinds
Biddeford boasts an embarrassment of beer riches. Start out at Run of the Mill (technically over the border in Saco), where you can enjoy one of 30 on-site brewed ales along with your pub lunch. Happy hour at Batson River is an ideal time to try their black lager, Schwarzbier; and Barreled Souls also opens its tasting room early enough to entice afternoon imbibers with its stouts and sours. Sacred Profane only makes lager (Dark, a dark brew and Pale, a light brew), but rest assured it'll be one of the best you've ever tasted. End up at Banded Brewery, Biddeford's very first brewery, for a Cocoa and Peppermint Stout, some pinball, and a sausage sandwich. There's even good news for those with dietary restrictions: Lucky Pigeon only brews gluten-free beers, the first brewery in all of Maine to do so.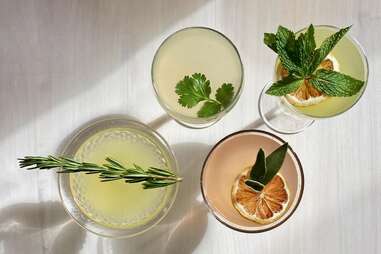 Craft cocktail spots and local distilleries offer stunning concoctions
While Biddeford might be more of a beer town, its commitment to wine and craft cocktails is steadily growing. Lorne is a both wine bar and shop, a serene respite serving curated wines by the glass including its Treat of the Day, a rare gem served at or near cost. Magnus on Water actually began as a straight-up cocktail bar, and beverage director Brian Catapang remains committed to whipping up stunning, outré craft concoctions served in next-level glassware. Round Turn Distilling focuses all its energies on gin, which you can try in various cocktail iterations inside its tasting room. Find the evening drinking party at The Lobby Bar inside the Lincoln Hotel, which rocks a moody supper club vibe and does delightful elixirs alongside its curated beer and wine lists; continue the party downstairs at Batson, which is also a distillery. And how can you not love Martini's on Main, a martini and dessert bar that stays open until 1am on Friday and Saturday nights? (Biddeford, it must be noted, is otherwise an early-to-bed town.)
Local bookstores serve drinks with their page-turners
We reserve a special place in our hearts for indie bookstores that also serve drinks. Elements offers a little bit of everything: pour-over coffee, craft beer, wines by the glass, and homemade pastries alongside its curated book selection (little surprise that UNE students hole up here for the day). And if you're feeling inspired, head down the street to Rabelais, a hidden gem that specializes in out-of-print cookbooks and other rare food and drink writings.
Indie boutiques dot the up-and-coming-downtown
As befits an up-and-coming downtown with a collegiate element, Biddeford is starting to amass a charming collection of indie boutiques. Dapper & Co. caters to the well-appointed dude, while Suger features the dresses and separates of Biddeford textile company Angelrox. Part & Parcel also sells a capsule collection of kitchen accessories, and White Door Home Store mixes it up with both new and restored furniture and home accessories.
A new hotel inside a converted mill space offers gorgeous lodgings
No need to day-trip and split: Have we mentioned that Biddeford now has a glamorous new hotel? The Lincoln Hotel is in another converted mill space, and the rooms reflect that history: huge, brickwalled spaces retrofitted with sumptuous king beds, remote controlled fireplaces, and massive glass showers that give you an in-room spa experience. And just tuck this knowledge away for a later date: the rooftop pool reopens in May.
Local souvenirs can be nibbled on at home (or drive back)
It's impossible to hit all of Biddeford's culinary gems in one go-around, so plan to fill your back seat with take-away vittles. The Chocolate-Hazelnut Croissants at Jack Rabbit are an absolute must, as are the Hot Cross Buns and Butter Cookies at Reilly's Bakery, an old-school joint straight out of Little Italy. And Nibblesford Cheese Shop is another food haven that invites you to go home with a stash of native Maine cheeses.