With the weather calling for a much-needed road trip, you might be on the lookout for exciting places to stay. Good thing New England is filled with some of the coolest, most adventurous, and gloriously picturesque homes for rent via Airbnb. Whether you're hoping to get away for a few days or spend a couple weeks on the go, we've got you covered.
Check out our list of the best spots to lay your head within driving distance of Boston, all perfect landing pads for your great—and responsible—escape. Be sure to read up on all of the homes' COVID-19 protocols prior to arriving and, as always, don't forget your trusty mask.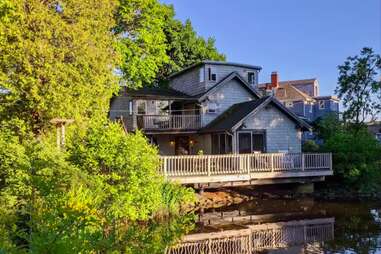 Marblehead, Massachusetts
8 guests, $321 per night
Distance from Boston: 35 minutes
This ultimate New England-style abode sports a massive deck overlooking a scenic pond stocked with cozy rocking chairs for your daily dose of daydreaming followed by post-dinner open-air entertaining. It's also only a five minute walk to the neighborhood's rocky beach if you want to catch sights of the waves.
Things to do nearby: Choose from seafood joints like The Barnacle Restaurant, Maddie's Sail Loft, or Three Cod Tavern if you're craving lobster rolls (hint: you are). There's also Castle Rock Park for a leisurely lap after lunch.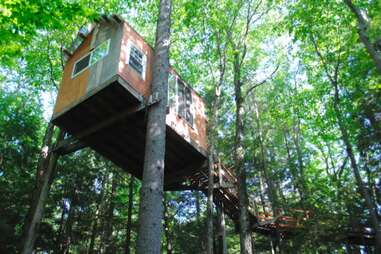 Dunbarton, New Hampshire
4 guests, $202 per night
Distance from Boston: ~1 hour
Perched 30 feet in the air atop a winding, suspended pathway, this treehouse wasn't built for the faint of heart. But if you're up for it (get it?), the property makes for an unforgettable stay and quite the travel tale. You will need to pack a few basic items like sleeping bags and blankets, but surprisingly, the spot does come equipped with WiFi.
Things to do nearby: Starting May 15, you can book a rail-bike ride at Scenic RailRiders in nearby Concord. And after your cruise, treat yourself to a well deserved craft beer or three at Concord Craft Brewing Company or Lithermans Limited Brewery.
Marblehead, Massachusetts
4 guests, $175 per night
Distance from Boston: 35 minutes
Despite being labeled a "tiny house," this Marblehead home away from home has plenty of space for lounging and catching up on some much needed relaxation. Just steps away from Salem Harbor and only a mile away from downtown Salem, you'll have your options if you decide to venture out for coffee, a quick bite, or a walk around town.
Things to do nearby: Grab a slow-churned cone at Melt Ice Cream before hitting up the harbor for a stroll. You can also check out the historic Salem Witch Museum or pack a picnic to enjoy in Salem Common.
Yarmouth Port, Massachusetts
7 guests, $364 per night
Distance from Boston: ~1 hour
Nothing says a New England weekend getaway quite like a trip to Cape Cod. If you're looking for breathtaking views of the water, enjoy a front row seat at this Yarmouth Port cottage's inviting patio. The decor is pretty perfect, too, so you might be spending more time indoors than you originally planned.
Things to do nearby: Book a tee time at Kingsway Golf or make a dinner reservation at the historic Old Yarmouth Inn, a celebrated institution since 1696.
Sanbornton, New Hampshire
4 guests, $257 per night
Distance from Boston: 1.5 hours
Standing twelve feet in the air, this secluded New Hampshire treehouse checks all the unique stay boxes. With a stunning interior setup and a fire pit for taking advantage of those clear nights, this outdoorsy oasis is a stylish stargazer's paradise.
Things to do nearby: Start your day off right with a stack of pancakes from Heritage Farm Pancake House. And if you're feeling like emerging from the woods for a little window shopping, the Tanger Outlets aren't too far away, either.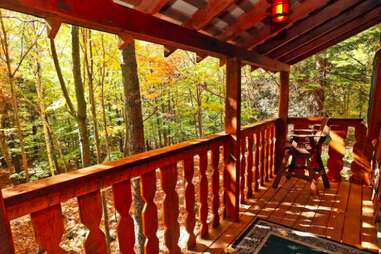 Newbury, New Hampshire
4 guests, $378 per night
Distance from Boston: 1.5 hours
For those in search of aerial views, this two-story treehouse is conveniently located near Lake Sunapee and only a five minute drive to Mount Sunapee. It's important that we mention the medieval-inspired interior as well, which is not only immaculate but perfectly crafted for stay-at-home wine nights.
Things to do nearby: Head to Mount Sunapee State Park for an afternoon hike or scope out the trails and gardens at The Fells. Heads up—if you're heading to The Fells, you're free to enjoy the property but will have to wait until after Memorial Day to enter the renowned John Hay Estate.
Conway, New Hampshire
5 guests, $218 per night
Distance from Boston: ~2 hours
Located in Echo Lake State Park, you won't have to travel far—if at all—for adventure during your weekend getaway to the White Mountains. The cabin's interior, a gorgeously decorated space with crisp decor, is equipped with all the necessary amenities. There's also a spacious patio for when the festivities move outside. An added bonus? The place is dog-friendly so you don't have to leave your furry companion at home.
Things to do nearby: It's only a ten minute drive to downtown North Conway where you can stop into Zeb's General Store for a bag of old-fashioned candy and hit up White Birch Books to pick out a weekend read. The legendary L.L. Bean outlet also isn't too far away, either, if you're looking to up your gear game.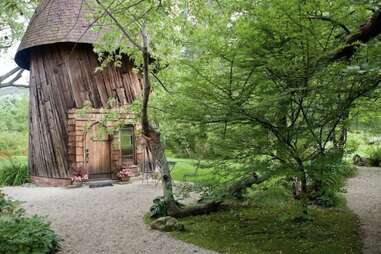 Lee, Massachusetts
2 guests, $250 per night
Distance from Boston: ~2 hours
You've heard of a tiny house, but have you heard of a tiny tower? This whimsical hideaway nestled in the Berkshires offers incredible views of the surrounding expanse. Grab a cup of coffee and look out over the property's calming lily pond which can be seen from the tower's giant multi-paned windows. The canopied bed upstairs is yet another magical feature that will have you feeling like you're far, far away.
Things to do nearby: Take a walk through the Berkshire Botanical Garden, pop over to the Lee Premium Outlets, or have a night out at Alta Restaurant & Wine Bar in nearby Lenox.
Bowdoinham, Maine
6 guests, $173 per night
Distance from Boston: ~2 hours
For something serene, this two-bedroom cabin found in the small town of Bowdoinham offers panoramic views of the area's natural bounty. With windows overlooking the bay, you'll have a constant reminder why you chose to book this one-of-a-kind stay over any other option.
Things to do nearby: Stop by the Bath Farmers Market on Saturday morning for fresh produce and locally-sourced treats or cross the Androscoggin Swinging Bridge in Topsham, one of the few remaining active pedestrian suspension bridges in the US.
Jamaica, Vermont
5 guests, $118 per night
Distance from Boston: ~3 hours
Yet another tiny house to make our list, Vermont's Apple Blossom Cottage has quite the personality. With exterior pops of chartreuse and pink giving way to a tie-dye motif inside, this lovely little home is ideal for those looking for a memorable vacation. The house also sits a short drive away from Stratton Mountain, a favorite among sporty New Englanders. And just in case you want to get another look, you can check out a quick video tour before you book.
Things to do nearby: Grab a classic breakfast at Townshend Dam Diner and make sure to save room for dinner at Honeypie, which offers mouth-watering burgers, sandwiches, and soft-serve ice cream at bargain prices.
Sign up here for our daily Boston email and be the first to get all the food/drink/fun the Hub has to offer.