It's no secret that Boston can be a little inhospitable during the dead of winter, but once the summer sun comes out to play, there's nary a more charming city to be found in all of New England. The Bay State capital is blessed with ample amounts of fine dining, an overabundance of world-class museums, and scores of charming parks and preserves, and—fortunately for visitors—the city's hospitality industry is top-notch, too.
Lavish suites overlooking the city, soothing spa treatments, and rooftop cocktails can be found in abundance across the Boston area, with luxurious properties spanning from the heart of the downtown district up to some of Greater Boston's less touristed satellite cities. If you're planning an all-out, once-in-a-lifetime tour across New England, don't miss out on these spectacular hotels.
Financial District
The Langham building may have been built exactly a century ago, but this historic downtown hotel is anything but antiquated. Fresh off the heels of a massive 2020 renovation, this palatial former bank has taken on a brand new aesthetic, with marble bathrooms, freshly-commissioned artwork, and a dazzling lobby all ready to greet newly-arrived guests. Of all the abodes available across the property, the Chairman's Suite is certainly one of the most lavish, with an eight-seat dining table, fireplace, and piano housed within over 1,500 square feet of space. While this palatial dwelling comes with complimentary access to The Langham Club, that's far from the only top-quality dining to be found on-site. The Langham is also home to two sophisticated restaurants, with Grana serving decadent Italian cuisine while The Fed offers classic British pub fare with a local touch.
Waterfront
A stalwart staple of the city's historic waterfront, the Boston Harbor Hotel made its grand debut in 1987, adorning the neighborhood with the signature 60-foot-tall arch that's known and loved today. The property is rife with top-tier accommodations, like the Constitution Suite, an opulent 1,400-square-foot space with a private balcony and soaking tub, but there's a world of opportunity located just a couple of steps past the front door. Beloved Bostonian attractions, like Faneuil Hall, Chinatown, and the New England Aquarium, are all within easy walking distance of the hotel—and after a long day on your feet, the property's pool is an absolute must-visit. For best results, swing by for a dip followed by a relaxing stay in the steam room, then spend your evening dining on fresh East Coast oysters at Rowes Wharf Sea Grille, the hotel's beloved seafood-centric restaurant.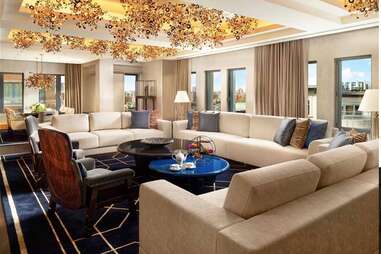 Back Bay
Boston's bustling Prudential Center is a haven for all things luxurious, equipped with high-end designer shops, elegant restaurants, and top-tier hospitality—the latter of which comes in the form of the Mandarin Oriental. This elegant property is equipped with 148 plush rooms and suites, but for a truly luxurious experience, don't skip out on the spa. Measuring in at 16,000 square feet, this storied space is the oldest Forbes Five-Star spa in all of the Bay State, offering a wide range of services, from Himalayan salt stone massage to millennial posture therapy. After a lengthy spa session, be sure to head downstairs for some well-earned beef Wellington, bouillabaisse, or chickpea tikka masala at Ramsay's Kitchen—the first Gordon Ramsay establishment to grace the city of Boston.
Everett
Planning the bachelor(ette) party of a lifetime? Forgo the lengthy flight to Vegas and head up to Everett to explore the Encore Boston Harbor, the commonwealth's foremost authority on fine dining, drinking, and gambling. Over 2,700 slot machines dot the dazzling red-carpeted casino floor while more than 10 upscale dining venues await hungry guests, ranging from Hong Kong barbecue spot Red 8 to the beloved Bay State beer haven Night Shift Brewing Kitchen & Tap. Come morning, if you find that you've partied a little too hard, there's no need to worry—the Encore is home to a full-service spa offering aromatherapy massage and mud detoxifying body treatments, while the on-property salon is at the ready to keep you looking marvelous before another long night of libations and blackjack.
What inspires you to travel? Whether you're looking for a culinary adventure, an exploration of the most extraordinary places to stay, or connecting with communities near or far, do it all with the Delta SkyMiles® American Express Card.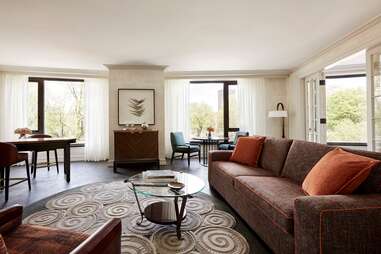 Back Bay
In-room massage services, gourmet hot chocolate, and an indoor pool are just a few of the amenities awaiting guests at the Four Seasons Hotel Boston, a palatial property located just a couple of steps south of the Boston Public Garden. While the Four Seasons is perfectly situated for exploring Back Bay's renowned drinking and dining scene, the hotel is no stranger to top-tier cuisine. Up on the second floor, Aujourd'hui Restaurant and Lounge offer spectacular views of the Public Garden that pair seamlessly with a lavender martini while The Sanctuary is perfectly positioned for sharing a cheese board and enjoying the balmy Boston weather. Each room and suite has been masterfully crafted, but for a truly unforgettable trip, spring for the Presidential Suite, an elegant abode outfitted with a spacious dining room, marble bath, and stellar views of the surrounding city.
Beacon Hill
Boston is rife with grandiose architecture, and The Liberty Hotel is no exception. Built in 1851, this Boston Granite Style institution first served as a prison before taking on its current (and far more lavish) role. Upon arrival, guests are met with one of Boston's most marvelous hotel lobbies: A massive 90-foot-tall space decked out in rustic brick walls and ornate chandeliers. Guests are welcome to bask in the beauty of the hotel at Clink, the property's charming lobby bar, or make a reservation at Scampo for some top-quality Mediterranean and Middle Eastern cuisine crafted by Chef Lydia Shire. As a bonus, The Liberty is one of the finest hotels to grace Beacon Hill, allowing guests to take a stroll around the neighborhood's charming brownstone homes and antique gas streetlights.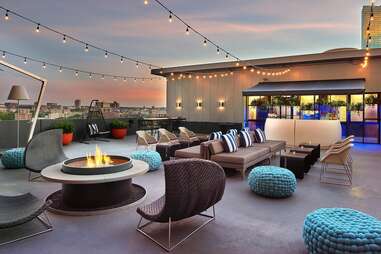 Downtown
Summer is in full swing across Boston and if you're searching for the perfect escape from the chaos of office life, it's tough to beat The Revere. This hotel comes complete with plush city skyline- and Back Bay-view suites, but to take full advantage of the summer sun, be sure to spend an afternoon lounging up at Rooftop at Revere. Perched on the seventh floor, guests are welcome to grab a sofa—or book a cabana for a little added flair—then leaf through the venue's lengthy drink menu, with refreshing cocktails, sparkling wine, and a wealth of New England brews all up for grabs. Dining-wise, the Revere is no slouch either, providing guests with an opportunity to enjoy a cold or hot lobster roll while soaking in the Boston skyline, or head down to Rebel's Guild for some clam chowder and Georges Bank scallops served in a refined setting.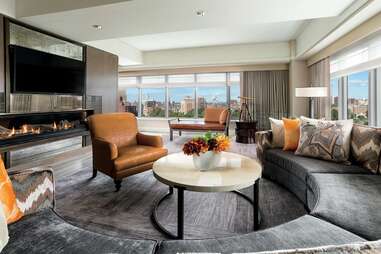 Downtown
In one of Boston's most historic districts, an oasis of sleek, modern design exists in the form of The Ritz-Carlton. While each of the property's 193 living spaces underwent a major renovation back in 2017, the property's suites offer a level of sophistication that's tough to find elsewhere. For all-out sophistication, be sure to spring for the Luxury Parkview Suite, a 1,100-square-foot space equipped with a library, marble bathtub, and stunning views of the iconic Boston Common. It may be tempting to lounge around your room all day, but be sure to take advantage of the many amenities available across the hotel as well. Working in partnership with Equinox, guests can head into the massive gym and make use of the basketball court, play some squash, or swim laps in the indoor pool, then head back to the Ritz to refuel at the polished Artisan Bistro.
Seaport District
Over the past two decades, the Seaport has grown from an overlooked field of parking lots to one of the city's hottest nightlife destinations—and the neighborhood's hospitality industry has flourished alongside it. Case in point: the Omni Boston, one of the latest additions to the local hotel scene. Officially opened in 2021, this titanic property consists of two uniquely-designed wings—the Patron Tower and Artist Tower—with each one measuring 22 stories tall. More than 1,000 rooms and suites are housed within its walls, and all of that extra space has fostered an incredible array of amenities, including seven distinct dining venues offering everything from complex cocktails to local and international cuisines. If you're looking to unwind after a rough week at work, book a massage at Breve Spa or head to the fifth floor to take a dip in Omni's rooftop pool.