We still hold this COVID-19 truth to be self-evident: Marijuana dispensaries have been, and continue to be, essential businesses. Recreational dispensaries were forced to close for two months way back when, but the moment they got the green light to reopen, folks poured back in. And for good reason—our stress levels are still through the roof. What better time to explore alternative treatments for your nothing-matters-anymore anxiety?
As the temps continue to rise and the days continue to grow longer, we've also included info about nearby, open outdoor areas where you can grab some fresh air at a safe social distance. And don't forget—no matter where you do your copping, masks are still most definitely a thing.
Worcester
One of the state's newest recreational facilities is minority-owned, equity-driven, and free from the control of large investors. In other words, it's a pure reflection of owner Ross Bradshaw's vision, who grew up in Worcester and seeks to give back to the city in ways large and small (he's only the fourth applicant in the state to receive economic empowerment licensure). The menu includes many a flower, pre-roll, concentrate, edible, and vaporizer from both large and small distributors, with a menu that changes daily.
COVID-19 protocol: Walk-ins and pre-orders both accepted.
Nearby natural high: Green Hill Park is a 480-acre city enclave that includes a zoo with farm animals, an arboretum, and two ponds, plus a municipal golf course.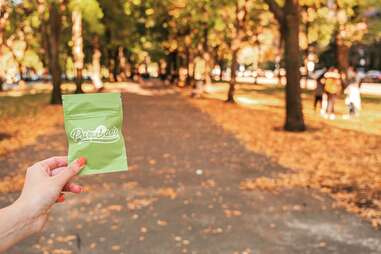 Dorchester
Like every other shop in the state, Boston's first recreational cannabis dispensary—and in fact, the first recreational shop to open in a major East Coast city—has overcome more than its share of hurdles. And yet, the Black-owned Pure Oasis has barely skipped a beat, maintaining a tremendous track record selling flower, pre-rolls, concentrates, and edibles like chocolates and fruit chews. It owes its success in part to its exemplary customer service, which is both friendly and education-oriented.
COVID-19 protocol: Drop by during regular business hours, call 617-420-6838 to speak to a budtender beforehand, and text "PURE" to 844-984-3813 to get exclusive promotions and updates.
Nearby natural high: Franklin Park is the city's largest open space and a year-round spot for long, uninterrupted strolls through nature.
Brookline
NETA Brookline is housed inside a beautiful converted bank, all high ceilings and ornate dark wood—the only difference being that the "tellers" traffic in the doob. The menu is comparable to its Northampton counterpart, though its enduring popularity sometimes means the product runs out more quickly, especially these days. Bonus points go to the staff for their friendly but no-nonsense attitude (not every dispensary customer seeks a woo-woo experience).
COVID-19 protocol: You can place your order online ahead of time (walk-ins are not allowed). Those with a medical card who live within seven miles of the facility can also order delivery.
Nearby natural high: Brookline Reservoir Park is a great spot to get your steps in before heading back home.
Framingham and Leicester
With a name like Cultivate, you'd expect a farm-like approach to their product, and the dispensary doesn't disappoint: with their "seed to table" governing philosophy. The lineup of flower, pre-rolls, wax, and vape cartridges is impressive, but how intriguing is that infused olive oil? No one ever went wrong with cannabis-spiked chocolate chip cookies as a pandemic treat.
COVID-19 protocol: Visitors must reserve ahead of time online to shop at both the Framingham and Leicester facilities.
Nearby natural high: A brisk tour of Frank Cook Forest In Leicester will provide a needed shot of natural bliss.
Fall River
Northeast Alternatives (NEA) has a poignant back story. At age 19, founder Chris Harkins witnessed the deep suffering his mom experienced from the cancer that would eventually take her life. When his dad was diagnosed with cancer years later, Harkins sought alternative treatments to alleviate pain and learned more about the efficacy of cannabis. Today, his Fall River brainchild sells flower, pre-rolls, concentrate, edibles, and vape cartridges.
COVID-19 protocol: The dispensary is open for regular business hours and is accepting online orders.
Nearby natural high: The Freetown-Fall River State Forest provides 25 miles of scenic hiking trails.
Easthampton, Salem, and Springfield
In addition to the standard lineup of flower, pre-rolls, vape cartridges, and concentrates, INSA also offers the Dart Pod, CCell's vape system that's lighter and boasts more vapor production than run-of-the-mill cartridges. Most intriguing of all are the body lotions, guaranteed to give you the most relaxing self-care session ever (which we sure as hell could use right about now).
COVID-19 protocol: Order online for speedy service or call 877-500-INSA to speak to a rep.
Nearby natural high: Mount Tom State Reservation is a one-stop-shop for all things outdoorsy.
Northampton
This was the state's first recreational dispensary, and when it opened, the wait times were measured in hours and available parking spots were miles away. Things have since calmed down, but we can't guarantee what it'll look like in this neverending age of uncertainty and upheaval. The menu inside the spa-like space is impressive: a variety of flower and pre-rolls, edibles like gummies and lozenges, topicals like lotions and salves, and so much more.
COVID-19 protocol: All orders must be placed ahead of time via Reserve Ahead; medical deliveries also available.
Nearby natural high: Northampton's Parks and Recreation Department suggests Friends of Northampton Trails and Broad Brook Coalition as two safe places to visit during this time of social distancing (open during daylight hours only).
Gardner, Brookline, Danvers, and Woburn
Of course you want your weed to be organic. At least, you do if you've made your way to Sanctuary, which prides itself on the high-quality cultivation of its products. It sells a variety of flower and pre-rolls, plus vape cartridges and a dash of concentrates. Among the enticing roster of edibles are watermelon fruit chews and grape lozenges.
COVID-19 protocol: Most locations are available for in-store shopping, but preordering is encouraged if not required.
Nearby natural high: Dunn State Park includes hiking trails and a new bike trail, both well-suited to outdoor social distancing. Near Gardner is the Floodswood Conservation Area, and Brookline Reservoir Park is a great option, too.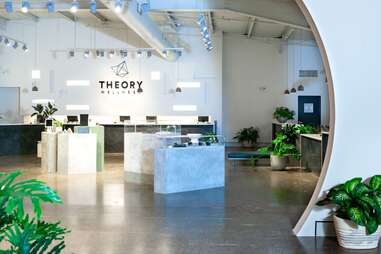 Chicopee and Great Barrington
If "seed to sale" is the new "farm to table," Theory is a trailblazer. Its small batch product is grown right in Bridgewater, resulting in a good variety of flower with two sizes of pre-rolls plus cartridges, Pax pods, and concentrates. The shops also feature plenty of edibles, tinctures, and a muscle lotion that won't get you high but will definitely ease pandemic-induced tension.
COVID-19 protocol: Preorder on the same day you plan to pick up.
Nearby natural high: Explore hundreds of hiking trails in Great Barrington. Chicopee State Park includes a host of popular fishing and hiking trails.
Lowell and Greenfield
Patriot runs one of the few medicinal dispensaries in Boston proper and has since added two recreational spots to its repertoire. The flower menu is impressive, currently spanning more than two dozen varietals. Will the weed massage oil give your shoulders the munchies? Only one way to find out. If you're going to gorge during these trying times, you might as well make the most of it.
COVID-19 protocol: Both dispensaries are open during regular hours for in-store purchases, but you can also order ahead of time for curbside pick up.
Nearby natural high: If you find yourself at the Greenfield location, visit nearby Rocky Mountain Park along the Connecticut River. The 117-acre wooded expanse is stocked with hiking trails and a century-old sandstone observation tower.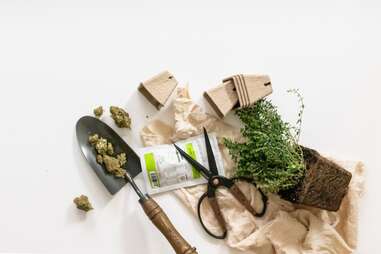 East Boston and Pittsfield
Pittsfield stands proudly as the highest town in Massachusetts, given it boasts two different recreational dispensaries when most Massachusetts towns can't even claim one (Temescal Wellness is the other). Berkshire Roots happens to showcase the largest growing operation in Western Mass, as evidenced by robust flower selection. They also have pre-rolls and a strong lineup of concentrates as well as gummies, chocolates, and four different tinctures all made in-house. All that plus the space is so calming and modern you'll feel like you've walked into an REI (but better).
COVID-19 protocol: Online orders encouraged at both locations.
Nearby natural high: Hit up Pittsfield State Forest for waterfall hikes and the famous Balance Rock or opt for a stroll along the Seaport for some soothing salt air.
Sign up here for our daily Boston email and be the first to get all the food/drink/fun the Hub has to offer.