When you think of where to get the best pizza in America, New England might not immediately rush to mind. With Chicago's mammoth deep dish pies, Detroit's square-cut gems, and foldable New York-style slices getting all the glory, it's easy to forget that little old Connecticut has some pretty strong contenders.
Many of these saucy stunners can be found in and around New Haven, including the original and widely-celebrated Frank Pepe Pizzeria Napoletana. According to CT Magazine, the founder, Italian immigrant Frank Pepe, dubbed his thin-crust, coal-fired, Neapolitan-esque creations "New Haven-style pizza" back in the 1920s, giving rise to a veritable cheese-laden revolution that quickly spread down the shoreline. Each subsequent pizzaiolo put their own spin on the beautifully-blistered standard, with toppings ranging from Italian stalwarts like pepperoni and sausage to newfangled options like fingerling potatoes and spicy maple syrup and Pepe's own famous white clam and garlic.
Still not convinced? Put the pies to the test this summer with a slice-fueled road trip through the Nutmeg State. We've mapped out Connecticut's top pizza-peddlers from Mystic to Stamford for your weekend getaway planning pleasure—just be sure to click through and review each restaurant's COVID-19 guidelines before you embark.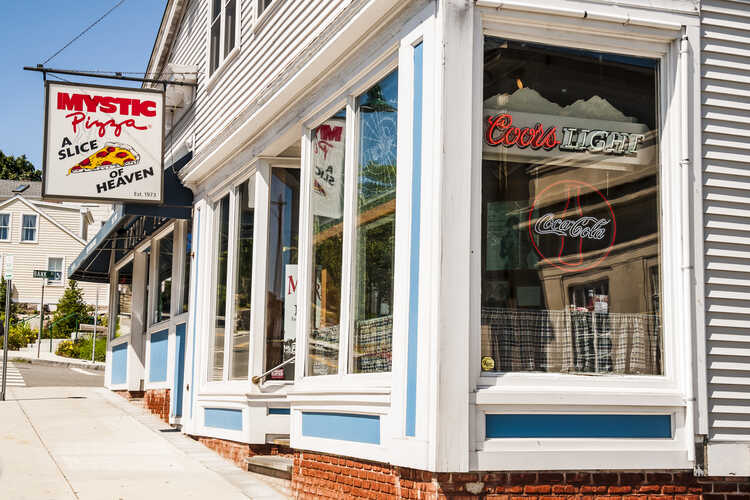 Mystic Pizza

| Enrico Della Pietra/Shutterstock
Start your journey off strong at Mystic Pizza. Fashions might have changed, but rest assured that the humble seaside joint behind the 1988 namesake Julia Roberts flick still lives up to the "slice of heaven" tagline. Since 1973, the shop has served up its proprietary family recipe to the masses, becoming so big that they've even launched their own line of frozen pies available at grocery stores across the nation. Grab a booth inside the retro, momento-lined space and order the House Special, a gut-busting mix of pepperoni, meatball, sausage, green peppers, onions, and mushrooms smothered in mozzarella and perched atop the joint's signature pillowy, delightfully chewy crust.
As Old Saybrook's longest-running family-owned restaurant, Luigi's has been channeling the old country via multiple generations of original recipes since first opening its venerable doors in 1956. The menu runs the gamut from calamari and housemade ravioli to gargantuan portions of chicken parm and zuppa mista di pesce, but with imported olive oil, aged cheeses, and fresh ingredients prepared daily, it's the pizza that really screams authenticity and goes down oh-so satisfyingly. Go with the aptly-titled Italian Flag, a white pie dotted with fresh-cut basil, ripe tomato, and creamy ricotta.
Brimming with intimate charm, Guilford's 325-square-foot Bufalina is slinging some of the tastiest and perfectly-blistered wood-fired pies around. Founded by husband-wife duo Melissa Pelligrino and Matt Scialabba, the two decided to set up shop after learning how to make authentic Neapolitan pizza in southern Italy. For tips on what to order, try the signature Bufalina pie, featuring velvety buffalo mozzarella, plump San Marzano tomatoes, and a generous drizzle of basil-infused olive oil.
Our list wouldn't be complete without the famed Frank Pepe Pizzeria Napoletana, a favorite among the pie faithful since its 1925 debut. Also known as Pepe's, this pizza powerhouse first popped up in New Haven and has now expanded to over ten locations across the Northeast. The White Clam Pie is a must here, a briny winning combo of fresh clams, garlic, oregano, grated Pecorino Romano, and olive oil, and you can't go wrong with the Original Tomato, a simple yet irresistible marriage of crushed Italian tomatoes, grated Pecorino Romano, and olive oil. while we only had space for just one of New Haven's many front-runners on this list, you could easily make a day of it by hitting up hometown rivals Sally's Apizza and Modern Apizza in search of your ideal slice.
Yet another landmark Connecticut parlor, Zuppardi's Apizza has been serving its hand-tossed New Haven-style pizza for over 80 years. Founded by master baker Dominic Zuppardi in the 1920s, the family-owned restaurant has incorporated a few new menu items over the years but nothing beats the OG plain pie, where a healthy helping of rich tomato sauce lies beneath a hearty layer of grated Pecorino Romano cheese.
If you're up for trying new things, Brick + Wood in Fairfield is home to just about every topping combination imaginable. A few shining examples? How about the Four Cheese Potato Pancetta, a white pie piled high with gold potatoes, a blend of fontina, Asiago, Parmigiano, and mozzarella cheeses, crispy pancetta and finished with spicy maple syrup. Or maybe we can interest you in the Vinny Bee, a margherita-style offering topped with bacon, sausage, spicy soppressata, ricotta, and a drizzle of spicy honey. There's also patio seating so you can enjoy your meal while breathing in the crisp summer air.
Wind things down at this Stamford staple, a 1935 Prohibition-era Irish pub turned Connecticut-based pizza chain centered around straightforward thin-crust pies set aflame with a splash of their signature hot oil. Topping choices are limited but, let's be real, you're here for the oil—unless, of course, your visit happens to coincide with weekend brunch service when boundary-pushing (and hangover-curing) bacon, egg, and cheese "breakfast pizzas" take center stage.