How to Honor Black History Month in Boston
From museum exhibits to workout classes and pop-ups shops featuring Black-owned businesses.
"The Embrace"

| Embrace Boston
"The Embrace"

| Embrace Boston
In a city internationally known for its historical landmarks, it's essential to acknowledge and shine light on the major influence that Black leaders and historical figures have made—and continue to make—on Boston and its surrounding areas.
So, in honor of Black History Month, we've rounded up historic places in and around the city where you can learn about Black history and how the community has shaped Boston into the city we know today. Plus, there are plenty of fun events, dinners, and pop-up shops where you can support Black-owned businesses this month—and it's all here in our guide to celebrating Black History Month in Boston.
Ongoing
Boston Common
In case you haven't already had an opportunity to check out the new monument, head to the Common to see "The Embrace," the 20-foot-tall bronze statue honoring Dr. Martin Luther King, Jr., and his wife, Coretta Scott King. Designed by artist Hank Willis Thomas in collaboration with MASS Design Group, "The Embrace" is situated within the 1965 Freedom Plaza, which also honors 69 local civil rights leaders active between 1950 and 1970.
Ongoing
Various locations
For new and familiar flavors that pack some of the most delicious punches, Boston's community of Black-owned restaurants are a great way to recognize the month. There's Soleil brought to you by chef Cheryl Straughter in Nubian Square for freshly cooked Southern fare, Darryl's Corner Bar & Kitchen in Roxbury for the ultimate comfort food (also a known spot for live entertainment and soul music), Jamaica Mi Hungry brought to you by chef Ernie Campbell for some of the best jerk chicken you'll find nearby, Lucy Ethiopian Cafe right off the Symphony T stop is a destination for supreme vegetarian options, and chef and owner Douglass Williams' MIDA in the South End and Newton has exceptional pasta made in-house. For even more ideas and go-to spots, check out our list of some of the city's most essential Black-owned restaurants or the Boston Black Hospitality Coalition's restaurant guide for recommendations in just about every neighborhood in the area.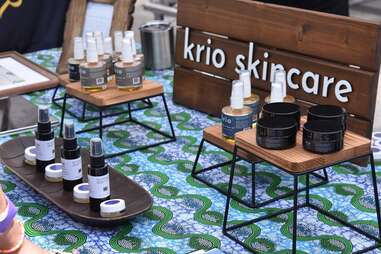 Ongoing
South End
First launched in 2019, Black Owned Bos. began as (and continues to be) an engaging platform and resource used to highlight Black-owned businesses across Boston. Now, with its very own brick-and-mortar store in the South End, shoppers can browse hundreds of curated gifts from more than 20 Black-owned brands. Wares range from home goods to jewelry to apparel, with curated gift boxes for special occasions available online. Keep an eye on the store's events page for more ways to celebrate, including its upcoming collaboration with Time Out Market Boston for the Spread Love Market on Saturday, February 11 from noon to 5 pm.
Ongoing
Beacon Hill and Nantucket
With locations in both the Beacon Hill neighborhood and Nantucket, the Museum of African American History is New England's "largest museum dedicated to preserving, conserving, and interpreting the contributions of African Americans." The museum, open year-round, has a collection of more than 3,000 items accrued over the past 50 years, with artifacts telling stories from as early as the 1600s into the 20th century. You can reserve your ticket online for $10 per adult, and $8 for youth and seniors (children under 12 can enter for free but you still need to register online). And, if you're interested in contributing to and supporting the museum's mission to showcase these powerful stories of leading Black historical figures, families, and more, you can donate online.
Ongoing
Beacon Hill
For stops along national historic sites, the Black Heritage Trail allows individuals and groups to reflect on the city's past community leaders, activists, and other historical figures. Although guided tours are only offered in the summer, you can set out on your own adventure by following along via the virtual map on the National Park Service's website, stopping by sites including the Robert Gould Shaw and Massachusetts 54th Regiment Memorial, honoring one of the first Black regiments to serve in the Civil War, and the John J. Smith House, a leading community activist and entrepreneur who operated a barbershop that became an important center for abolitionist activity. When you're nearing the end of the tour, you'll also get to visit the Abiel Smith School and African Meeting House, both part of the Museum of African American History.
Ongoing
South End
After being temporarily closed for two years, Wally's Cafe Jazz Club is back in business and setting the stage (quite literally) for some of the best young musicians and jazz performers in Boston. Founded in 1947 by Joseph L. Walcott, who immigrated to Boston from Barbados in 1910, Wally's Cafe Jazz Club has seen the likes of nationally and internationally recognized musicians while offering weekly jam sessions for aspiring musicians and vocalists. Whether you swing by to show off your musical chops or grab a drink or two, Wally's Cafe should be at the top of your Boston bucket list.
Saturday, February 4 – Sunday, February 5
Lechmere
Boston's Museum of Science will kick off Black History month with a celebration weekend featuring special guest speakers, live poetry readings, dance and music performances, and more. Tickets for the event can be purchased online for $29 per adult, $25 per senior and $24 per child. Throughout the month, the museum will also be spotlighting influential Black scientists and engineers as part of their Black History Month celebration.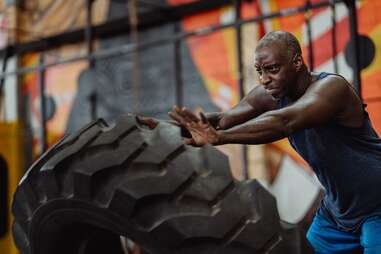 Find Black-owned fitness studios to support
Ongoing
Various locations
If your New Year's resolution involves finding and committing to a workout routine, look no further. Mission Hill's trillfit, founded by CEO Heather White, is a Black- and woman-owned business that offers hip-hop, boxing, and strength-training classes that make working out a blast. Additional local Black- and woman-owned establishments worth putting on your radar include Boston-based Relevé with Rachel, Fit4Life Movement in Roslindale, and 4 Corners Yoga + Wellness in Dorchester, which on February 12 and 26, will invite yogis to take part in a viewing and discussion of the film Till. Plus, the studio will be offering free 30-minute virtual community classes throughout the month (see schedule online).
Tuesday, February 21
West End
City Winery's Cocktails & Comedy tour is making its way to Boston this month. The tour, a "live event platform that showcases exceptionally talented comedians and mixologists of color, with an intentional focus on amplifying the talents of women and BIPOC creatives," is brought to you by co-creators Lauren "LP" Paylor O'Brien and Rojo Perez, who met on the set of Netflix's Drink Masters. The event will feature a cocktail hour with O'Brien, drinks crafted by guest mixologist Natalie Migliarini, and a comedy show hosted by Perez and headlined by fellow comedian Tone Bell. Tickets can be purchased online starting at $35 per person.