8 Stellar Group Getaways from Boston In a Three-Hour Drive or Less
Did somebody say road trip?
Paid Content For

Cliff House Maine
Cliff House Maine
Embarking on a road trip from Boston means two things: Escaping the hustle and bustle of city life and so many epic destinations to decide between within driving distance. Whether you're drawn to picturesque coastal hamlets, want to amble along a quaint main street, or are in need of some outdoorsy fun in mountain towns, New England has a road trip adventure for you and your crew. So, throw your luggage in the trunk and get ready for your next great escape from Beantown.
The magnificent Berkshires await. Get ready for cinematic vistas on the roughly two-hour-and-forty-five-minute drive from Boston to North Adams, MA. From Boston, head west to pick up the scenic and historic Mohawk Trail near Athol, Massachusetts, and follow it along to North Adams. New to the region? The Mohawk Trail Scenic Byway is a sublimely beautiful 69-mile drive passing through three Massachusetts counties complete with rolling hills, lush forest landscapes, Berkshire Mountain road climbs, farmlands aplenty, and Hallmark-worthy small-town roads. Once you're in North Adams, you'll journey along Hairpin Turn, one of the region's most popular tourist destinations boasting panoramic views of the Hoosac Valley, Mount Greylock, and Mount Prospect.
During your time here, the posse should carve out at least a few hours to spend time at MASS MoCA, a contemporary visual and performing arts museum or for hiking around the Natural Bridge State Park (open May through mid-October), where you'll see the only natural water-eroded bridge in America that is about 550 million years old. Meals in these parts are also worthy of hours-long blocks as farm-to-table dining invites lingering and learning from staff. Two great choices that promote this cooking M.O. in North Adams are The Break Room at events space Greylock Works, and Trail House, tucked directly off of the Mohawk Trail, with some of the best baked brie to meet your lips.
When it's time to hit the hay, Hotel Downstreet has an indoor pool and hot tub for your group to enjoy. Plus, we like that they offer free coffee to-go from their local partner Tunnel City Coffee to keep everyone content (read: caffeinated). On your way to or from North Adams, road-trippers should also be sure to stop in Adams to see the Quaker Meeting House and Susan B Anthony Birthplace Museum; the Bridge of Flowers in Shelburne Falls, a seasonal five arch foot bridge across the Deerfield River, built in 1908; and the Yankee Candle Company in Deerfield, Massachusetts (because there's no such thing as too many fall-scented candles). It's better in the Berkshires, indeed.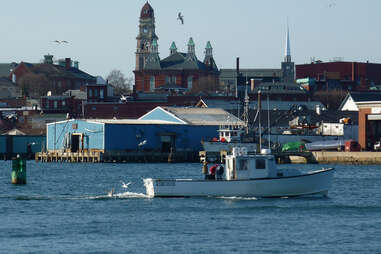 Gloucester, MA
When traveling from Boston to Gloucester, hop out of the car for a walk along Singing Beach (named for the sand that "sings") in the neighboring coastal town of Manchester-by-the-Sea. Now you're officially in The North Shore! Gloucester, Massachusetts, located some 50 minutes from Boston is the craggy coastline town of your dreams, amplified by famous fishing heritage and several cultural institutions. Our vote is to visit Cape Ann Museum to satisfy both art and history buffs in your clique, followed by the Hammond Castle Museum, celebrated for its medieval and gothic architecture, or Maritime Gloucester, to school yourself on Gloucester's working waterfront. Then, spend some time wandering about the Gloucester Harborwalk, and shuffle along to either Eastern Point Lighthouse or Annisquam Harbor Lighthouse (or both) for a group photo op.
In terms of lodging, the Beauport Hotel is worth the splurge for an oceanfront retreat you won't soon forget (for travel brownie points, also take note that the property is located on the oldest fishing port in America). Seafood, of course, is the name of the dining game here and Seaport Grille, perched on the harbor with two decks offering ocean views and 1606 Restaurant and Oyster Bar, which has live entertainment on Tuesdays and Thursdays are two sure bets. As is Oliver's Harbor Restaurant & Bar, a family-owned, contemporary American establishment where the mussels and sea scallops are divine.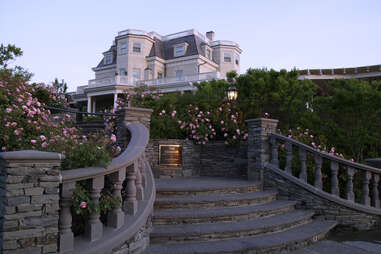 Some 72 miles from Boston (or a two-and-half hour drive) lies ever-winsome Newport.
Come for the Gilded Age architecture, stay for the crab cakes, lobster rolls, and clambakes. To get acquainted with the terrain, take a scenic Newport Trolley Tour. Or, start your trip with Newport Mansion tours for a megadose of Gilded Age Splendor (FYI: Some mansions are only opened seasonally), and then stroll along the famous Cliff Walk for that rocky shoreline, Atlantic Ocean, and sprawling estate triple punch.
Speaking of that famed three-and-a-half-mile route, you'll want to post up at The Chanler at Cliff Walk, where you and your friends will spend the happiest of hours on the property's picturesque lawn that welcomes a wine garden in the summer, apple cider bar in the fall, and hot chocolate bar in the winter (whatever you sip on, make divvying up the costs of drinks a breeze with Zelle®). The hotel's Cara restaurant doles out blind tasting menus that rotate daily for an unforgettable culinary experience, and nearby you can also feast at The Mooring Seafood Kitchen and Bar, Clarke Cooke House, and The White Horse Tavern. Visiting the International Tennis Hall of Fame is a must before you skip town.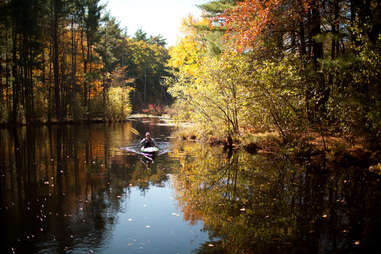 North Central Massachusetts at its finest can be found approximately 50 minutes from Boston in Groton, billed as "America's original frontier." On the way to Groton, get out of the car and stretch your legs in the town of Lexington, Massachusetts, as you check out the National Historic Landmark Lexington Battle Green and Minuteman Statue, a life-size bronze figure overlooking the battle green depicting a colonial farmer with a musket by Boston sculptor Henry H. Kitson. Also known as "Johnny Appleseed Country," the great outdoors is a way of life in and around Groton. You'll find rivers, lakes, forests, over 100 miles of trails, farmland, a plethora of wildlife, and a swath of protected open land space. Traveling with fellow hiking enthusiasts? There's Groton Trails Network with 130 miles of maintained trails for you to tackle. Or swap sneaks for skimming on the Nashua River in West Groton with canoe, kayak, and SUP rentals through Nashoba Paddler. Another fun way to spend a day is hiking up to the historic Bancroft Castle, which dates back to 1906.
If you and your pals prefer diversions of the low-perspiration variety, sneak a peek at the concert lineup at Groton Hill Music Center or scope out the art exhibits at Goldring Piene Art Farm. For grub, allow us to point you towards Gibbet Hill Grill, an upmarket farm-to-table eatery or Forge & Vine, where the restaurant's pièce de résistance is an eight-foot wood-fired grill. The latter of which is the culinary hub of The Groton Inn, a boutique hotel on the town's storybook main drag.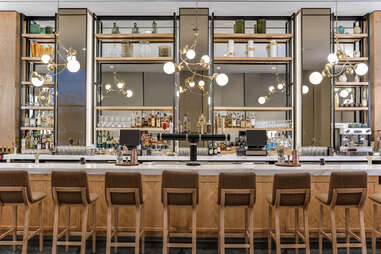 Yes, we know: Maine has a spectacular coastline. But take a turn from the coast to visit the city of Waterville, an up-and-coming New England arts and culture hub. Three hours from Boston, Waterville is already home to the respected Colby College Museum of Art, and the school recently unveiled the Paul J. Schupf Art Center on Main Street, which will also connect to the historic Waterville Opera House.
With this revitalization comes hotels you and your friends will actually want to plan a trip around, like the Lockwood Hotel, which, in 2022, became the first boutique hotel to open in the city in over a century. Inside the hotel, you'll find the crave-worthy Front & Main, which has excellent dinner service and stellar Bloody Marys to pair with all the French toasts and eggs Benedicts your group will be ordering. Even if you slung back one too many bloodies, you'll only have to walk across the street to Greene Block + Studios, an arts collaborative that hosts a rotating program of performances and exhibits, run by — you guessed it — Colby. Another day, fresh air fiends can rejoice in ample outdoor activities from hiking in nearby Pleasant Point Park or driving about 30 minutes to the Kennebec River Rail Trail for biking or a walk-and-talk en route to Boston.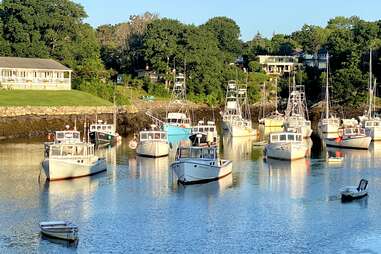 For those who prefer a trip where you're out and about, book your rooms at The Admiral's Inn, close to Ogunquit's famous public footpath, the Marginal Way, and a beloved host for LGBTQ+ gatherings. Ogunquit in general is a popular LGBTQ+ destination, with many restaurants, galleries, and entertainment venues that are gay-owned and operated. Make yourself at home at Main Street, with dueling drag queens, holiday events, and more. The Front Porch, a cherished piano bar, is also worth swinging by on any Ogunquit itinerary. Or, buy tickets to catch a show at the Ogunquit Playhouse, with "Tootsie," the Broadway musical currently playing and "The Sound of Music" on deck for the holidays.
Sometimes, you want a group getaway where you never leave the hotel. If that's your objective, may we suggest Cliff House Maine? It's 77 miles or about a two-hour drive from Boston and has just about the best spa you've ever experienced. (Even the relaxation room with floor-to-ceiling glass windows overlooking the sea is a destination in and of itself.) After a massage and a manicure just plop down in an Adirondack chair on the lawn. From there, you can decide if you want to pop in the outdoor pool (seasonally) or indoor pool for a dip or curl up with your crew's book club selection. Or how about screening a film in the theater or chipping away at a "crafternoon" with a craft class (like "Paint a Memory" lessons with the property's artist-in-residence, Ric Della Bernarda)? Nestled atop Bald Head Cliff, eating is always a good idea at this luxe resort, too. We love having dinner by the fireplace at The Tiller or leaning into Maine's lobster roll obsession at Nubb's Lobster Shack. Before you close your tab (again, Zelle® to the rescue) get competitive with a few rounds of cornhole on the side lawn.
The one time you do head off-site, make the trek to Ogunquit's seaside cliff walk, bustling downtown shopping area, and strip of sandy beaches open to the public year-round. And if you're all about seeing lighthouses on vacation (who isn't?) visit the Nubble Lighthouse in close-by York, Maine. If you need some inspiration for potential breaks during your drive, we'd recommend Portsmouth, New Hampshire. Grab java or tea at Cup of Joe Cafe & Bar on Market Street or grab a bite at the historic Gilley's Diner, which can trace its origins back to a 1940 lunch cart. Black Trumpet, an inviting waterfront haunt from James Beard Award semi-finalist Chef Evan Mallet makes for a superb lunch stop, too.
Taylor Swift fans may know of Westerly: The singer has quite the sprawling mansion in the Watch Hill neighborhood. You can see said manse from the splendid Ocean House, which has plenty to keep the whole crew entertained like cooking and wine tasting classes in its Center for Wine and Culinary Arts, golf, croquet, and movie screenings in the on-property theater. And, oh yeah, there's a heck of a spa and beach ripe for fishing, surfing, or lazing, too.
Or, check into the Weekapaug Inn, which has an in-house naturalist to take you out on Jeep safari tours, stargazing adventures, or hikes near the property. We're also proponents of The Restaurant, which is heavy on coastal New England classics like oysters and lobster risotto or bisque, and The Bar, where cocktails are more creative than the venue's name (make sure to end the night with a chocolate chip skillet cookie and vanilla ice cream). Both of these hotels are roughly two hours from Boston, and we'll leave it to you and your loved ones to vote which snags your reservation. Either way, you're in good hands and should check out Rhode Island's capital city of Providence on either leg of your trip.
If your friend group moonlights as history professors (or, hey, that could be your real gig) we're sending you straight to the small town of Wethersfield. Two hours from Beantown, you'll arrive at Connecticut's largest historic district with no shortage of enlightening experiences. Open seasonally, book it to the Webb-Deane- Stevens Museum which has a slew of exhibition galleries and access to an eight-acre campus and gardens — plus the option to take a guided tour of three restored historic houses. A walk down Main Street is equally rewarding; you'll find shops like Old Wethersfield Country Store and Heirloom Market at Comstock Ferre and restaurants like Lucky Lou's and The Charles. For those with a sweet tooth, good luck making it out of Main Street Creamery and Cafe with homemade regular ice cream, gluten-free options, lactose-free soft serve, and vegan ice creams without spending a Jackson. Come nightfall, relax with the bunch at Silas Robbins House, built in 1873 representing the Second Empire design with features like Victorian stenciling, moldings, draperies, and period furniture. What's the only thing that could make this vacay better? Stopping at Ron-A-Roll Indoor Roller Skating Center on the way home to Boston.
With Zelle®, money goes directly into your bank account. It's taken care of, so you can feel, enjoy, and savor every moment. It's delightfully seamless.