Presented By
Sanofi Allegra
Maine Is Opening Dozens of Lighthouses to the Public for One Day Only
Just remember to bring a kayak.
Presented By
Sanofi Allegra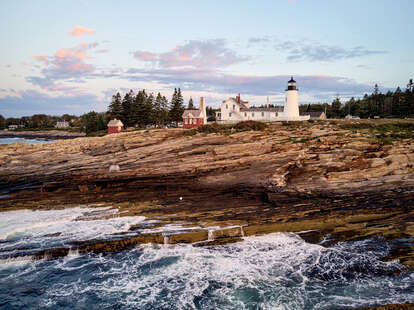 The Pemaquid Point Lighthouse features special cut-glass lenses.

| Photo courtesy of Maine Office of Tourism
The Pemaquid Point Lighthouse features special cut-glass lenses.

| Photo courtesy of Maine Office of Tourism
Already a beacon of outdoorsy adventure, Maine flings open the doors to many of its beloved lighthouses during its annual Maine Open Lighthouse Day, which falls on September 9 this year. About half of 2023's inclusions are historic lighthouses generally closed to the public, making it a rare chance to explore some of Maine's oldest lighthouses. With an expected 15,000 to 18,000 visitors turning out to explore more than 20 land-based and offshore lighthouses that day, it's important to plan ahead.
Experiences vary at each lighthouse depending on its condition and, at times, whether someone is residing in the lighthouse keeper's quarters. Several land-based lighthouses offer both tower and keeper's house tours, plus other unique attractions that make them worth a visit.
Maine lighthouses to explore
Owls Head Lighthouse, situated along Rockland Harbor in Owls Head, allows visitors to ascend the light tower and visit the keeper's home—now an interpretive center and gift shop. The day's agenda also includes a book signing with Angeli Perrow, author of the children's book Lighthouse Dog to the Rescue.
True lighthouse enthusiasts should prioritize the Pemaquid Point Lighthouse. In addition to inviting visitors into both the tower and the lighthouse keeper's home, Pemaquid Point boasts a fourth order Fresnel lens, one of fewer than 275 remaining in the United States. These special cut-glass lenses are named for inventor Augustin Fresnel, who designed the refractive, beehive-shaped lens in 1822—a gigantic leap forward in lighthouse technology.
Portland Head Lighthouse is set to join the fun as well, but the Cape Elizabeth Lighthouse will offer only 300 visitor tickets on a first-come, first-serve basis. Organizers ask that only people comfortable climbing its 85 steps unassisted reserve one of the limited tickets.
Though it's easy to get to the land-based lighthouses, the offshore spots require visitors to find their own transportation across the water to access them. Visitors can take their own kayak over, rent one, or book a kayak tour with a local tour guide and ride over as a group. Of the offshore lighthouses, Burnt Coat Harbor Lighthouse on Swan's Island, Burnt Island Lighthouse off the shore of Boothbay Harbor, Goat Island Lighthouse near Cape Porpoise, and Monhegan Island Lighthouse all offer lighthouse tower tours as well as keeper's house access. Visit the American Lighthouse Foundation for suggestions on how to set sail for offshore lighthouses.
Rules and etiquette for visiting Maine's lighthouses
Maine Open Lighthouse Day, sponsored by the United States Coast Guard, the Maine Office of Tourism, and the American Lighthouse Foundation, is free, though some lighthouses may suggest a small donation. There are often height requirements—in the ballpark of 46" minimum—and it's important to remember that many of the lighthouses are historic and may have steep steps. Those stairs might also spiral to the top via a narrow corridor, so give folks a little extra personal space while climbing.
Drive time
Approx. 3 hours and 30 minutes from Boston
Where to eat and rest: Port Clyde
Maine Open Lighthouse Day is—as you might guess—just one day, but Maine's nickname is Vacationland for a reason. It's a (coastal) breeze to lean into the lighthouse theme and plan a lighthouses-or-bust getaway.
Port Clyde's Marshall Point Lighthouse will offer light tower and lighthouse keeper's home tours as part of Maine Open Lighthouse Day, plus the keeper's building includes a museum and gift shop. Those looking to go all in should stay at Seaside Inn and Ocean House Hotel or rent a houseboat in nearby Pemaquid Pond in Bremen, Maine. Watch the movie Forrest Gump, which features Marshall Point Lighthouse, then explore the lighthouse by sea and captain your own small vessel up to and around the lighthouse. Local outfitter Port Clyde Kayaks offers a 45-minute trip, which is appropriate for all levels, including beginners.
Melanie Carden is a private chef turned travel writer. She's equal parts adrenaline-seeker and
Golden Girls
vibes. You can find her trying new things, thrifting for treasures, grinding it out on a trail, or lounging on a picnic blanket—Aperol spritz in hand. She's fickle about social, but the sporadic nuggets are worth the wait—cricket tacos, anyone?