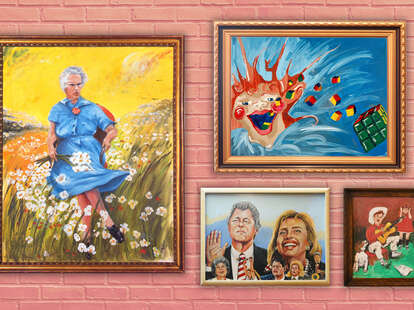 Museum of Bad Art

| Design by Maitane Romagosa for Thrillist
Museum of Bad Art

| Design by Maitane Romagosa for Thrillist
All art is subjective, unless, of course, it's really, really bad. Take for example, a misshapen labrador posing in front of an American flag. Or a woman ingesting—or perhaps expelling—pieces of a Rubik's Cube. But terrible art is also wondrous, a truth the Museum of Bad Art has embraced for almost 30 years.
The newly relocated and reopened museum toasts all that is creatively unholy—original, inept paintings and drawings that makes you laugh, cry, or simply stare in bewilderment. It made its debut at Dorchester Brewing Company this week, restaging a collection that has been homeless for more than two years thanks to the pandemic.
"Dorchester Brewing offered everything we've been looking for," says cofounder and executive director Louise Reilly Sacco, citing its ample wall space, long hours, congenial staff, and $0 rent, which means the team can offer admission to the museum free of charge.
The museum first started in 1993, committed from the beginning to celebrating the bad, the worse, and the truly ugly. Inspiration came when Sacco's brother, Jerry Reilly, proudly displayed a picture he'd rescued from antique dealer-slash-friend Scott Wilson's trash pile (he just wanted the frame) and hung it over his fireplace, saying "it's so bad, it's good." The piece in question? "Lucy in the Field with Flowers," which depicts an older, confused-looked woman awkwardly skipping through a field of flowers.
Feedback from visitors was universally positive, so Reilly and then Sacco began sourcing additional talent-free finds at yard sales, thrift stores, and occasionally even in the trash. The museum eventually found a brick-and-mortar home at a theater in Dedham before moving to the basement of the Somerville Theatre in 2000, where it remained until the beginning of the pandemic. Sacco and curator-in-chief Michael Frank then pivoted, sharing pieces online, offering talks via Zoom at public libraries around the country, and sending traveling exhibits to cities like Tokyo and Taipei.
Sacco eventually reached out to Dorchester Brewing Company to see about a relocation, inspired by the laid-back vibe and eclectic crowd. The brewery's co-owner Matt Molloy was instantly charmed by the potential marriage.
"It's fun, unique, entertaining, and doesn't take itself too seriously," he says of the museum. "It's art. Just a different approach to evoking all the things 'fine' art evokes."
The new gallery inside of Dorchester Brewing Company will show about 40 works from MOBA's collection of more than 800 pieces. At the recent grand opening, close to 80 people gathered and giggled over pieces like "Queen of the Chocolate Chip," a royally dressed woman eating, yup, a chocolate chip cookie, and "The Waterfall," a landscape that is definitely not Bob Ross-approved. And, a new acquisition was revealed: "The Damned Guy", one artist's effort to improve upon Michelangelo's "The Damned Man" by putting him in a green Speedo.
"We are very selective about accepting new pieces," Sacco says. Her own favorite piece "changes regularly," she says. "Right now, I love 'Don't Want to be a Cowboy's Sweetheart.' This piece is modeled after a Norman Rockwell work but would never be mistaken for an actual Rockwell." For Molloy, it's the painting of JFK eating a soft serve cone. "I laugh every time I walk by it," he says. "You just need to ask, Why? Why did someone spend hours capturing that?"
Building on their success, Sacco hopes to open an exhibit at a traditional art museum and publish a third book featuring the highlights of the collection; she and Frank also plan to continue remote programming, expanding their reach to community centers and corporations.
But for now, the museum's new home at this favorite Boston-area brewery provides everything you need for a bad art viewing experience. As Malloy says, "Everything in life probably looks better after a few beers, right?"