How to Enjoy Nantucket Like a Local This Summer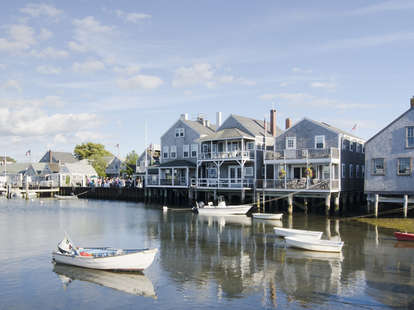 With a population of only 10,400, the 48-square-mile island of Nantucket can boast fewer full-time residents than most major city neighborhoods. And while Nantucket's population increases approximately fivefold in the summer months (to just about 50,000), no one knows the island better than year-round residents. From off-the-beaten-path trails to the best eats, we've got the inside scoop from Nantucket locals on how to best spend your Nantucket summer.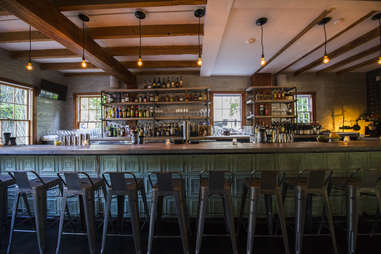 Order cocktails by the number
Jenny Benzie, master sommelier at local wine shop Épernay and full-time Nantucket resident of 3.5 years, said the best cocktails on the island are a toss-up between The Nautilus, which has Fernet on tap (yum), and The Proprietors, where "some cocktails are actually healthy." We'll just take that at face value and order a few rounds… which you can do here by the number, not the name, if you want to sound like a local. If you want to have a drink by the water, Benzie recommends CRU Oyster Bar, where you can pair "perfectly chilled rosé" with crab cocktail, a warm buttered lobster roll, and chocolate pôt de creme for dessert. Go around 3pm, and you'll be hitting the perfect time for a little seaside breeze.
Drive across the beach
Forget the flip-flops; you're crossing Great Point Beach with four-wheel drive. Korin Matter, general manager of 21 Broad and full-time Nantucket resident of three years, recommends renting a Jeep to drive across eight miles of beach on Nantucket's lesser-explored eastern shore. The terrain is 50% conservation land, and makes a peaceful respite from the summer madness. Matter recommends taking a day for the trip: pack a picnic, paddleball, and sunblock, and hit the sand.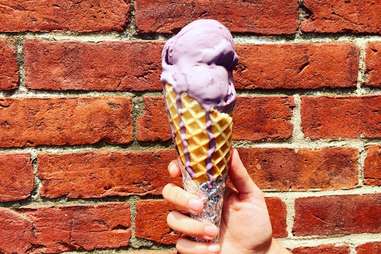 Ice cream before dinner, you're clearly a winner (that's how it goes, right?)
The Juice Bar is no secret to anyone who walks through Downtown Nantucket; the iconic ice cream bar boasts a line that wraps around the block most summer days. But owner Ron Lefebvre, who has lived on Nantucket for 30 years, offers us a pro tip for those wishing to avoid queuing up for ages: try visiting between 6-7pm, when there's usually a lull in the line. The busiest hours tend to be from 2-5:30pm and again from 8-11pm, so postpone dinner for a double scoop of Green Monster (mint with cookie dough -- just trust) in a fresh waffle cone. Once your appetite returns, go for a later dinner at Black-Eyed Susan's, The Sea Grille, or Lola 41.
Keep up your cold brew habit
Just because you're on an island doesn't mean you have to sacrifice urban delights. Holly Finigan, who works as a Nantucket lifestyle curator at Nantucket blACKbook and has lived on the island since 2005, recommends getting nitro cold brew on tap from the hip Handlebar Cafe, and cold press juice and healthy snacks from Nativ Made. Other tasty items on Finigan's favorites list: chilled seafood from 167 Raw food truck, which also shucks oysters at Cisco Brewers, where you can cool down with a locally brewed beer, wine from Nantucket Vineyards, or a cocktail from the local Triple Eight Distillery. Pro tip: bring home a bottle (OK, case) of Triple Eight's blueberry-flavored vodka. You won't regret it.
Take a hike
While a beach vacation may be all about laying out on the sand, sometimes you get restless enough to want a little exercise. Nearly every local recommended hiking on Nantucket, which has miles upon miles of unexplored trails. "Most people stay right Downtown, so they don't explore," Matter says. Don't be a statistic, you guys: Matter recommends hiking from Sanford Farm to the beach, or visiting Altar Rock, Nantucket's highest point, for amazing 360-degree views. Nantucket Conservation Foundation has trail maps if you don't have a local guide.
Go for a beach picnic
Joy Margolis, a Nantucket resident of 10 years, is a big fan of Sayle's Seafood, a super-casual fish market offering takeout seafood dinners, clambakes, and lobster platters. Across the street, there's a beach pretty much untouched by tourists, where Margolis likes to take her kids for low-key playtime... sans all the beach bags. Those who don't want sand in their fried Nantucket Bay scallops can also sit at one of Sayle's few indoor or outdoor tables.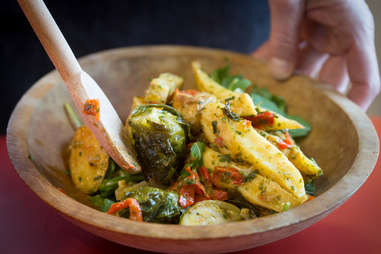 Stay local
Margolis, who recently opened Nantucket Culinary Center with her husband Greg, is a big fan of the guerrilla farming scene on Nantucket, where small farms are "growing really weird things" like an herb called "anise hyssop," used at NCC. She recommends checking out the Sustainable Nantucket, which hosts weekly farmers markets and farm-to-table feasts.
Visit on August 32nd
If you think your summer vacation has to take place from June-August, you're not thinking like a Nantucketer. September, also known as August 32nd through August 62nd, is the absolute best time to visit the island, according to Benzie.
Take the chef's suggestions
Managing partners Alex Leventhal, Elliot Gould, and Jeremy Leventhal of the soon-to-open (and highly anticipated) Greydon House suggest dining at the secret chef's table at The Pearl, or taking advantage of the great wine list at American Seasons.
Sign up here for our daily Boston email and be the first to get all the food/drink/fun the Hub has to offer.
Melissa Kravitz is a writer based in NYC. Her favorite thing to do on Nantucket is sit on the beach with a book and a cold drink and ignore everyone else. Follow her @melissabethk.