If you want to find out how Boston earned the nickname The Hub of the Universe, look no further than its vast array of throwback enticements. Whether it's a casual stroll down the city's most celebrated boulevard, a simple soft-serve on a sweltering day, or an afternoon spent communing with sea lions, Boston is a city awash in modest yet singular delights. Every day spent exploring the city is just another reminder that simple things really are the best.
Walking the length of the Commonwealth Ave mall
Why log your 10,000 steps just anywhere when you can stroll beneath a canopy of elms and maples on a boulevard designed in the style of Grand Ol' Paris? It's 32 acres of bucolic, calming bliss smack dab in the center of the city. But don't take our word for it -- Winston Churchill once called the mall, "the grandest boulevard in North America."
Hanging around Fenway Park during a Sox game
Yeah, those Sox tickets just keep getting more and more pricey, but there are other ways to experience the joys of the game. Loiter around Yawkey Way and Landsdowne Street during the middle of a matchup, sausage in hand, and you'll still hear the roars of the crowd and the eighth-inning refrain of "Sweet Caroline." And then there's always the chance a homer will fly over the Green Monster -- climb to the top of the parking garage on Landsdowne and it might even land in your waiting mitt.
Feeding famous Public Garden ducks
City ducks aren't like other ducks, and Public Garden ducks aren't like other city ducks. After all, these waders have a classic children's book devoted to their ancestors (Make Way for Ducklings), never mind eight bronze statues paying homage to same. In other words, they're famous, or at least famous-adjacent -- but not so famous that they don't still adore your bread scraps and scramble adorably for any (safe) edible thrown their way. Convening with wildlife = instant gratification.
There is no quicker way to literate nirvana than by checking out the latest bestseller and then retreating to the library's central outdoor courtyard -- a lush, fountained atrium that's part of the original building design from Charles McKim. Squint and you'll think you've landed in 19th century Europe; wait around long enough and you might even be treated to one of the courtyard's frequent live jazz performances.
Soft-serve from Jennifer's Frosty Truck
When spring begins to bloom, the signs are everywhere: blossoming willows, chirping birds, 24-7 news coverage of the Red Sox' nascent season. But nothing makes us more excited for the sunny months than the annual debut of Jenny's Frosty Truck, an ice cream four-wheeler that predates our city's food truck rage by decades. No sushi burritos or coal fired artisan pizzas here, just classic soft serve twists dipped in jimmies, a New England classic. (Just don't call them sprinkles, or you'll immediately lose your regional cred.)
Boating on the Charles River
NBD: Our state just happens to house a bucolic 80-mile river that snakes through Greater Boston before emptying into the Atlantic Ocean. And our boating options are legion: rowing, sculling, sailing, canoeing, and kayaking are all on the docket, with inexpensive rental spots dotting the shores; there's even a gondola option for hopeless romantics. Pack a watertight picnic and spend a lazy afternoon literally going with the flow.
SoWa open studios
Art before wine, soon feeling fine. Those South-of-Washington artists are a generous bunch, which is why the first Friday of every month they throw open their studio doors and beckon you in with sculpture, photography, paintings... and yes, free vino and munchies. Galleries stay open late, too, with similar adult-beverage enticements. Turns out that supporting the local arts can also be a stress buster.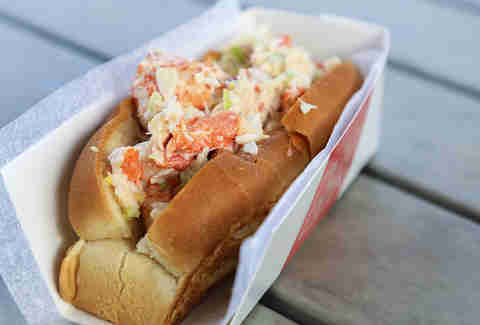 A lobster roll on a Tuesday afternoon, just cuz
It's easy to take our crustaceous riches for granted, but then again, why should we? This is a city where we can give in to our lobster yen anytime we please, given the vast numbers of dishes they frequent on menus around town -- be it a fancy lobster roe spaghetti or a simple lobster boil. Our vote: a simple takeaway lobster roll for lunch from James Hook & Co., the city's lobstering grandparent.
Finding a two-hour parking space in the South End
The heart palpitations, the sweaty brows, the kakorrhaphiophobia (fear of defeat): parking in the South End is as grueling as a Tough Mudder. But that unicorn-esque moment when you nab a non-metered spot? It's like your birthday, Christmas, and the Patriot's epic Super Bowl win all wrapped up in one.
Gazing at the seals at the outside tank at the aquarium
Want an instant endorphin rush? Park yourself outside the New England aquarium's sea lion tank and lose yourself in their mesmerizing swim strokes. There's just something about these puppy-like sea mammals; before you know it, you've lost a blissful hour watching them glide back and forth on their backs while contemplating installing a sea lion tank in your own backyard.
The New NESTEA
NESTEA has its own spin on Simple Joys, offering a new recipe including less ingredients and delicious tea leaves from Nilgiri, India. Because less is more.
A hot dog at Sullivan's
The lines may be long, but the Castle Island snack-shack tradition is so worth it: a simple steamed dog on a dry-toasted bun for the low low price of $1.90 (subject to change, but only by pennies). Order it "all around" (mustard, relish, onion) or "all-inc." (ketchup, mustard, relish, onion), throw some crinkly fries into the mix, and remind yourself once more that simple gustatory pleasures are the best.
Walking as much of the Harborwalk as you can
You know all those studies saying that proximity to water actually calms the mind? That means a 38-mile walk (or bike, or Segway ride) astride the Boston Harbor is better than a spa day. The waterfront path takes you through multiple Boston neighborhoods and offers inimitable views of the downtown skyline and the city's vibrant boating scene, all while enveloping you in that cleansing ocean air.