Travel
Sponsored by

The Best Ways To Uncover Boston's Artsy Side
Sponsored by

Boston might come across as your conservative older sibling, but that's just because you haven't gotten to know it yet. Sure, there are its obvious charms -- history, architecture, and seafood -- but if it's the authentic and adventurous you seek, it's time to dig deeper. Beneath Boston's Brahmin exterior you'll find a creative, forward-looking metropolis full of art, music, and immersive experiences (plus secret shows in hotel lobbies, but more on that later). Turns out, the still waters of the Charles River still run pretty deep.
The mansion-turned-museum is its own singular attraction, but if limited time prevents you from perusing the entire permanent collection (including the empty frames honoring its long-ago stolen masterpieces), whet your right-brained appetite during a free daytime art workshop hosted by a rotating cast of creatives.
Sign up for a cake-decorating class at Oakleaf Bakery
If you're going to let them eat cake, make sure it's a cake you're proud of. Oakleaf Bakery, a beloved confectionary celebrated for its wedding cake artistry, believes everyone has lattice potential. Learn to augment a three-layer, flourish a cupcake, or have fun with fondant. At the very least, you'll learn to fake it until you cake it.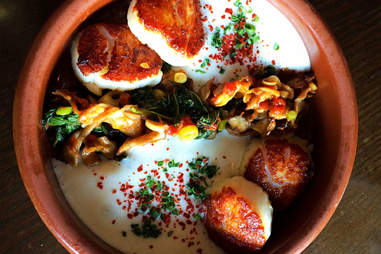 Courtesy of Tres Gatos
Combine dinner with vinyl at Tres Gatos
Tres Gatos understands the simple pleasures: food, music, books, and conviviality. The warm, twee tapas restaurant in Jamaica Plain contains a surprise at the back: a used book and music store that invites you to browse with a full belly (though vinyl-hunting before dinner never hurt anybody). Add in an alluring patio and small but potent brunch menu, and it's easy to imagine making time for multiple meals/shopping trips to swing back for that record you passed up.
Think of it as a peek behind the creative curtain. On the first Friday of every month, more than 60 entrenched artists prop open their studio doors to let curious perusers (or purchasers) get a glimpse of both completed and in-process works, while all the local galleries stay open late and entice the curious with wine and cheese.
When life deals you urban blight, make art. The city transformed a neglected underpass into a green outdoor gathering space with workout classes, a pop-up beer garden, and most significantly, a space for rotating mural installations spotlighting local, national, and international artists.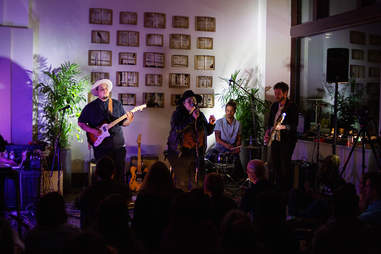 Michael Nuzzo
See a secret show at a Hyatt Centric hotel
A major hotel doesn't sound like the place you'd usually see great local music. But Hyatt's hookup with secret-show organizer Sofar Sounds means guests can see intimate shows featuring local artists inside the hotel -- not just at Hyatt Centric Faneuil Hall Boston, but at Hyatt Centric hotels around the world. Plus, these hotels are right in the middle of the action, so even if you don't catch a Sofar show, there's a city of art and adventure waiting to be explored right outside.
Stellar new music venues don't come along often in this city, but The Sinclair more than rose to the challenge when it opened its industrial doors back in 2013. The multi-level modern space is a draw both for its state-of-the-art sound system and the three bars populating the space; little wonder the spectrum of both local and national acts that dot the events calendar. The kicker? An attached, acclaimed restaurant serving modern American cuisine and seasonal cocktails that lets you pregame like an adult.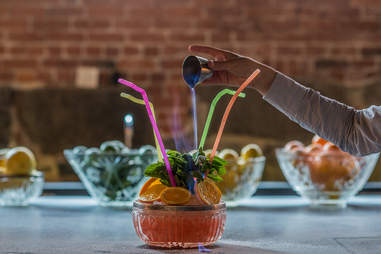 Xander Brown
Invent a cocktail at Drink
There are no drink menus at Drink, only a legion of inked and hiply coiffed mixologists waiting to make you the cocktail you didn't know you wanted. After an unhurried inquiry into your drinking preferences (Brown liquid or clear? Sour or sweet? Bitters or no?), your new personal bartender sets about creating a bespoke elixir. Patience is a virtue here -- even the ice is made to order, hand-chipped off a large frozen block -- but knowing the eventual drink in hand will be unlike anyone else's at the bar is reason alone to practice. For anyone who just wants a great drink, like, now, you need to try Bar Mercato. It has the excellent cocktail list you'd expect of a hotel bar (order a Negroni -- trust us), plus it's downtown in the middle of the action, so once you've had your drink, you can head outside and explore the city.
You don't expect cheeky drag amid stately brownstones, but Boston is sneakily transgressive that way. Ensconced within the well-heeled enclave of Bay Village is the city's best drag scene; seven nights a week, the showgirls of Jacques Cabaret treat you to all manners of performative raunch, from drag karaoke to drag stand-up comedy. It's a magnet for bachelorette parties and birthday revelers, but also medical students, strippers, suburbanites -- anyone aware of the cabaret's allure.