10 Boston Things We Can't Wait to Do When Quarantine is Over
Celtics game and waterfront oysters, anyone?
This was supposed to be our moment. May, after all, is the month of Boston's rebirth. The Lilac Festival. Porchfest. The SoWa Open Market. Lawn on D. Art in Bloom. Walk for Hunger. Brimfield. Swan boats. Boston Calling. Patio dining. Sox games that don't require North Face. But coronavirus had other plans.
You could argue that Patriot's Day is our official kickoff to spring, but really it's an epic tease -- a cultural one-off that unites us for a day before we retreat back inside for a few more weeks. Come May, however, we're out and about for good, furiously smelling the roses while shedding ourselves of that signature Boston pallor. And because no one has yet fled the city for vacation homes, the streets feel especially alive.
We miss aimless spring walks -- through the Public Garden to gaze at the flowers, or along the Charles to gaze at the sailboats, or down Newbury to gaze at the tourists. Obviously it's not that we can't take walks right now. Science, in fact, is urging us to do just that. It's that the walks themselves feel fraught. Why isn't she wearing a mask? Will that jogger actually swerve? Can our dogs touch noses? Will I manage to get above 5,000 steps today before beating it back to the apartment? I miss walks that are free of calculation and stress. I miss strolling and spacing out. (All the newfound birdsong has been pretty lovely, though.)
Colin and Heather Lynch miss those walks, too, although their favorite stroll takes place around Charlestown. Douglass Williams yearns for the day when he can hit a Gloucester beach. Will Gilson is really missing farmers' markets. And Irene Li would kill for some freshly baked bread from Clear Flour Bakery. We talked to eight notable locals and asked them what they're missing the most and can't wait to do again.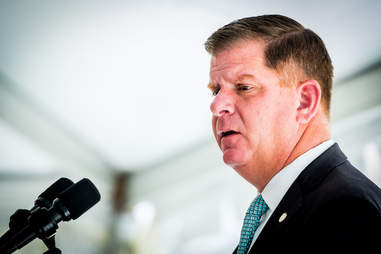 Photo by Sam Berube, Office of the Governor / Flickr Creative Commons
Seeing all of our Boston sports teams in action
"It's no secret that I'm a huge sports fan, and can't wait to get back to watching our Boston teams be back in action when it's safe to do so. There's no experience quite like watching a Patriots game from the stands of Gillette Stadium, Bruins and Celtics from the Garden, or the Red Sox from Fenway Park -- especially this time of year when the Bruins and Celtics would have been in the playoffs, and Red Sox just starting up their season. It will be a while before we're able to get back to attending sports games like before, but I will never take those moments for granted ever again."
—Mayor Marty Walsh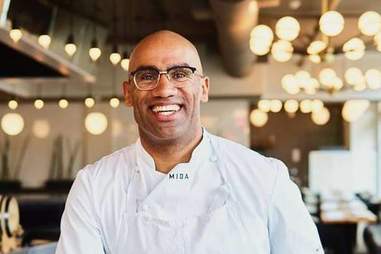 Douglass Williams
Enjoying sushi and cocktails -- and a trip to the North Shore
"I'd order the bento box to-go from Cafe Sushi, or I would sit as close to Seizi as allowed at the Sushi Bar -- I miss that man so much -- and I'd get the chef's tasting and that would be bliss. Pure bliss. If Anchovies was open, that's where I would be right now, celebrating the incredible Food & Wine honor with my friends and team. I would dig into the fries first -- those fries!  They are served so hot and salty with a hint of chive in the red and white checkered paper. Last, I like it at Longfellow Bar a lot. I would ask the bartender to make their own variation of The Paper Plane, with a hint of sweet, bitters, and acid and just shake it up. And for getting out of town, I'd love to head to Gloucester to visit our friends there at Long Beach and watch our kids running around without any care or restrictions. I can't wait for that day to come!
—Douglass Williams, chef/owner, MIDA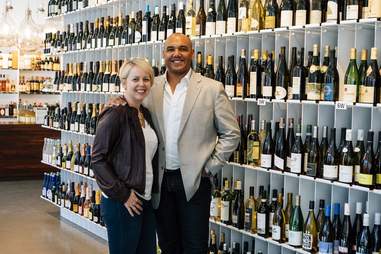 Hadley and TJ Douglas
Shopping and brunch, capped off by a Celtics win
"Our perfect Boston day starts with early morning golf at the George Wright course for my husband TJ, while I head to the South End for a Kingston smoothie from Jugos and a stroll through stores like Hudson, Follain, and Flock. From there, we brunch with the kids at Eastern Standard -- hopefully with the consummate professional Ximu Chen as our server. I'll start with an off menu Au Provence cocktail while TJ asks for a Mezcal Flip, and we'll all split the baked rigatoni and fries. After that, we'll throw on our Celtics jerseys and cheer on Jaylen, Jayson, and Kemba at the Garden screaming "DE-FENSE!" at the top of our lungs. Marcus hits a buzzer-beating three to win the game and there are high fives all around. Heading home via the Greek International Market in West Roxbury we'll pick up containers of treats like spicy feta, and meet our neighbors for a roaring fire pit and late dinner. We'll talk deep in to the night over never-ending bottles of rosé, snuggled into blankets, without a care in the world."
—Hadley and TJ Douglas, co-owners, The Urban Grape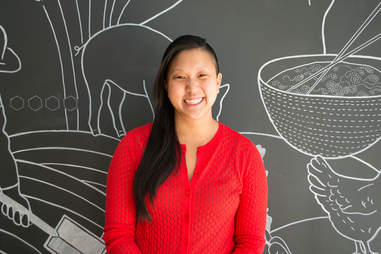 Irene Li
Waiting for freshly baked bread and pastries
"I miss standing in line at Clear Flour Bakery in Brookline. And I miss eating the bread and pastries, obviously. It's my childhood bakery and now it's owned by some of my most incredible friends, Nicole Walsh and Jon Goodman. So it's doubly lovely to go there and feel the nostalgia and the new energy at the same time."
—Irene Li, owner/operator, Mei Mei
Shore Gregory
Lazily perusing the cheese counter
"What I miss the most during quarantine are my people. My teams at Row 34 and Island Creek Oyster Bar are extended family. I'm so lucky I get to see a handful of them as we pack up delicious things for Row to Go offerings. I miss perusing the cheese counter leisurely at Formaggio Kitchen. And I really miss date night with my wife at Ebi Sushi in Somerville." 
—Shore Gregory, partner Island Creek Oysters and Row 34
Eating Nashville hot chicken and playing pinball
"My normal Sunday ritual usually after working a double: I devour Nashville hot chicken, drink multiple State Park cocktails, and crush an ice cream sandwich at State Park in Kendall Square. Great food, a game of shuffleboard, a few dollars lost to a pinball machine, jukebox tunes or live music. The staff is super cool, too. Top that off with some friends and silly banter. It's also where I had my first date with my girlfriend and many dates since. Who wouldn't miss all that?" 
—Dolly Bourommavong, director of culinary operations, The Aquitaine Group
Watching live music on the Charles River
"Since moving to Boston earlier this year, one of the many traditions I was looking forward to was experiencing live music with our community at the Hatch Shell along the Charles River. I look forward to the day we can sit back on a warm summer night and listen to wonderful works performed by the Boston Landmarks Orchestra or the Boston Pops. When I first joined the Museum of Science in February, I began a personal tradition of stopping by the museum during my Sunday morning runs to say hi to the team and just observe. I miss seeing the visitors' sheer delight, and hearing the gasps of surprise and expressions of awe at having an aspect of science demystified by our educators. I can't wait to hear that delight again throughout the exhibit halls."
—Tim Ritchie, president, Museum of Science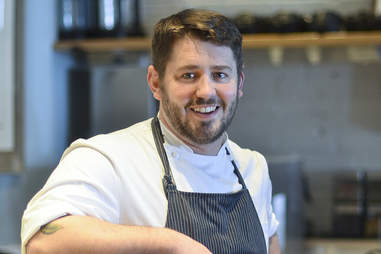 Will Gilson
Shopping for spring greens at the farmers' market
"I miss farmers' markets. It's always around this time of year when chefs start hitting the markets for spring greens and things that were grown in the greenhouse. Maybe even some days you wouldn't get anything except for ideas, but that was the best part of it. The markets always signify the change in seasons and the full shake off of the winter. It might be green outside but it still feels like we are in a slumber without what chefs think is the start of spring."
—Will Gilson, chef/co-owner, Puritan & Co.
Colin and Heather Lynch

| Photo by Brian Samuels
Taking the ferry over to Charlestown for food and drinks
"We miss having a day off and walking along the Greenway and crossing over to walk along the water to the New England Aquarium, taking the MBTA ferry over to Charlestown (for $3.70!), strolling through town, and having an amazing lunch at Brewer's Fork -- best pizza, salads, beer, and wine on their oasis of a patio. We'd walk over to Pier 6 and grab a Campari and soda and take the free shuttle over to Reel House, have one last cocktail, and then get the boat back to Boston. We'd stroll home and maybe swing by Haley Henry for tinned fish, a hip-hop dance party, and one last glass of any of the awesome natural wines Haley has popped open." 
—Colin and Heather Lynch, co-owners, Bar Mezzana, Shore Leave, and Black Lamb
Jason Santos
Dine on dim sum in Chinatown
"Dim sum is my jam! We get it almost every Sunday. It's been our ritual basically since my wife and I met. After we eat, we would always walk off the food coma in Chinatown and, once we felt better, we would fall into another food coma by getting a steamed custard bun at one of the bakeries for dessert. Hei La Moon is my favorite, and I sincerely miss it. I haven't had a good chicken foot in almost two months!"
—Jason Santos, chef/owner, Citrus & Salt, Abby Lane, and Buttermilk & Bourbon
Sign up here for our daily DC email and be the first to get all the food/drink/fun in town.
Meaghan Agnew is a Boston-based contributor to Thrillist, who can't wait for aimless summertime walks again. Follow her on Twitter and Instagram.