Like the Literary Classics Written Here, This Massachusetts Town Is a Page-Turner
That famous pond you read about in high school? Add it to your Concord literary tour.
Concord, Massachusetts is a literary lover's paradise.

| flysnowfly/Shutterstock
Concord, Massachusetts is a literary lover's paradise.

| flysnowfly/Shutterstock
Welcome to Two Days Away, our series featuring weekend-long itineraries within a five-hour drive of your city — because sometimes we all just need a little adventure fix.
Anyone who rewatches Gilmore Girls when fall arrives knows there is nothing more aspirational than donning a cozy cable knit sweater and traversing a quaint small town with a book in hand. And with its lush fall foliage, rich history, and profusion of literary icons, Concord, Massachusetts is the ideal place to live out those fantasies, à la the bookish Rory Gilmore in Stars Hollow.
Countless works of literary greatness were written in Concord during the 19th century, most notably Louisa May Alcott's Little Women, Henry David Thoreau's Walden, and Ralph Waldo Emerson's Civil Disobedience. To this day, the quaint Boston suburb continues to celebrate its bookish origins with historic homes, famous gravesites, and more. Here's your weekend itinerary for Concord, Massachusetts.
Travel Time:
35 minutes from Boston.
4 hours from New York City.
5 hours, 30 minutes from Philadelphia.
If you don't do anything else: Go on an informal literary tour
To embark on an informal literary tour of Concord, make your first stop northeast of Monument Square at Sleepy Hollow Cemetery's Author's Ridge, where multiple transcendentalist authors', including Alcott's, graves reside. Bibliophiles often leave behind pens, poems, and letters at the gravesite. After paying your respects, take a ten minute walk down east, where you'll find Alcott's childhood home, Orchard House, the inspiration behind the March household in Little Women. Amongst other notable authors' abodes are The Wayside and The Old Manse, inhabited by Emerson, Hawthorne, and Alcott. All of the homes are open for tours, with much of their original furniture intact and on display.
Finish your journey with a rest at Walden Pond, where Thoreau "lived deliberately" for two years, inspiring his now iconic magnum opus. In the warmer months, the pond is an ideal place to go for a refreshing swim; however, throughout all times of year, the spot is an idyllic paradise that will make you feel severed from society. Before leaving, remember to stare into the abyss in complete silence; it's what Thoreau would have wanted.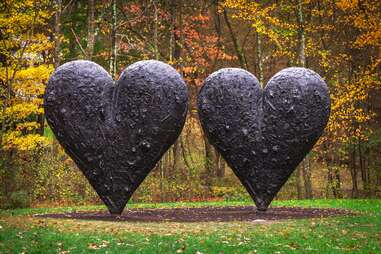 Fill Your Days
Things to do outdoors in Concord, MA
Paul Revere famously rode horseback through Concord in 1775 to alert the militia that the British were rapidly approaching. Now, in 2023, you can (somewhat) retrace his steps. The Minuteman Bikeway approximates Revere's renowned route, and there are some excellent pit stops along the way. First, rent a bike at 58 Main Street with the Koloni app, and begin your journey on Minuteman's Battle Road Trailhead, where you'll cycle past the scenic Minuteman National Historic Park. On your ride, amongst the fall foliage you'll come upon defunct rail lines, museums, and multiple Revolutionary War sites in Concord and Lexington, including Tower Park, Lexington Center, Hancock Clarke House, the Concord Museum, and Munroe Tavern. Regardless of which sites you choose to stop at, if it's not too chilly, make sure to grab a scoop of small batch ice cream at Rancatore's in Lexington.
Where to experience arts and culture in Concord, MA
A five minute drive past Walden Pond lies deCordova Sculpture Park in Lincoln, a collection of contemporary art and installations sprawled across 30 acres of lawns, forests, and gardens. The largest of its kind in New England, deCordova's large-scale works include famous twentieth- and twenty-first-century pieces like Two Big Black Hearts by Jim Dine, Lincoln by DeWitt Godfrey, Eternal presence by John Wilson, amongst many other notable pieces. Make sure to purchase a ticket ahead of time, as they are not available onsite.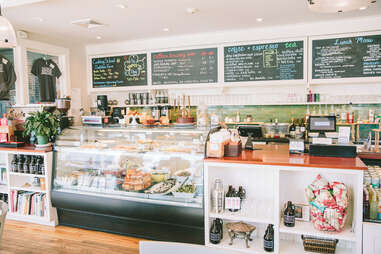 Eat, Drink, Sleep
Where to eat and drink in Concord, MA
Kickstart your day with the namesake Haute Latte at Haute Coffee, made with honey and cinnamon, along with Avocado Toast served on bread from Cambridge's Iggy's Bread bakery. Conveniently down the street is the charming Concord Cheese Shop, where you can sample cheeses, wines, and charcuterie.
Go for lunch at Saltbox Kitchen, a homey, barn-like spot that sources their ingredients locally. Their new fall menu features autumnal flavors with their Bumper Crop Bisque and Fall Harvest Salad, as well as must-try sandwiches like their Roasted Turkey Club and Cauliflower Reuben on Rye. Along with prime eats, Saltbox Kitchen is Concord's only craft brewery, with four beers on tap to choose from.
You can't go wrong with a meal at either Merchants Row or Liberty at Concord's Colonial Inn, built in 1716. Both restaurants offer a cozy atmosphere and classic American cuisine, with dishes like Scampi Pasta, New England Fish & Chips, and Yankee Pot Roast. However, if you're in search of a more contemporary vibe, Woods Hill Table, a sister restaurant to Boston's beloved Woods Hill Pier 4, follows an all organic, farm-to-table ethos dedicated to sustainability, serving East Coast Oysters, Smoked Duck Leg, and Blackened Swordfish, with ingredients sourced from their New Hampshire farm.
Where to stay in Concord, MA
To prolong the historic and literary vibes of the day, book a room at the Hawthorne Inn, a bed and breakfast that resides on Emerson's former farmland. The colorful 1860s home, renovated in 2018, has been operating as a B & B for 45 years. Along with seven guest rooms, its communal areas are stocked with books (of course) and comfy seating.
Kelsey Allen is an Associate Editor on the local team at Thrillist.