Stumbling Upon This New Hampshire Small Town Can Easily Become a Multiple-Day Detour
From funky art and the White Mountains to the world's longest candy counter, fun things to do in Littleton, New Hampshire.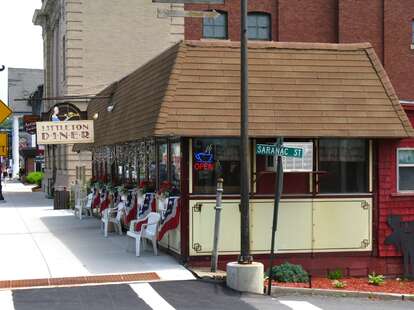 The Littleton Diner in Littleton, New Hampshire.

| flickr/Jasperdo
The Littleton Diner in Littleton, New Hampshire.

| flickr/Jasperdo
A magical part about road trips is stumbling upon a small town that delights with unexpected surprises.
Instead of just being a part of the journey, these encounters can easily become the destination. And one spot that perfectly fits the bill is Littleton, New Hampshire.
Located in Grafton County at the northern end of the White Mountains, a drive here from Boston in the fall and winter includes idyllic views of New Hampshire's colorful fall foliage and snow capped mountains. Along with its Main Street featuring the world's official longest candy counter or plenty of funky art, a plethora of unique cozy season activities include award-winning ice castles and SnoGos on Loon Mountain, in addition to more year-round experiences.
For a weekend getaway from Boston, here's what to do in Littleton, New Hampshire.
Travel time:
2 hours and 20 minutes from Boston by car.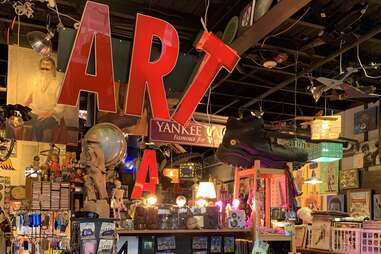 If you don't do anything else:
If you don't do anything else while in town, check out the White Mountains. Whether it's hiking during the summer, hitting the slopes in the winter, or even just taking a scenic autumn drive for leaf peeping, the landscape is meant to be enjoyed year-round.
In addition, you can't miss Chutters in downtown Littleton. The shop has been around since the 1800s and holds the Guinness World Record for "Longest Continuous Candy Counter" at 112 feet. There's every kind of candy imaginable here for both kids and adults.
Fill the weekend with:
Arts & Culture in Littleton, NH
Stroll along Main Street and look for the following signage: "Bad Art this way." It leads to a small strip of murals behind the downtown shops and a gallery of intriguing pieces. Inside Bad Art, the gallery along the riverwalk features innovative and diverse art with a wide range of sculptures, paintings, and beyond (like, really beyond). Shop through items like a giant sneaker, a portrait of a bear holding a spike, and a raccoon statue wearing a Mexican poncho playing a mini guitar.
Nearby in North Woodstock, the Ice Castle draws crowds with their award-winning frozen designs that are only pop up in five locations throughout North America. The ice artists assemble the castle using icicles, creating ice slides, caves, tunnels, fountains, sculptures, and more. Afterwards, fly down the tubing hill or grab a cup of hot coco before heading a path in the woods to see the light fixtures glowing in the trees at night.
Unique offerings in Littleton, NH
The White Mountains' offerings go beyond skiing and snowboarding. For something new, opt for a SnoGo lesson at Loon Mountain Resort. The ski bike technology with three skis is easy to try, especially after a private lesson from one of the patient instructors.
After hitting the slopes, shop for goodies and souvenirs at local shops in Littleton like Harman's Cheese & Country Store, League of NH Craftsmen Littleton Fine Craft Gallery, and White Mountains Canning Company.
Eat, drink, and sleep:
Drinking in Littleton, NH
Littleton is known for its incredible beer scene. Head to Schilling Beer Co., a local brewpub within an 18th century mill and pair wood-fired pizzas with seasonal faves like the Poppy's Moonship with pink guava and prickly pear. Littleton Freehouse Taproom & Eatery is a gastropub on Cottage Street with top-notch dishes to pick at like the Pretzel Twists served with Raye's Jameson Tavern Mustard and house-made beer cheese dip. At Little Town Brews, shop for craft beers to bring back to your lodgings. Choose from more than 675 ciders, beers, wines, and mead sourced throughout New England, especially New Hampshire.
Restaurants in Littleton, NH
Littleton is filled with comfort food spots and diners serving quality meals that are easy on the wallet. Polly's Pancake Parlor in Sugar Hill is ideal for brunch. Try their signature pancakes that have been around since 1830 through a sampler. The Little Grille on Cottage St. is a great spot for crispy wings and juicy burgers like the Sticky Vermonter with maple bacon and Vermont Cheddar. The Littleton Diner has been operating since the 1930s, serving a little bit of everything from breakfast combos and omelets, to chowders and hearty fare like fresh turkey dinners.
Where to stay in Littleton, NH
Littleton is full of affordable, charismatic lodgings. The Sunset Hill House has unbelievable views of not only the White Mountains, but Vermont's Green Mountains. It's a comfortable place to end the evening after a day at the ice castles or snow activities and grab bites and a nightcap at the inhouse pub. Thayers Inn in downtown is a historical building turned charming hotel in a prime location. Not only do guests get modern amenities, but it's close to all of the action of shops, restaurants, and bars.