Ah, Portland. And no we don't mean that other city that seems to get all the love. We're talking the beautiful waterfront peninsula in Maine. Yes, craft breweries and lobster rolls abound, but there is a lot more to discover about this quaint New England town. 
While cruise-shippers and leaf-peepers wait until summertime to come visit, those of us who are here year round or like to travel off-season know there's so much more to love about our city (even as the snow continues to pile up in Hannaford parking lots). If you've found yourself in a winter rut, here's a roundup of ways to enjoy Portland, Maine no matter the time of year.
Recommended Video
Please Don't Hang Up: The Best Things to See, Eat, and Do in Seattle, WA
Soak up Portland's creative scene all in one night
Free
Downtown
The first Friday of every month, Portland's downtown arts district is flooded with art lovers from near and far. Artists and makers line the streets selling their handmade wonders, the Portland Museum of Art's doors open to all for free, and seemingly every gallery and creative space in the city has something new and exciting to take in. One can't survive on a diet of culture alone, and restaurants are notoriously slammed on First Fridays, so if you're in a pinch pop in to Otto's for a slice of mashed potato, bacon and scallion pizza to hold you over till a table opens up.
$-$$$$ 
Downtown 
Every weekend, Portland Flea For All's doors open to those seeking treasures of the vintage and artisanal variety. Over seventy vendors gather in the space at 585 Congress Street each weekend, bringing their unparalleled collections of antique furniture, decor, upcycled clothing, and more. Whether you're on the hunt for the perfect mid-century coffee table to tie a room together or just looking to be surprised, you're sure to leave having found something you couldn't have stumbled upon anywhere else.
$$$
Downtown 
Eating seafood in Maine is hardly a revolutionary concept (we're a global destination, thank you), but the fact that it's an obvious choice is no reason to deprive oneself of the culinary joys of the deep. At Eventide, diners can take their taste buds on a briney bivalve adventure with dozens of oyster varieties from Maine and beyond. Sit at the bar for a close up view of Portland's best shuckers in action.
$-$$$
Downtown
As if Empire's evolution into a Chinese restaurant flaunting a killer menu of traditional and modern dishes weren't enough to keep us smiling, their recent renovations have blessed Portland with a dedicated comedy club. Laugh with (or at) your friends at open mic nights every Monday, and check out the calendar to see who's bringing the belly laughs to town next.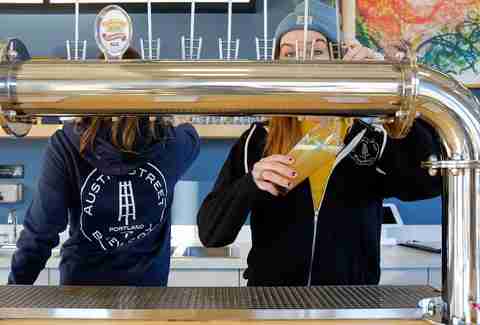 Brewery hop to your heart's content on Industrial Way
$-$$
Riverton
The birthplace of a long list of Portland's finest breweries, Industrial Way has become a mecca for craft beer lovers. Now home to Allagash, Definitivey, Battery Steele Foundation, and one of Austin Street's two locations, the street is a one-stop shop for all things beer. Start with a tour at local legends Allagash and drink your way down the block for a surefire way to while away an afternoon. Soak up some of those heavier IPAs with grub from one of the many food trucks that flock to the neighborhood, and meet some of Portland's best pups while you're at it. Good doggies love beer.
$
East Bayside
In addition to being one of the top spots for indulging in a diverse selection of local brews, The Portland Zoo beer garden has carved out a niche for itself as the place to catch European Premier League games. (That's the rest-of-the-world kind of football.) Even a 7:30am game time won't stop fans from gathering at the Zoo to cheer on their teams. And truly, what better way to start a Sunday than with Bloody Marys flowing and the camaraderie that comes with a love of the game?
Go on a downtown cocktail crawl
$$
Old Port
We told you we had more than craft beer. If you're gluten intolerant or just looking for something a bit more potent, start at the Portland Hunt & Alpine Club for Scandinavian small plates and whiskey-leaning cocktail menu in a minimalist space. Venture toward Vena's Fizz House, which used to be a soda bar and still has that same retro vibe, now with alcohol and a side room for bar accessories. End your journey at the magical Jewel Box, where the cocktails are as beautiful as they are strong, the decor is glittering, and the tunes are spun by local DJs.
Drop some cash on retail therapy
$-$$$$
Old Port, Downtown
Paycheck burning a hole in your pocket? It's time to head downtown and get shopping. Hit up Portland Trading Co. for locally made, extra-chic clothes for him and her, Gus and Ruby for the best in all things stationery, Folly 101 for thoughtful wares that will make any house feel like a home, Blanche and Mimi for gifts that'll impress even the toughest people to shop for – the list goes on, and on, and on.
Hunt for vintage treasures
$-$$$
Citywide
For those shoppers addicted to the hunt for vintage pieces, Portland is a playground. Vintage and consignment shops are sprinkled throughout town, each one packed with undiscovered treasures. Flick through the racks at Find, Material Objects, Little Ghost, Everchanging Seasons Consignment Boutique, Moody Lords, and any good, old fashioned Goodwill, and there's no way you won't find something fabulous to breathe new life into your wardrobe.
$$
Downtown
What began as a food cart in 2015 has grown into Portland's downtown destination for all things lobster. While the classic roll can't be beat, High Roller knows you'll be back more than once, so it's gone and made things interesting with lobster in every conceivable format. Lobster tops burgers, fills tacos, and adorns a bangin' Bloody Mary. Cap it all off with a High Roller original Lobby Pop, aka lobster lollipop. You heard us right.
$$-$$$
West End
The State Theater has lived many lives since opening in 1929, possibly most notably as a porn theater. Today, many acts who come through the renovated space are typically of a less salacious sort, though no less exciting. Keep an eye on the State's calendar of events -- this season including a political discussion hosted by Girls' Ilana Glazer and a performance from best-named cover band Lez Zeppelin -- and you can snag tickets to some of the best musical and performing arts acts coming through town.
$
Casco Bay
If you haven't recreated the scene from Titanic where Jack and Rose are at the front of the ship, arms open, embracing the wind, have you even really lived? Get your big bow moment (before things went south) on the ferry from the Maine State Pier to Peaks Island. Round trip tickets cost less than a chicken salad sandwich, so there's really no excuse to not spend an afternoon cruising across the waters, wind in your hair, followed by a romp around the island.
Sign up here for our daily Boston email and be the first to get all the food/drink/fun the Hub has to offer.