10 Ways to Give Back in Boston This Holiday Season
Deliver hot meals, help puppies find homes, and make Boston a better place.
It's the season of giving. And while there are many great organizations in Boston that need support all year-long, now is a great time to get involved if you haven't already. So to help you get into the holiday spirit, we've rounded up a bunch of organizations and volunteer opportunities to lend a helping hand to during this holiday season and beyond.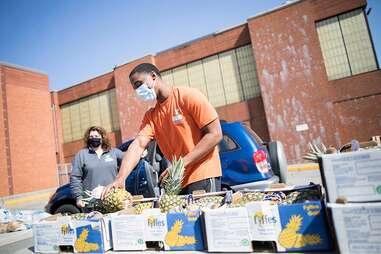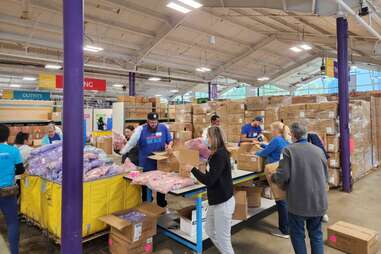 Don't forget about your elders
Organizations like Little Brothers - Friends of the Elderly - Boston and FriendshipWorks are keeping up with their efforts to support the elderly especially during these isolating times, finding ways to provide service and support to older adults. Become a committee member through LFBE and assist on projects and initiatives to impact the local elderly community or via FriendshipWorks, you can sign up to be a friendly visitors, medical escort, helper or "PetPal," meaning you can bring your furry friend to visit older adults living in long-term care facilities.
Seek out your local animal shelter
If you've been considering adding a furry friend into your life, there's no better time than the present. Appointments are available at both Jamaica Plain's MSPCA-Angell and Back Bay's Animal Rescue League of Boston for those interested in fostering or adopting their new best pal. The shelters are always accepting donations as well—check out Animal Rescue League of Boston's Amazon or Chewy wish lists for more opportunities to help if you're not quite ready for pet parenthood.
Support Black- and AAPI-led organizations in Massachusetts
As we continue to advocate for change on a global level, there are plenty of ways to support the city's diverse community by donating to local nonprofits or at a variety of small businesses and restaurants—or by simply raising your voice. For more ideas, check out our lists on how to support the Black and AAPI communities in Boston.
Volunteer with local LGBTQ organizations
For opportunities that support greater Boston's LGBTQ communities, check out Gay For Good - Boston, which provides welcoming, inclusive service projects in support of a wide range of causes throughout Boston and surrounding areas. You can also volunteer with BAGLY, Greater Boston PFLAG, and GLAD to name just a few more.
Attend an upcoming blood drive
As the American Red Cross is still facing supply challenges from the pandemic, the organization is urging members of the community to donate blood this holiday season. For more information on where you can give blood, check out the American Red Cross of Massachusetts to schedule an appointment at a nearby location.
Show a different appreciation for the arts
Boston's art and museum scene is top-notch, large in part to the volunteers who dedicate their time to making sure the establishments are properly equipped for guests to enjoy all the sights. You can reach out to volunteer with the Isabella Stewart Gardner Museum or Museum of Science and for more ideas within the art scene, there are also local organizations that provide support for the local arts community including Artists for Humanity and Society of Arts and Crafts.