Here's How to Volunteer in Boston for Earth Day
From greening up the Greenway to hitting the pavement to combat ALS, here's how to spread the giving-back gospel this month.
As we barrel into spring, you might find yourself itching to plan new outdoor endeavors. And while you're brainstorming ways to enjoy the warmer weather, consider prioritizing helping others and our lovely planet by volunteering with one of the city's many community-focused organizations. Take a look at our roundup below for ideas on how you can do your part this Earth Day and beyond.
Get your gardening on at The Greenway
As a way of giving back to Boston's beloved meeting grounds, sign up to volunteer at the Rose Kennedy Greenway this spring. Take part in gardening or cleaning up around the park to help keep the area looking pristine all throughout the year.
Lace up your sneaks for

a cause
Get your steps in and feel good doing it via the 20th annual Harpoon 5-Miler on Sunday, May 23, which will be held virtually for the second year in a row. The self-guided race raises money for ALS research through The Angel Fund, inviting individuals across Boston and beyond to run, walk, cycle, and more. Registration ranges from $40 to $100, and if you're about to stop by the brewery for pick-up a $60 pledge gets you a t-shirt, koozie, and two different 4-packs of Harpoon.
Help feed neighbors in your community
It's no secret that the pandemic has led to an increase in individuals and families suffering from hunger, and according to projections from the Greater Boston Food Bank (GBFB), one in ten people in Massachusetts will experience food insecurity this year. You can do your part by donating to a number of hunger-fighting organizations including Rosie's Place, New England Center and Home for Veterans, Women's Lunch Place, and Haley House. And if you're interested in volunteering on-site, the GBFB is currently accepting 15 individuals per shift to help pack boxes and sort through food items. Jamaica Plain's Community Servings is also looking for small groups of kitchen volunteers.
Seek out your local animal shelter
If you've been considering adding a furry friend into your life, there's no better time than the present. Appointments are available at both Jamaica Plain's MSPCA-Angell and Back Bay's Animal Rescue League of Boston for those interested in fostering or adopting a new bestie. The shelters are always accepting donations as well—check out Animal Rescue League of Boston's Amazon or Chewy wish lists for more opportunities to help if you're not quite ready for pet parenthood.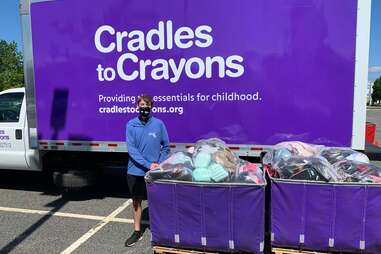 Help those children less fortunate
Boston has organizations specifically focused on homelessness and poverty experienced by children. You can visit Cradles to Crayons' The Giving Factory in Brighton and help process and sort through donated items or volunteer as a Playspace Activity Leader through Horizons for Homeless Children in Roxbury. Christmas in the City Boston is another great organization, with an annual party on Sunday, December 22 that benefits over 6,000 kids and their families. Although spots fill up fast, you can sign up to be on their waiting list to distribute toys, set up, and help with check-in the day of the bash.
Don't forget about your elders this year
Organizations like Little Brothers - Friends of the Elderly - Boston and FriendshipWorks are keeping up with their efforts to support the elderly especially during these isolating times and encouraging people to donate as their programs continue to adapt. For example, Friendship Works has incorporated regular phone calls and virtual visits to keep individuals company.
Support Black- and AAPI-led organizations in Massachusetts
As we continue to advocate for change on a global level, there are plenty of ways to support the city's diverse community by donating to local nonprofits, dropping your hard earned cash at a variety of small businesses and restaurants, or by simply raising your voice. For more ideas, check out our lists on how to support the Black and AAPI communities in Boston.
Attend an upcoming blood drive
As the American Red Cross is already facing supply challenges from the pandemic, the organization is urging members of the community to donate blood this holiday season. For more information on where you can give blood, check out the American Red Cross of Massachusetts to schedule an appointment at a nearby location.