It's no longer enough to parachute into a city, hit all the tourist spots, and call it a vacation well spent. To truly soak up the feel of a place, you're better served by living like a local. Boston is a city defined by its small neighborhoods, from historic residential areas to newly christened commercial districts. Each is characterized by its unique real estate (hello triple-deckers), its nightlife (we have one, we swear!), and of course, its dining scene. Whether you're looking for an Airbnb or just a great place to people-watch, check out one of these six Boston neighborhoods.
Recommended Video
Please Don't Hang Up: The Best Things to See, Eat, and Do in Seattle, WA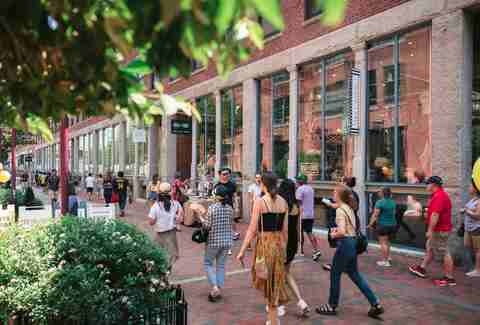 South End
The neighborhood's historic brownstones may cost a pretty penny (rental and otherwise), but this is where the whole "location, location, location" cliché comes in. Locals sacrifice space for walking-distance access to some of the city's greatest restaurants, parks, art galleries, and indie retail shops.
Where to stay: This largely residential area expanded its hotel offerings last year with the opening of the 177-room Revolution Hotel, a massive revamp of a former YWCA that offers an affordable yet chic stay. (Just beware that this is mostly a shared bathroom deal.) For those seeking a peek inside one of the aforementioned brownstones, a stay at the cozily appointed boutique hotel Clarendon Square will leave you coveting high ceilings and intricate woodwork in your next abode.
Things to do: Make sure you wear comfortable walking shoes. Your greatest feel for the neighborhood will come from wandering its picturesque streets for several hours. Start in the SoWa Art & Design District to soak up the city's contemporary gallery scene (many longtime spaces have fled the high rents of Newbury Street and resettled here). Hit up the iconic Bobby from Boston for some choice vintage threads before continuing your retail journey at the area's many twee and lovely boutiques, from Olives & Grace to Niche, Sault New England, and Flock. In the summer, the weekly SoWa Open Market is the hangout, between its art and farmers' markets, food trucks, and beer garden. But things hardly slide in winter, with the year-round SoWa Vintage Market and the monthly First Fridays open studios event filling the void. 
Best restaurants: This area's stellar restaurant quotient is so high, you'll only be stymied by choice. But some to consider: B & G Oysters for chowder and a lobster BLT, The Butcher Shop for charcuterie and exciting wines, Cinquecento for homemade pasta and bracing Negronis (Mida for same), Black Lamb for classic bistro fare, The Gallows for killer burgers and poutine, Toro for flavor-packed tapas, and Bar Mezzana for the best crostini you've ever had. In search of takeaway breakfast for your adventures? You can do no better than the renowned Flour Bakery & Cafe (South End Buttery is a close second), and picnic supplies -- or hotel room vittles -- are best picked up at specialty shop Formaggio Kitchen. 
Bars and nightlife: If it's a one-drink-but-make-it-count kind of night, a mellow cocktail at subterranean speakeasy Wink & Nod is the way to go. Or try cheeky tiki drinks at the more subterranean Shore Leave, a few beers at the divinely divey Delux Cafe, or a weird wine at the tiny Le Canular. If it's live performances you seek, hit up jazz at the legendary Wally's Cafe, followed by more drinks and music at The Beehive.
Jamaica Plain
Whether it's Twentysomethings, aging hippies, or young families who insist on staying in the city -- Jamaica Plain, or "JP," lures them all in with its funky coffee shops, winding side streets, beautiful greenery, and eclectic real estate. It's part of Boston proper yet feels like its own tiny city, more Northwest hipster than Northeast Brahmin.
Where to stay: JP is not a typical tourist draw, thus the lack of proper hotels (which only adds to its allure). Commit instead to exploring the neighborhood's wide array of architecture by booking something through Airbnb, be it a Victorian tower, a gorgeous carriage house, or an entire brownstone. 
Things to do: Start the day with a stroll around Jamaica Pond (which you can even fish in during the summer months). The pond is part of the Emerald Necklace, a chain of parks designed by Frederick Law Olmsted. If time permits, rent a bike at Ferris Wheels Bike Shop and do a little more extensive exploring, ending up in the Harvard-owned Arnold Arboretum for some truly stunning foliage. History buffs should pop in for a tour of the 18th-century Loring Greenough House, while savvy thrifters will revel in the finds at 40 South Street and Boomerangs. 
Best restaurants: One of the more appealing aspects of JP is that you'll always eat well but never spend too much. Plus, you'll be able to dine your way across the globe. There's The Haven for Scottish fare, El Oriental de Cuba for authentic Cuban, JP Seafood Cafe for sushi, Noodle Barn for Vietnamese and Thai, and Little Dipper for all-American eats (the meatloaf is truly divine). Ten Tables is the area's splurge and yet still undeniably a place for locals, a tiny gift of an American bistro. And no JP visit is complete without a cone from JP Licks -- although ice cream shop FoMU down the street can placate the vegan set. 
Bars and nightlife: Check out live music or weekly "queeraoke" at Midway Cafe, or visit a JP institution in Bella Luna & The Milky Way, which is filled with quirky decor, pool tables, and craft beer. And then there's Brendan Behan, so authentic an Irish pub that many visitors have been known to hop off the plane and head straight there. Just a stone's throw from the neighborhood is the official Samuel Adams Brewery where you can enjoy specialty tours, flights in the taproom, and even sample some rare, barrel-aged stuff. If drinking is not your thing, get your cultural fix at Aviary Gallery, an intimate space that hosts thought-provoking shows from local artists.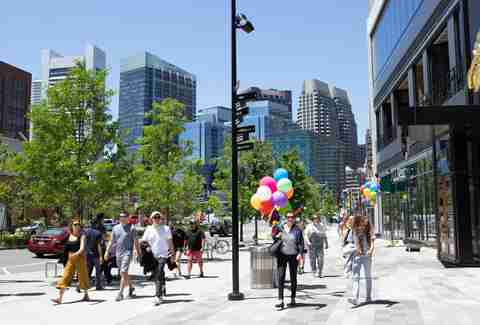 South Boston/Seaport
Old timers still shake their heads over what "Southie" has become. But times change, and so do neighborhoods. A one-time working-class area frequently associated with the Irish Mob, South Boston is now a haven for young professionals (easily half of whom are in advertising or PR). Meanwhile, the harborside portion of the area is unrecognizable from a generation before, with high rises and chain restaurants occupying formerly vacant lots. 
Where to stay: Cambria Hotel Boston marks a new era for Southie proper, a just-opened luxury hotel on West Broadway with sultry decor, a stunning seasonal rooftop bar, and the already hopping in-hotel restaurant, Six West. Heading towards the water, both YOTEL Boston and The Envoy also offer rooftop bars -- in their cases, year-round -- and bonafide social scenes. 
Things to do: A long stroll down Broadway, Southie's main thoroughfare, will give you a strong lay of the land. Do a little shopping at Ku De Ta and Covet, then turn down towards the beach for some water views and primo people watching. A Lyft over to the Seaport district affords you the chance to stroll the Harborwalk and gawk at the water (and the planes landing at nearby Logan). And who knew there was an LL Bean outpost in Boston? 
Best restaurants: You're definitely here to eat, drink, and eat some more. Relative newcomer Fox & the Knife is justifiably getting nationally lauded for its creative cocktails and homemade pasta. Loco Taqueria & Oyster Bar slings terrific tacos and coconut margaritas (and, yes, oysters). Funky locals hangout Local 149 is perfect for bar snacks and a Moscow Mule made with housemade ginger beer, while Moko is a hidden gem of a sushi place. Those craving a fresh lobster roll should make a beeline for Yankee Lobster, a no-frills takeout spot right on the water.  If it's a hangover cure you seek, the creme brulée French toast at Mul's Diner is a miracle-worker, but those in search of a classier brunch should rouse themselves at Lincoln Tavern for the breakfast pizza and egg BLT. Finally, no visit to Southie is complete without a trek to Castle Island for a hot dog and soft-serve from Sullivan's, a seasonal food shack that actually reopens for the "summer" in February.
Bars and nightlife: Southie's dining and drinking scenes tend to blend together. While Capo, for example, is a terrific spot for high-end red-sauce Italian, it might be worth waiting for its Sunday night Sinatra dinner show. Similarly, Lincoln and Loco are great spots for a drink (or five). On the high end, Legal Harborside's rooftop bar attracts well-heeled partiers from near and far, thanks to its incredible views, retractable roof, and copper fireplace. And then on the flip side is Croke Park, aka Whitey's (yes, like the mobster), as legit an Irish dive bar as any you'll run across.
Central Square/Inman Square
Cambridge is Boston's revered younger sister across the river, synonymous with academia thanks to Harvard and MIT, and more recently renowned for its biotech scene. But if Kendall and Harvard Squares are the two most well-known neighborhoods (with Davis a close third), Central and Inman offer a much fuller sense of what Cambridge living is really about. 
Where to stay: Central and Inman don't really cater to outsiders, thus the dearth of high-rise hotels. But the Harding House is a charming bed and breakfast sandwiched between the two neighborhoods, each of the 14 rooms decorated in a homey, unintimidating style. Or peruse Airbnb to find a renovated townhouse or a chic apartment stumbling distance from an Irish pub.
Things to do: Central and Inman have held onto a lot of their vintage charms, with retail outposts like Cheapo Records and Rodney's Bookstore somehow hanging on (buy local)! Want to meet some true Cantabridgians? Drop in on a class at Gather Here and walk away with a crocheted basket and some crafty new friends. And you simply must stop for a latte at 1369 Coffee House, a Portland-like bean house with two outposts -- one in Central and one in Inman (we're partial to the Inman space, the aesthetic of which transports you back to the 1990s).
Best restaurants: These two squares house many of the best restaurants not just in Cambridge, but in all of Greater Boston. Craigie on Main is a must, and not just for Chef Tony Maws' cover model of a burger. Little Donkey and Pagu are both divine spots for international small plates and welcoming service. Puritan & Co. will expose you to the bounty of New England farms with its seasonal dishes. Couples looking for romance should block out two evenings for Pammy's and Bondir, both cozy, fireplace-laden spots serving food imbued with love and care. 
Bars and nightlife: Central Square is where locals have been catching live music for decades, primarily at the Middle East, Club Passim, and the Cantab Lounge (where Ben and Casey Affleck's father used to bartend). On the Inman side, the Lilypad and The Druid are also great spots. Seeking a little throwback fun? Head to A4cade for fun cocktails and vintage arcade games. But if it's just about settling in for the evening for a few drinks, the two neighborhoods are awash in unassuming watering holes, from Green Street Grill to The Field to Trina's Starlight. Looking to meet some local oenophiles? The tiny wine bar in the back of Bisq is your ticket. 
Union Square
Any outside reporter who writes about greater Boston inevitably refers to Union Square as "hipster ground zero" or some iteration thereof. And not without merit. The tiny 'hood within Somerville packs a lot of punch into its small square footage, what with its restaurants, bars, fitness studios, and regular street fests (the annual Fluff Festival is dedicated to our region's gooey signature sandwich). It encapsulates Somerville's too-cool reputation and attracts every manner of young, plugged-in professional.
Where to stay: While there's nothing in the square that could count as a hotel proper, The Row Hotel, a newer boutique space in nearby outdoor shopping space Assembly Row, provides you with all the amenities you crave. If it's more old-world charm your after, stay in an updated 1850s Methodist church.
Things to do: Start the day with some upward mobility at Brooklyn Boulders, a cavernous indoor climbing space. After grabbing a Vietnamese coffee at Bloc Cafe and a maple bacon donut for Union Square Donuts (get there early because they always run out), head over to Bow Market, a public courtyard containing more than 30 retail shops, restaurants, and bars. Shop for indie wares from the likes of Tiny Turns Paperie and Homeslice to gain a better sense of Somerville's robust artisan scene. 
 
Best restaurants: Most of Union Square's stellar eateries are within feet of each other, making it easy to wander around and peruse menus before picking a favorite. For seasonal small plates, look no further than Field & Vine, while those craving bratwurst will find a unique gem in Bronwyn (cheers to beers in steins!). If you're able to splurge, wander a little farther afield and head to Tasting Counter, a ticketed fine-dining experience like none other. And if you can save room, finish off your meal with a homemade scoop or two from Gracie's Ice Cream.
Bars and nightlife: Kick off your evening with a cocktail at pseudo-speakeasy Backbar, consistently voted one of the best cocktail bars in the country.  If beer is more your speed, Aeronaut Brewery introduces you to the local brewski scene and hosts various events throughout the week, including live music on weekends. But you could spend a whole night drinking your way through Bow Market, what with natural wine bar Rebel Rebel, beer spot Remnant Brewing, and cocktail bars Create Gallery & Cocktail Lounge and Variety Bar. The latter is located inside The Comedy Studio, a place to catch some up and coming stand-ups. Wrap up the evening with a little live music at The Jungle, one of the areas newest small-concert venues.
Back Bay/Beacon Hill
Want to live (temporarily) among the Brahmins? You have your choice between Boston's two choicest neighborhoods. Both the Back Bay and Beacon Hill are bastions of old-world living, with tony brownstones, gas lamp posts, and cobblestoned streets. But a quick note to visitors: Though charming side alleys like Acorn Street are frequently photographed for their Founding Fathers feel, be respectful of the residents who live there while adding to your Instagram feed.
Where to stay: In the Back Bay, you have two splurge options -- the Mandarin Oriental, whose name speaks for itself, and The Colonnade, where the rooms and suites feel more like well-appointed condos. But there's also a clandestine, budget-friendly option in The College Club of Boston, a bed and breakfast housed inside a brick townhouse on photogenic Commonwealth Avenue. If Beacon Hill is your preferred locale, you'll be hard-pressed to choose between the newly opened Whitney Hotel, a welcoming gem of a boutique space, and The Liberty Hotel, a vast and celebrated modern spot housed inside a former jailhouse. 
Things to do: Stroll the two most iconic streets in Boston. Start at the top of Newbury Street for a walk through history, eventually finding yourself amongst all the finest boutiques in town, including Chanel, Bulgari, and Dolce & Gabbana. From there, you can cut through the Public Garden, pausing to admire the flower beds and swan boats (weather permitting) before heading over to Charles Street, which still seems charmingly trapped in the 19th century. Pop into as many antique shops as you can, but don't miss the street's surprisingly chic boutiques, from French & Italian to Ouimillie to December Thieves to Dress Boston. End by cutting over to The Esplanade, the park that runs alongside the Charles River, and watching sailboats glide by.
Best restaurants: There's no better time to get your seafood fix and dine at Saltie Girl for a lobster roll, Select Oyster Bar for seafood towers, and Scampo for lobster pizza. Swinging in the other direction, Buttermilk & Bourbon has a New Orleans feel and next-level buttermilk fried chicken (and oh, that homemade soft serve!). La Voile grants you classic French bistro fare and Terra, inside Boston's Eataly, is a grilled-meat dream. Beacon Hill's dining scene is more sedate, but 75 Chestnut is one of those quaint spaces that's only found in a historic neighborhood, and Figs is the local go-to for sitdown pizza. The Paramount is a must for breakfast -- the wait time is worth it for those massive pancakes dished out luncheonette style. Just save a little space for an almond croissant from local chain Tatte Bakery.
Bars and nightlife: Locals don't think of either neighborhood as party spots -- Beacon Hill, in particular, can feel like a bit of a bedroom community. But you don't have to dig that deep to find a late-night scene. In the Back Bay, Lolita is a sexy lair where professional singles truly mingle; ditto Oak Long Bar + Kitchen, where you also might spot a local pro athlete or two. Back Bay Social Club is for the younger folks, while Bukowski houses the city's surly beer drinkers. As for Beacon Hill, the Liberty is actually a genuine party scene, with folks coming from the suburbs dressed to the nines and hitting up wine bar Clink and cocktail spot Alibi. The casually dressed, meanwhile, might do better at the no-frills Sevens Ale House.
Sign up here for our daily Boston email and be the first to get all the food/drink/fun the Hub has to offer.