Everywhere You Should Stop Along Massachusetts' Mid-Cape Highway
From scenic lighthouses to fried clam shacks.
Provincetown, Massachusetts

| Sandra Ciardi/Shutterstock
Provincetown, Massachusetts

| Sandra Ciardi/Shutterstock
While Boston may serve as the financial and cultural capital of Massachusetts, the southeastern reaches of the Bay State reign supreme when it comes to natural beauty. Given all the windswept beaches, rolling dunes, and undeveloped coastal land, it's no wonder that Cape Cod's population more than doubles in size during the summer months.
If you find yourself fantasizing about fried clam baskets served on the sand, the only antidote is a 117-mile joy ride down U.S. Route 6 from the eastern edge of Rhode Island all the way to picture-perfect Provincetown. By the time you pull up to the Pilgrim Monument, you're sure to be an expert in 18th-century whaling, lighthouse mechanics, Atlantic shorebird identification, and all sorts of other fascinating topics that will no doubt come in handy down the road—or, at the very least, will gear you up for that third round of clams.
Kick off your trip by saying olá to Fall River, a coastal city that's home to the largest concentration of Portuguese Americans in the entire U.S. of A. After a quick stop by Battleship Cove, make your way down the street to Sagres, a family-owned local favorite that's been crafting traditional Portuguese-inflected fare since 1975. Serving up signatures like camarão Moçambique and bacalhau à Gomes de Sá alongside wine and cocktails, this cozy venue instantly transports diners to the Iberian Peninsula, no passports required.
Modern-day Massachusetts may run on Dunkin', but the 1800s-era South Coast was concerned with an entirely different type of fuel—namely, whale oil. And your next stop, the stately town of New Bedford, grew to become one of the richest cities in the nation thanks to the fatty trade. Though the American whaling industry has gone the way of the kutchicetus, the New Bedford Whaling Museum is preserving the legacy of this once-mighty empire with over 750,000 artifacts throughout their collection. From gargantuan whale skeletons to painstakingly-detailed scrimshaws, this family-friendly institution is chock full of awe-inspiring relics.
As you summit the Sagamore Bridge and officially touch down on the Mid-Cape Highway, it's time to toast your success with some of the finest deep sea delights Cape Cod Bay has to offer. Whether you're a seasoned salt water aficionado or a nautical cuisine newbie, Seafood Sam's caters to all palates with more than 100 different delectable dishes up for grabs. Once you've had your fill of lobster rolls, fried clams, and butterfly shrimp, cruise a few minutes east for a leisurely stroll along the century-old Sandwich Boardwalk, a popular hangout for outdoorsy locals, wading shorebirds, and the occasional affable harbor seal.
Barnstable County, Massachusetts

| CO Leong/Shutterstock
Encompassing 100+ acres of pristine coastal terrain, the Long Pasture Wildlife Sanctuary is one of the Cape's top sites for basking in the Bay State's flora- and fauna-laden glory. Visitors are welcome to trek across restored wetlands in search of box turtles and herons, while the Butterfly Mosaic trail has been carefully cultivated to attract over thirty different varieties of the colorful flyer. For a truly spectacular view, make your way down the Marsh Boardwalk to find Long Pasture Beach, an idyllic stretch of shoreline rife with native crabs, mollusks, and waterfowl.
Nauset Lighthouse

| Deemwave/Shutterstock
Perhaps the most famous lighthouse in the entire commonwealth, this striking red and white beacon has been immortalized on everything from local license plates to bags of Cape Cod Potato Chips. Though guided tours are currently on hiatus, the structure serves as the gateway to Nauset Light Beach, one of Cape Cod National Seashore's natural highlights. After snapping a few selfies in front of the old beacon, traipse down to the sandy shore below, where towering dunes and shimmering waves pose as the perfect backdrop for continuing your self-styled modeling shoot.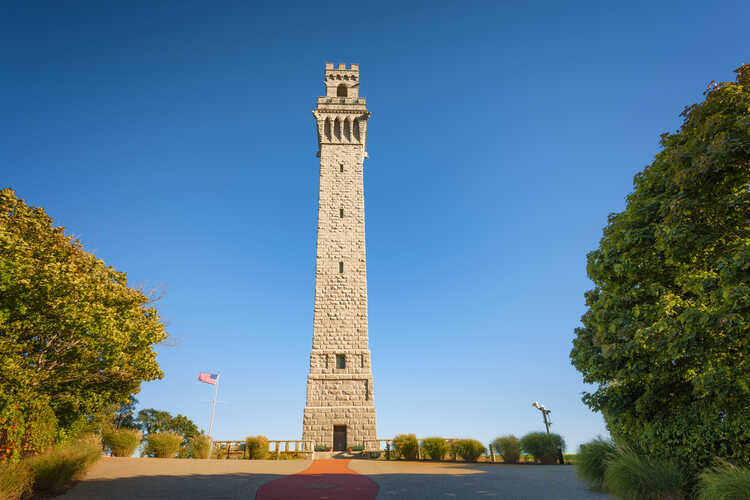 Pilgrim Monument

| Dee Browning/Shutterstock
To say that P-town has an interesting history would be quite the understatement. This vibrant seaside hamlet once boasted a thriving whaling industry before blossoming into one of the nation's most prominent LGBTQ+ hubs by the late 20th century. To better wrap your mind around how this curious town came to be, the Provincetown Museum provides an inside scoop on everything from the 18th-century's booming maritime industry to the Pilgrims' first voyage to Provincetown Harbor and much, much more. For a true taste of Colonial life, cap your visit with a trip to neighboring Pilgrim Monument, a 252-foot-tall granite tower complete with panoramic views of the postcard-ready landscape.
Jared Ranahan is a contributor for Thrillist.