The Best Weekend Getaways Near Charleston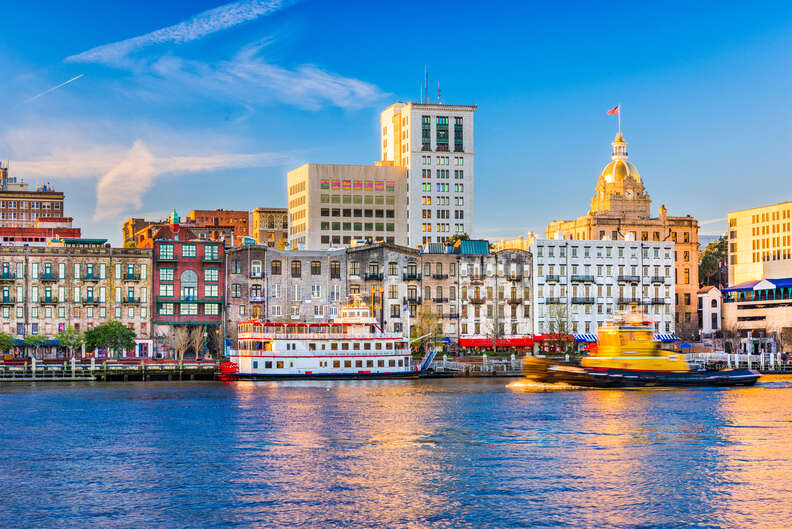 Charleston is the best city in the world, there's no denying that. But even living in paradise, it's nice to get away every once in a while to see what the rest of the world has to offer. Luckily, Charleston is perfectly situated to be able to let you see a number of different cities, all with their own unique offerings, within just a few hours' drive. Here are our favorite weekend getaways you can visit that are less than a four-hour drive away from the Holy City.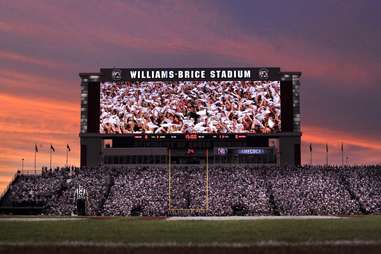 Best College Sports Getaway: Columbia, South Carolina
The "famously hot" capital city of South Carolina is probably best known as being the hub of the University of South Carolina (Go Cocks!), but Soda City has a lot more to offer than just college football. Despite its close proximity, Cola has a completely different feel from Charleston, with its skyscrapers, rolling hills, bustling river, and distinct lack of summertime tourists. Columbia has a little something for everyone: art galleries, music festivals, sports, outdoor adventures, plentiful shopping, and delicious food.
The city is pretty walkable and, if you don't want to have to worry about finding parking anywhere, downtown is definitely where you should plan to find a hotel or AirBnB. The Hotel Trundle is a self-described "handcrafted hotel" built from a trio of historic buildings, with lots of artistic details throughout the property. Plus, it's steps away from the Columbia Museum of Art, if you're into that sort of thing. If you prefer a quieter retreat, The Chestnut Cottage, a historic landmark built in 1850 is a cozy bed and breakfast that offers five historic rooms for stay.

A Gamecock football game at Williams-Brice stadium is definitely worth checking out. If football's not really your jam, the Riverbanks Zoo is the largest of its kind in South Carolina and a great way to spend a few hours. Depending on the time of year, there are also a number of festivals and special events, like the SC State Fair in October, and the Governor's Cup race in early Spring. Hungry? The Vista has a ton of great restaurants within a few blocks, like Motor Supply and Menkoi Ramen House. Or head down to Pawley's Front Porch in Five Points for an award-winning burger.
Distance from Charleston: Just under two hours
Best Beach Getaway: Myrtle Beach, South Carolina
Myrtle Beach has a reputation for being a wild, tacky beach town full of chain restaurants and tourist traps. And while that is definitely true to a certain extent, The Dirty Myrtle is big enough to offer a quality mix of kitsch and culture. Resort lodging is the way to go in Myrtle because you tend to get a great value for your money. North Beach Plantation in North Myrtle is a 7.5-acre island resort that features a swim-up bar, a lazy river, and an award-winning steakhouse and raw bar on site. If you'd prefer to be closer to downtown, Marina Inn at Grande Dunes offers a number of great packages throughout the year and features great amenities like beach access, indoor and outdoor pools, and biking and walking trails.
Of course, the main draw for Myrtle Beach is the in the name itself. There are plenty of public beaches, plus a couple of state parks with fabulous beach access. When you're not at the beach, you should check out Brookgreen Gardens, a sculpture garden and wildlife in Murrells Inlet that is a must-see when weather allows. Broadway At The Beach is a one-stop-shop for vacation fun, featuring shopping, entertainment, and lively nightlife. And no trip to Myrtle is complete without a spin around the iconic SkyWheel and a stroll down the Boardwalk. Hungry? Myrtle Beach is probably best known for its seafood restaurants, like Sea Captain's House and Captain George's Seafood, but also be sure to check out Croissants Bistro for a quality breakfast, Simply Southern Smokehouse for great BBQ, and Mediterranean Bistro for some of the best falafel in SC.
Distance from Charleston: Two hours, 10 minutes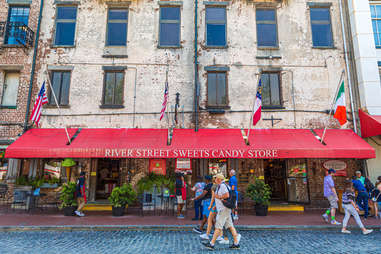 Best Party Getaway: Savannah, Georgia
Savannah is basically Charleston's wild younger sister. It has all the same charm as Charleston -- moss-draped oak trees, a rich cultural history, proximity to the beach -- with the added bonus of being able to drink booze in an open container on the street. It's a mecca for bachelor and bachelorette parties for this obvious reason, plus the fact that the cost of food and hotels in the city is more affordable than Charleston. The River Street Inn is an old cotton warehouse originally built in 1817 that was converted into a hotel in the late 1980s. The hotel features a number of historical furniture and decor, mixed with modern conveniences. You can enjoy the fabulous views of the river, and be within walking distance of many of the city's top attractions. Another option is The Marshall House, which has the added benefit of supposedly being haunted. It was originally built in 1851, and was used as a hospital during the Civil War (hence the alleged ghostly presence).
As for your daily itinerary, Forsyth Park is a definite place to see in Savannah. Pack a picnic or just take some photos in front of its famous central fountain. Since Savannah is home to SCAD, there are plenty of arts events and activities to do during your visit, like seeing the Telfair Museum of Art (the oldest art museum in the south), walks that feature local galleries and artists, and the annual SCAD deFINE ART show, among others. Savannah is also known for its annual St. Patrick's Day celebration, featuring the second largest parade in the US, its river even gets dyed green Chicago-style. As far as food goes, Mrs. Wilkes Dining Room is a quintessential southern cooking restaurant, and, of course, The Grey has received a ton of national attention since its opening in 2015.
Distance from Charleston: Two hours
Best Something-for-Everyone Getaway: Greenville, South Carolina
In many ways the opposite of Charleston, everything in Greenville is shiny and new, with the Blue Ridge Mountains keeping a watchful eye on the city from the horizon. But if you do want a taste of history, stay in the heart of downtown at the historic Westin Poinsett Hotel. It's one block from the Peace Center in the heart of Main Street, and steps away from Falls Park. For a taste of something completely different, the Hotel Domestique in Travelers Rest feels like you're staying in the Italian countryside with gorgeous views of the Blue Ridge Mountains, romantic fountains, and an award-winning restaurant and cafe.
Greenville has a little something for everyone. Take in a Broadway show at the Peace Center or perhaps even Shakespeare in the Park at Falls Park. Or catch a concert or other performance at the Bon Secours Wellness Center. Go shopping at local boutiques along the historic streets of Downtown Greenville or Greer. Go for a hike along the Swamp Rabbit Trail. Get coffee or dessert at Coffee Underground, and eat a delicious meal at Trappe Door, Sassafras Southern Bistro, or Lazy Goat.
Distance from Charleston: Three hours, 15 minutes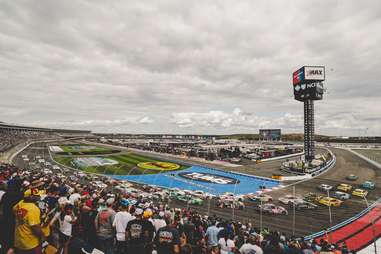 Best City Getaway: Charlotte, North Carolina
Charlotte is the Southeast's little big city with plenty of Southern charm. You can get a taste of metropolitan life without the horrifying traffic of Atlanta or the overwhelming size of NYC. The Queen City is a perfect place to get out of Charleston for a taste of something new. Experience the lap of luxury at The Ballantyne Hotel, a newly redesigned resort that features golf, a spa, indoor and outdoor pools, and three different accommodation styles. If you're looking to stay in the thick of things, The Ivey's Hotel in Uptown Charlotte is a historic building featuring artist decor within walking distance of many museums, restaurants, and bars.

During the season, Carowinds amusement park is a great way to enjoy a summer or fall day with the family. Sports fan? Definitely head Uptown to see a Hornets or Panthers game. As far as museums go, Discovery Place Museum is an interactive science center with lots of hands-on activities that are fun for both adults and kids. If you're feeling adventurous, the US National Whitewater Center is an outdoor complex that has whitewater rafting, zip lines, live music, and more. NASCAR fans can check out the NASCAR Hall of Fame or see a race at Charlotte Motor Speedway. Be sure to make a reservation at The King's Kitchen, a nonprofit restaurant specializing in locally sourced Southern cuisine. Also check out the James Beard Award-winning Kindred in the suburb of Davidson and the fried chicken at Heirloom will change your life.
Distance from Charleston: Three-and-a-half hours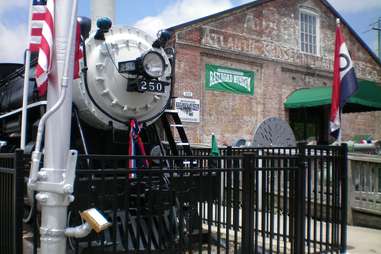 Best Historic Getaway: Wilmington, North Carolina
Leaving Charleston to go to another beach town might seem counterintuitive, but Wilmington is beautiful in its own right. Nicknamed "Wilmywood," the town is a favorite of Hollywood productions and has been the site of many TV shows and movies over the years (Dawson's Creek, anyone?). Wilmington has some of North Carolina's most popular tourist attractions, and is a popular area for surfers. Be sure to check out the annual Azalea Festival that welcomes in the spring every April and is a celebration of arts, culture, and all things Southern.
Wilmington is also known for its many quaint and idyllic bed and breakfasts, like The Graystone Inn that epitomizes antebellum architecture. The Front Street Inn is another great option, and it's perfectly situated to be within walking distance of some of Wilmington's best restaurants and attractions. Although Wilmington is a bit smaller than Charleston, it's still filled to the brim with things to do. There's the Wilmington Railroad Museum -- complete with a 100-year-old steam locomotive, the Cape Fear Museum of History and Science, the North Carolina Aquarium at Fort Fisher, and the Battleship North Carolina that has been converted into a floating museum of sorts. If you're looking to check out a beach, head to Wilmington's Vintage Boardwalk, which is great for shopping, dining, and late-night entertainment. Don't forget to grab some onions rings at The Copper Penny (which has been featured on Diners, Drive-Ins, and Dives), or some crab-stuffed flounder at the Cape Fear Seafood Company.
Distance from Charleston: Three hours, 40 minutes
Best Hip Getaway: Jacksonville, Florida
The butt of many a joke on The Good Place, Jacksonville is actually a pretty fun city to visit. While much of Florida is known for being a retirement destination, Jacksonville has a young, hip population that offers a bit of everything -- from beaches and nature preserves to world-class restaurants and bars. Stay at The Omni Amelia Island, a 1,350-acre, resort-style plantation outside of Jacksonville proper for a bit of an escape. The hotel hosts the Fish To Fork festival every spring, a mini-food festival that is ideal for seafood lovers.

One of the best parts of visiting is that there are tons of free options in Jacksonville: check out the Friendship Fountain, murals, sculptures, and River Walk will all give you a feel for downtown without spending a penny. For more cultural activities, check out the Jacksonville Zoo or the Cummer Museum of Art & Gardens. If you're a sports fan, you can't miss seeing the Jaguars at TIAA Bank Field. Jacksonville is also known for its craft beer scene (known as the Jax Ale Trail) and many breathtaking rooftop bars, like Coop303 and Cowford Chophouse.
Distance from Charleston: Three hours, 45 minutes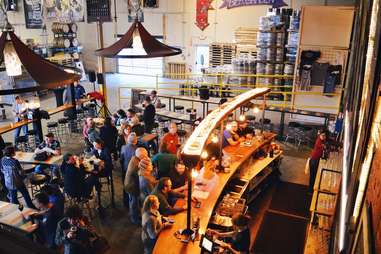 Best Craft Beer Getaway: Asheville, North Carolina
Asheville offers a great change of pace and scenery from the Lowcountry's flat, beachy shores. Nestled in the mountains, the hippy town of Asheville is a craft beer lover's mecca with 30-some craft breweries opening (or coming soon) in the small town. It's super artsy, with a number of galleries and cafes. Its location also makes it great for those who enjoy hiking, biking, or other adventurous activities. If you really want to get the true mountain experience, consider opting for one of Yonder's luxury log cabin rentals nestled in the mountains near Asheville. Each property has its own set of amenities, so you can find the one that's perfectly suited to your needs. If you prefer to be in the thick of it, check out the Haywood Park Hotel & Atrium located right in the middle of downtown.

Take an official or self-guided craft brewery tour. With many of the breweries located downtown, it's easy to stroll from tasting room to tasting room to get a nice tasting of all the suds Asheville has to offer. We suggest starting at the top of its famous South Slope at Hi-Wire Brewing and working your way down. Outdoor enthusiasts should definitely plan to go hiking or skiing while visiting Asheville. If you're downtown, be sure to visit the Pinball Museum, a small, interactive display of pinball machines from throughout the past 100 years (that, of course, sells beer). Also downtown, take advantage of the many street buskers and the famed Friday night drum circle. If you've never been, The Biltmore (aka America's castle) is a really fun peek into the past, especially during the holidays when the whole estate is lit up. And don't forget about the fabulous restaurants in Asheville, like White Duck Taco, The Admiral, or Biscuit Head.
Distance from Charleston: Four hours
Sign up here for our daily Charleston email and be the first to get all the food/drink/fun in town.