Plan a Trip to the International African American Museum in Charleston This Summer
The groundbreaking museum will honor the untold stories of the African American journey at one of the most sacred sites in the US.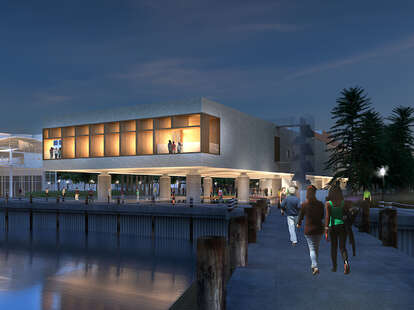 IAAM

| Ellis Creek Photography
IAAM

| Ellis Creek Photography
Welcome to Thrillist 50, your guide to fun and adventure in 2023. Think of it as your comprehensive roadmap for checking out exciting events and new attractions coming over the next 12 months, going on bucket-list trips, reconnecting with yourself and your community, expanding your mind, and of course, experiencing the flavors we're most excited about this year. There are so many reasons to live like there's no tomorrow. Start here.
At the height of the international slave trade, Gadsden's Wharf was the single largest point of entry for the enslaved Africans brought to North America.
Approximately 100,000 West Africans landed on the 840-foot structure. Built up from the marsh, on the shores of Charleston's Cooper River, the complex was the largest of its kind on the continent. Gadsden's Wharf was able to berth six ships at once and had a capacity to hold up to 1,000 enslaved Africans on land.
Until recently, the site, which lies just a few hundred yards from the South Carolina Aquarium and Fort Sumter Visitor Education Center, made no mention of its dark place in American history.
But in the coming months—more than two decades after it was first proposed by former Mayor of Charleston Joseph P. Riley, Jr.—the International African American Museum will be opening its doors on these storied grounds.
An inspiring reminder of the power of place
"This is a literal full circle moment," says Malika N. Pryor, chief learning and engagement officer for the International African American Museum. "You have this institution dedicated to the historical and living cultural narrative of the people who were brought into bondage in this very same space."
The $120 million project aims to honor the untold stories of the African American journey through nearly 150,000 square feet of exhibition, learning, and interpretive space.
The building, designed by architect Henry Cobb, will boast nine exhibition galleries featuring 300 works of art and historical artifacts including pottery by enslaved artist David Drake, portraits and images from Malian photographer Seydou Keita, and an original copy of Chinua Achebe's 1958 novel Things Fall Apart.
Commemorating Black History in South Carolina and beyond
Throughout the themed exhibition spaces, the museum will illustrate how enslaved Africans and free blacks impacted economic, political, and cultural development throughout North America and beyond—with an especially deep dive into the ties to the South Carolina Lowcountry.
"48.1% of all the African slaves who came to the United States entered this country through Charleston," says Harvard professor and historian Dr. Henry Louis Gates, Jr., who was an early contributor to shaping the story of the museum. "So, for blackness, black culture, the African experience, the African American experience, slavery—however you want to slice it—this is ground zero."
Gates, who is the host of PBS' popular series Finding Your Roots, was a big advocate and supporter for the museum's Center for Family History genealogy research library. The museums' groundbreaking genealogy library, which will be connected to the world's largest genealogy databases, is developing expertise in African American ancestry research.
It will feature the second largest collection of US colored troop pensions, an important ancestral record for Black Americans seeking to overcome the 1870 Brick Wall—the first time formerly enslaved African Americans appeared in the US census. "For many Black Americans, locating family ancestors before that year is next to impossible because records for the enslaved were often poorly kept and maintained by their holders," says Pryor.
Former first lady Michelle Obama will be prominently featured in one of the Center's exhibits that emphasizes important family stories with South Carolina roots.
In addition to genealogical and historical records (both of which will also be available online), courses, and consultations, the Center will allow guests to engage with their findings and apply it to a broader history story via blogs, vlogs, and StoryCorps-style recordings that they can keep as a memento. "This is a really lovely way to help all of us connect our narratives to something bigger," says Pryor. "It helps people to take that personal story and apply it to our larger collective story."
A space to honor the ancestors and reflect on the historical significance of the moment
Outside, the African Ancestors Memorial Garden, set on the edge of the harbor, will offer a clear view of the Atlantic Ocean with art installations, live plantings, and an infinity reflection pool, conceived by landscape architect Walter Hood, a 2019 MacArthur Foundation "Genius Grant" winner. On the original edge of Gadsen's Wharf, there will be a 245-foot steel band, inscribed with the names of regions from which enslaved people were brought. As visitors cross this boundary, they'll find themselves in the middle of the museum's Tide Tribute reflection pool, where they can watch the boats and cargo ships that still travel the harbor's waterways today, a modern day reminder of the site's nautical history and the transatlantic journey of those enslaved Africans who landed on these hallowed grounds.
The museum was initially slated to open on January 16, 2023—Martin Luther King, Jr. Day—however, its debut has been pushed back due to humidity and temperature control issues inside the building. It is now estimated that doors will open to the public by the summer.
Until then, the team involved in opening the museum is working diligently to make sure the experience—23 years in the making—is as impactful and inspiring as the history and space merits. "It is estimated that every African American has at least one ancestor who passed through that harbor," says Pryor. "The International African American Museum serves as a literal homecoming for every single African American with a historical relationship to the US."