Cool Airbnbs Near Chicago to Rent This Spring
Ready to skip town for a weekend or longer? These gorgeous Airbnbs and hotels are well worth the trip themselves.
With spring finally in bloom at the tail end of a nightmarishly dark year, there's never been a better time to set sail for new horizons—or at least gather up your nearest and dearest and road trip it out to the perfect weekend retreat. Smell some flowers. Gaze at the lake. Crank some honky tonk jams in the car with the windows down. You know, really let loose.
Regardless of how long you plan to stay, we humbly present these stellar Airbnb rentals, each ready to welcome you and yours with open arms, butter soft sheets, and good old-fashioned hospitality all within a six-hour radius of the city.
Saugatuck, Michigan
8 guests, $1071 per night
Distance from Chicago: ~2.5 hours
Set on a green one and a half acre span, this charming lodge-like property is decked out to serve as the ultimate escape no matter what time of year you visit. During the warmer months, the professionally landscaped yard is a great place to kick back thanks to a breezy screened-in porch, heated pool, outdoor shower, and a real-deal basketball court all to yourself. Indoors, meanwhile, a grand living room with vaulted ceilings—not to mention a towering stone fireplace—plus a gorgeous pro-grade kitchen and huge dining area are on hand as well. To boot, stunning views of the nearby Kalamazoo River byways lie just a short stroll away.
Things to do nearby: Cruise the quaint shops and galleries of downtown Saugatuck and pop into New Holland Brewing & Distilling Co.'s sunny tasting room for a craft cocktail before perching yourself like a beached whale on Oval Beach, one of Lake Michigan's most beloved shorelines.
Two Rivers, Wisconsin
6 guests, $479 per night
Distance from Chicago: ~2.5 hours
Ever wanted to spend the night in a bonafide living history museum? Welcome to the Bernard Schwartz House, a perfectly preserved 1938 masterpiece designed by none other than architectural icon Frank Lloyd Wright and your new weekend crash pad. Stashed along the serene East Twin River about a mile from Lake Michigan's crashing shores, this small town oasis is centered around an epic 63-foot-long living room featuring not one but two bricked fireplaces as well as gleaming red tidewater cypress woodwork, expansive banquette seating, a built-in library stocked with vintage books, and all the little genius manipulations of light and space that put Wright on the map so many decades ago. The manicured yard, secluded period bedrooms, and modern kitchen swathed in exposed brick don't hurt, either.
Things to do nearby: Stop and explore the bars and restaurants along the lively waterfront boardwalk in Sheboygan on the drive up from Chicago, or get lost in the vast wilderness of the nearby Kettle Moraine State Forest.
8 guests, $270 per night
Distance from Chicago: ~1.25 hours
Pack up the family, given or chosen, and make your way along Lake Michigan's curving southern edge to find this pastoral Berrien County beauty with room for up to 11 nature-starved urbanites. Between the bare beam fireplace, dramatic arched ceiling, stately wooden dining table ringed by retro rattan chairs, and plethora of sunlight, the shabby chic vibes abound, tempered by colorful artwork and posh velvet couches and armchairs. Elsewhere, the full-sized shuffleboard table, outdoor fire pit, and sexy downstairs lounge, a warm wash of unfinished wood paneling dotted with mounted antlers and other rustic curiosities, practically beg for late night revelry. Party on, kids.
Things to do nearby: Southwest Michigan's epic craft beer, wine, and distillery scene can be best enjoyed with stop-offs along the coastal Red Arrow Highway at spots like Tabor Hill just outside Warren Dunes State Park, or stay car-free by posting up at the landmark Journeyman Distillery for award-winning whiskey, a round of golf, and some damn fine Detroit-style pizza.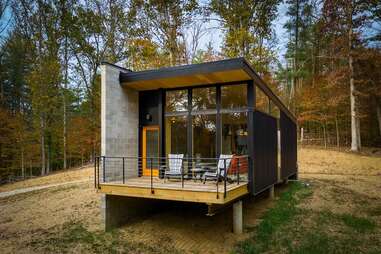 Nashville, Indiana
4 guests, $227 per night
Distance from CITY: ~3.75 hours
Soak up all of Brown County's rural riches from a strikingly urbane vantage point inside this recently remodeled vacation home. Perched atop a sweeping hill just two miles from Nashville's main drag, this architectural beacon offers a truly unique exterior design and panoramic views that just won't quit alongside a roaring fire pit, board games galore, and a Smart TV with all the fixings if you're the type that needs to tune in before you can fully tune out. Mid-century modern furnishings, a sleek upgraded bathroom with a rain shower, and the cheffy kitchen of your intimate dinner party dreams only add to the madness.
Things to do nearby: Four words: Brown County State Park. Read about it here. Or here. Or here. You get the idea. And maybe stop off for some fudge first.

Galena, Illinois
4 guests, $296 per night
Distance from Chicago: ~2.75 hours
A little over two and a half hours away sits the picturesque hamlet of Galena, a cherished provincial haven that's been enchanting nose-to-the-grind Chicagoans since the Second City's very first iteration. Get a front row seat to the small town action with a stay at this 1,200-square-foot Main Street hideaway. Built around 1880, this warehouse-turned-home is equal parts slick design and antique eccentricity with a stainless steel kitchen framed in glossy black subway tile, a slate-topped butcher block gleaming beneath warm Edison bulbs, and a jet black tufted leather couch set against a backdrop of exposed brick and rugged wooden beams. Don't miss the "rock room," a subterranean den sporting heavy grey stone walls, a record player, and emerald green couch guaranteed to exceed all your curling-up-with-a-good-book expectations.
Things to do nearby: Call it the best small town in Illinois. Call it one of the most beautiful places in Illinois. Call it one of Illinois' best summer getaways. No matter what you call it, Galena's historic small town charm is incapable of disappointing.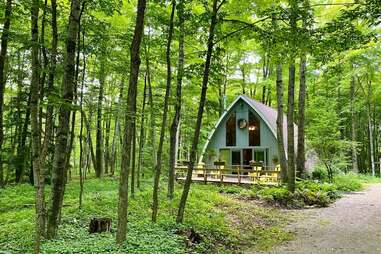 Sister Bay, Wisconsin
4 guests, $202 per night
Distance from Chicago: ~4.5 hours
Door County has long been a top summertime destination among Midwesterners in the know but leave it to this gorgeous wooded enclave to expertly flaunt the area's abundant natural bounty. Eponymous beechwood trees cover the 1.6-acre property, providing ample privacy for the huge platform front deck and generous screened-in porch. And the interior is just as lush, the soaring ceilings and two-story-tall windows giving way to tasteful mid-century furniture, plush carpeting, and a working potbelly stove. The lofted bedroom, nestled high in the A-frame's cozy apex and accessible via a spiral staircase, was tailor made for the best kind of lazy Sunday mornings.
Things to do nearby: It's no secret we're big fans of Door County around these parts. When in Sister Bay, be sure to check out nearby Newport State Park and grab a pizza from Wild Tomato to devour on a picnic table as bands perform at the beachfront amphitheatre at sunset. Pure bliss achieved.
Traverse City, Michigan
4 guests, $689 per night
Distance from Chicago: ~5 hours
As part of Airbnb's swanky "Plus" home collection, this uber-hip former cigar box factory is all about putting your Instagram followers to shame. This historic 38,000-square-foot stunner boasts a huge open kitchen alongside just the right amount of chic flourishes including a soaking tub and a massive shelf of books you can pretend to have read. But the real action takes place in the backyard, where a fully equipped patio also comes with a few artsy extras like a shiny bronze sculpture and a giant bee installation. Yeah, this ain't the Ramada.
Things to do nearby: Take the scenic route along the bayfront M-22 state highway over to Sleeping Bear Dunes National Lakeshore to experience one of the most gorgeous locations in the Midwest, full stop.
Glenmont, Ohio
7 guests, $398 per night
Distance from Chicago: ~6 hours
The Mohicans Treehouse Resort and Wedding Venue has long been one of the most unique properties in the entire region—even Mr. McConaughey once stayed here, if you can believe it—and a number of their distinctive properties are now bookable on Airbnb. Go off the grid without sacrificing creature comforts at the Killbuck Cabin, which sports a handsome, wood-paneled Colorado-esque vibe tucked away in the Mohican Wilderness area about halfway between Cleveland and Columbus. With two upstairs bedrooms, a full bath, radiant heat flooring, and a kitchen with gleaming granite countertops, this goes way beyond your standard glamping situation. (Note: If you want to reserve their iconic Little Red Treehouse, originally built for the hit series Treehouse Masters, you'll need to go through the Mohicans site directly.)
Things to do nearby: Grab a pint and some alarmingly good pub grub at the delightfully divey Glenmont Tavern, book a zipline adventure at nearby Tree Frog Canopy Tours, or hit the beach at Pleasant Hill Lake, a sandy oasis just ten miles down the road.
Hannibal, Missouri
10 guests, $165 per night
Distance from Chicago: ~4.5 hours
A number of Chicagoans have been making the trek down to Quincy, Illinois in recent months in search of coveted COVID vaccines open and available to all residents. And while the artsy hamlet certainly holds its own, venture about 20 minutes south along the Missouri side of the Mississippi River and you'll find this epic mansion in the boyhood home of Mark Twain. A delightful (and delightfully affordable) mix of historic and modern complete with a large porch swing-equipped front deck ideal for dictating Twain-inspired witticisms into your phone, this tri-level Victorian beauty is also within walking distance of downtown Hannibal.
Things to do nearby: Hit the Mark Twain Boyhood Home & Museum before heading out on the Mighty Mississippi along the Mark Twain Riverboat. If you haven't noticed, they're big into Mark Twain here.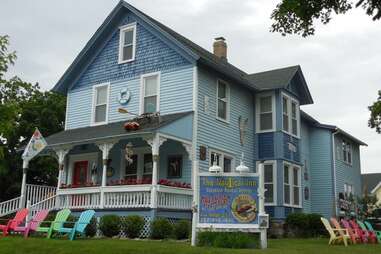 Lake Geneva, Wisconsin
16 guests, $385 per night
Distance from Chicago: ~1.5 hours
It's been some time since we've been able to commiserate in groups. But if you're looking for space for you and 15 of your best fully-vaccinated friends to live it up, this spacious crash pad in downtown Lake Geneva is hard to beat. Unlike most Airbnbs, the nautical-themed rental actually encourages bachelor and bachelorette parties, and those looking to indulge will find no shortage of lively bars and restaurants within easy stumbling distance. The house is so big that it's basically like having a small boutique hotel all to yourself.
Things to do nearby: Stroll downtown Lake Geneva or check out some of the lesser-known surrounding spots like the iconic Mars Resort, where the only thing better than eating a plate of broasted chicken at the bar is the view over Lake Como. Later, keep the summer vibes flowing by renting a boat and setting sail from downtown's Riviera Beach.
Jay Gentile is an award-winning freelance journalist specializing in travel, food & drink, culture, events and entertainment stories. In addition to Thrillist, you can find his work in The Washington Post, The Guardian, CNN Travel, Chicago Tribune, Lonely Planet, VICE, Outside Magazine and more. Follow @thejaygentile
.