6 Surprisingly Affordable Spas in Chicago
The best spas in Chicago won't break the bank.
Can we be real for a second? Chicago is a wonderful city, but it can be pretty exhausting. Getting ghosted by a bus, random -12 degree days in April, constantly explaining to out-of-towners that, no, actually most Chicagoans eat Tavern-style pizza and deep dish is more of a treat for special occasions—it's a lot. We all deserve a break. You, specifically, yes, you, the person reading this, deserve a break. Text your boss, tell them you're taking next Friday off, and be kind to yourself by refreshing yourself at one of Chicago's best relaxation spots.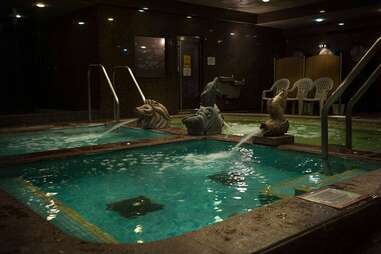 Niles
It might be a bit of a hike from the city, but if you have a car (or don't mind a taxi trip out to the burbs) King Spa needs to be on your list. According to their website, King Spa is the largest Asian spa in the United States, featuring nine different sauna rooms that are meant to be visited in order, from a room where hot stones melt away muscle stress, to a detoxifying fire sudatorium, to a cold treatment room held just-above-freezing, each sauna is built to relax, invigorate, and refresh you. Even better, access to the saunas is just $50 (less, if you buy a pass from the nearby Super H Mart), and there's an on-site relaxation pool—that's not even mentioning all of the massages, scrubs, facials, peels, and acupressure treatments they offer.
Oh, and did we mention that it's a 24-hour spa, complete with a movie theater, a food court serving delicious Korean food, and cots available for overnight stays at a $10 surcharge? People in the know swear by it, and it's for good reason.
Multiple Locations
There are many, many, many spa chains in Chicago, but for our money, Hand and Stone is the best. Featuring locations all over the city and an extensive menu that includes peels, microderms, Himalayan salt massages, sports therapy, and everything in between, you'll be able to put together a relaxing spa day no matter what your budget is. If you fall in love with the place, memberships are also available which include a monthly massage or facial and slash the prices even further—they're more than well worth it if you plan on visiting often.
Bronzeville
Next Man Up Spa is actively trying to buck men's insecurity around spas by championing the fact that self-care is for everyone. In addition to standard services like facials and massages, Next Man Up offers a variety of widely-customizable treatments as well, from pedicures tailor-made for folks with diabetes to foot massages specifically designed for runners and folks who spend all day on their feet. Memberships are also available.
River West
AIRE Ancient Baths offers a truly unique spa experience. Aiming to recreate the bathing traditions of Ancient Greece and Rome, the AIRE space in River West is oddly transportative. As soon as you walk in, the noise of the city fades away and time almost seems to stop as you're led through AIRE's baths, all painstakingly kept at specific temperatures tailor-made for relaxation and rejuvenation. Of course, you can simply tour the baths themselves, but AIRE also offers packages including DIY face masks and scrubs, all the way up to a Signature Wine Bath, a truly opulent $600 experience that includes the ancient baths, and also offers exclusive access to a literal bath of antioxidant-rich wine, a cranial massage, and an hour-long grapeseed oil massage.
Hyde Park
Bettye Odom was one of the first Chicagoans to champion the concept of total body care, and her day spa is absolutely worthy of that pedigree. A Chicagoland staple since the late '70s, the spa offers a wide variety of services, but for your first visit, we'd recommend the body butter massage and the personalized facial, where the spa's expert staff not only formulates the facial specifically for your needs, but gives you tips on how best to care for it in the future.
East Village
For those of you who prefer a healthy dose of holistic-ness with your spa day, Ruby Room has you covered. Consistently rated one of Chicago's best spas by places like InStyle, Chicago Mag, Allure, and a whole bunch of other places, Ruby Room offers a perfect getaway no matter whether it's your muscles or your aura that's out of alignment. Every service begins with an energy reading, which then flows naturally into the treatment of your choice, from a massage that features the use of tuning forks to stimulate energy renewal, to a rejuvenating hand and foot crystal polish, to a cold stone headache treatment perfect for migraine sufferers. As you're leaving Ruby Room with a rejuvenated mind, body, and soul, be sure to complete the experience by picking up a tarot deck on your way out.