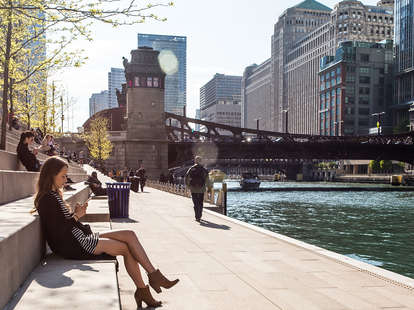 Having set tourism records the last eight consecutive years, there's never been a better time to visit Chicago. (Or worse, depending on your feelings about tourists.) But if you'd rather not spend your time indulging in obviously touristy activities like taking a selfie at The Bean, navigating the crowds at the Willis Tower Skydeck, or eating deep dish pizza at some downtown tourist trap, you're gonna need the help of a local gatekeeper. Lucky for you, we're here to run down all of our favorite things to eat, see, and do in the city. Our number one tip: get out of downtown and into the neighborhoods, where you'll find the "real" Chicago.
DO
Float your own boat
If you're in Chicago in the warmer (or even not-so-warm) months, you're gonna want to get on the water. Stat. There's just something about seeing the city's world-class architecture while floating down the Chicago River that permeates deep inside the reptilian brain of the average Chicagoan. And while the more touristy downtown boat rentals can certainly be a fun way to see the sights, a better (and lesser known) option is to pilot your own vessel. Here, your options are more limited, but if you can find Chicago Boat Rentals located in a way off-the-tourist-trail section of the Chicago River next to Estate Ultra Bar, it's well worth the effort. Park in the same lot as the bar and head to the right, where eight- or 12-person pontoon boats are available for rentals at two-hour intervals. No annoying narration. No disgruntled toddlers. Just you, your buds, and the open waters.

Go for a drive
While Lake Shore Drive is one of Chicago's most famous and epic drives, it can also be something of a parking lot during peak driving times. For a more relaxed and offbeat alternative that will allow you to experience the interior of the city and its neighborhoods instead of just staring out over the highway, try navigating the city's lesser-known but equally gorgeous Emerald Necklace. Built in the late 1800s as one of the first urban greenways in a major US city, the Emerald Necklace links together some of the city's most spectacular parks and public squares via a leafy 26-mile network of interior city streets and wide tree-lined boulevards. Start out in Lincoln Park and head west along Diversey Parkway to Logan Square before heading south to Gage Park, taking in the spectacular scenery along the way at magnificent city parks like Humboldt, Garfield, and Douglas. From Gage Park, head east on Garfield Boulevard to end your trip with the glorious one-two punch that is Washington Park and Jackson Park, two crown jewels of the Chicago Park District system. This is the real way to see Chicago.

Kick back at the beach
With a skyline stacked with tall buildings seemingly pressed right up against the sand, there are few places on Earth quite like downtown Chicago's beaches. With this unique location comes heavy crowds at popular spots like Oak Street Beach and North Avenue Beach, but there are alternatives. Farther north you can find Montrose Beach, which is also popular, but large enough to where it doesn't feel oppressive. There's also a fun bar on site with live music in addition to birding trails through the beach's sand dunes where you can really lose yourself in nature. Closer to downtown, the smaller yet still largely overlooked Ohio Street Beach is the perfect place to take in the scenery or grab some fish tacos at the on-site Caffe Oliva. After hitting the beach, stroll the adjacent and equally underrated Milton Lee Olive Park for a bird's eye view of our beautiful city by the lake.

Explore the city from above
The recently renovated Chicago Riverwalk and 18.5-mile Chicago Lakefront Trail are both excellent ways to see the Chicago River and Lake Michigan, but they are also both very well known to Chicago's increasingly large numbers of tourists. For a more local experience, hop on The 606, an elevated urban hiking trail similar to NYC's High Line that opened in 2015. Cutting through four of the city's coolest neighborhoods, the 2.7-mile pathway along a former railway line brims with life in the warmer months and offers a unique vantage point from which to experience the city 17 feet above street level. Bonus: There are a number of bars and restaurants not far from the trail in case you get hungry. Which, of course, you will. You're in Chicago, remember?
However you explore a city, the way you get there matters. Our vote: Do it from behind the wheel of a BMW. Right now you can buy your own luxury ride for an accessible price with a factory-backed warranty and 24/7 roadside assistance. Plus, every BMW Certified model is less than four years old and has been reconditioned by trained BMW technicians. So hurry in for exceptional offers on 2015-2017 BMW Certified models, and get where you're going the right way. Because good things come to those in the know.
EAT
Boeufhaus
If you're looking for a steakhouse where you don't have to suffer through the suffocating sameness of a traditional "steakhouse," you're looking for Boeufhaus. Since opening in 2015 in an off-the-beaten-path section of town, this cool little spot located a stone's throw from one of Chicago's top indie music clubs doesn't even consider itself a steakhouse. It's small and intimate, with plenty of exposed brick and dark wood to make you feel like you've stumbled into a secret club. A secret meat club. Calling itself a "French-German inspired brasserie," the clear star of the minimalist menu is the 55-day dry-aged ribeye, although the duck breast and pork chop are also not to be overlooked. Whatever you do, don't skimp on the boeuf fat fries. Unless you want to miss out on your newest obsession.

Longman & Eagle
This hipster-friendly space located in Chicago's ever-hip Logan Square neighborhood even features a six-room B&B/crash pad above the restaurant in case you forgot to book a room. But you're here to eat, and eat you shall. The menu's self-described "farm-to-table, nose-to-tail aesthetic" leans toward reasonably priced, slightly upscale yet still approachable dishes like roasted lamb shank and beef marrow bones. You can never go wrong with the wild boar sloppy Joe, and their burger is one of the most underrated in the city. They don't take reservations and the joint is always hopping, so get there early on the weekends (between 5-6:30pm). Although if you show up later and do encounter a wait, there's plenty of action to keep you entertained until your table is ready.

Frontier
This effortlessly cool yet laid-back space located on a less-bustling stretch of Milwaukee Avenue is famous for its Whole Animal Experience, in which you choose your animal and they do the rest. With options ranging from farm-raised pig, wild boar, goat, lamb, and even alligator, the whole animal option is ideal for large groups (or when you're looking to intimidate someone who owes you money). If you're not starving, additional menu highlights from 2019 James Beard Award semifinalist chef Brian Jupiter include antelope cheesesteak, clam pasta, and the local classic: five cheese mac. Oh, and start the party with $1 oysters.

Al's Beef
You can't visit Chicago without indulging in at least one item from Chicago's culinary holy trinity of deep-dish pizza, Chicago-style hot dogs, and Italian beef sandwiches. If you can only choose one, skip out on the more famous deep dish and tangle instead with the classic sandwich that helped define the city. And while Al's Beef is now a chain, its original location on Taylor Street has been slinging Italian beef sandwiches to locals in the neighborhood since 1938 -- and hasn't changed much over the last 80 years. It's still cash only, there are no seats inside (although there are a few tables outside with seats), and you best stand back from the sandwich when you eat it (utilizing an Italian beef ingestion method called "The Italian Stance") if you don't want it to end up all over your shirt.

Parson's Chicken & Fish
You can't appreciate Chicago without experiencing the local rite of passage that is the outdoor patio, and there are few finer than the always-happening (and recently expanded) patio at the original Logan Square location of Parson's Chicken & Fish. The Texas-styled space buzzes with activity anytime the temperature reaches anything close to outdoor drinking weather (which is admittedly a low bar in Chicago), when locals come out of the woodwork to play ping pong and eat quite excellent chicken. The grilled Amish chicken is simple and delicious, or enjoy yours fried or "demon-style" hot on a sandwich. The chicken & waffle is also not to be overlooked, nor is the underrated fish fry. Whatever you order, the local experience dictates it should be eaten on the patio.
SEE
The Hideout
You'd have a hard time finding anyone in Chicago who has visited this tiny bar/live music venue and didn't immediately fall in love. To call it "beloved" (as Hideout does on its Twitter account) is an understatement right up there with calling Chicago winters cold. Located in an obscure industrial sliver of land far from the typical bar/restaurant circuit, there is little to signal the existence of this 100-year-old balloon frame house from the exterior other than a vintage Old Style sign out front. Inside, the scene is fun and communal, with a cool basement-vibe back room showcasing live music as well as other occasional assorted weirdness from storytelling to comedy to something called "veggie bingo." Stop by on warm Fridays for their exuberant Picnics on the Porch outdoor music series, and leave with a lifelong allegiance to the place.

Green Mill
Opened in 1907 and one of the city's oldest bars, the legendary Green Mill is not only an iconic Chicago watering hole, it's also one of the finest jazz clubs in America. Made famous as the favorite hangout of Al Capone during Prohibition (Capone reportedly had his own table there and the club band would immediately break into his favorite song whenever the boss entered), these days, Green Mill is a sexy spot to see a live show with a date or a group of friends. The cinematic space has cameoed in several films over the years from Thief to The Break-Up, and is also popular for its long-running poetry slam. Just don't talk too loudly when the band is playing, unless you don't mind being aggressively shushed.

Metro
While there's certainly nothing wrong with seeing some live comedy at local improv institution Second City, there's no denying it is a pretty touristy (yet still wildly fun) endeavor. Seeing a live concert at one of Chicago's great independent music venues offers more of a locals' feel, and there's no place better to do just that than longtime institution Metro. Opened in 1982 with a capacity of 1,100 on the main floor and balcony, it's big enough that you're bound to see some top touring talent but small enough that it still feels hip, intimate, and even slightly dangerous. Having hosted everyone from Iggy Pop to James Brown over the years, these days Metro continues to serve as an oasis of cool amidst the increasing cookie-cutter gentrification of the surrounding Wrigleyville neighborhood.