What We're Looking Forward to in Chicago in 2021
Things are looking up already.
No matter how you slice it, 2020 was a rough year for the Windy City. We've seen cherished businesses from Rogers Park to South Shore shutter their doors for good as the pandemic raged, briefly slowed, and then ranged once again through the region. Festivals were canceled, art openings were postponed, and, on top of all of that, we weren't even allowed to soothe ourselves with a refreshing dip in the Lake. But with the advent of the coronavirus vaccine and a brand new year finally upon us, there are many—OK, at least six—reasons to look ahead with optimistic anticipation. Here's the rundown on what we're looking forward to most in 2021.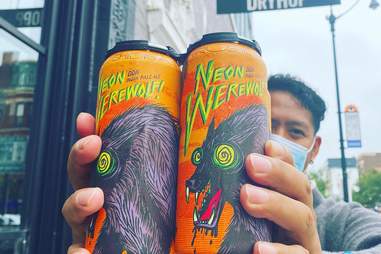 Courtesy of Crushed By Giants Brewing
2020 restaurant newcomers getting their chance to shine
While the global pandemic was busy squashing once thriving Chicago bars and restaurants, a new crop of culinary wizards were trying with all their might to establish themselves amid the chaos. We're talking places like French charmer
Robert et Fils
, cheffy donut specialist
Brite
, pie emporiums like
Pizza Lobo
and Sicilian hotspot
Pizza Friendly Pizza
, game-changing sandwich joints
Big Kids
and
Cat-Su Sando
, brewpub wonders
Ørkenoy
and
Crushed by Giants
,
Nobu Chicago's
swanky debut, the Ace Hotel's all-day go-to
Lovage
, South Side throwback
Nipseys
, West Town's beloved
Tamale Guy
—the list literally goes on and on (and on). Here's hoping the coming year gives this badass class of 2020 all the glory it unwaveringly deserves.
The return of live music, both inside and out
Remember slam dancing to obscure midwestern noise metal at the
Empty Bottle
? Stage hopping your way through
Pitchfork
,
Riot Fest
,
Windy City Smokeout
, or the always epic
House Music Festival
? How about kicking back to indie melodies at the
Hideout
or
Schuba's
, crushing subterranean shots at
Thalia Hall
, catching big name headliners at architectural icons like the
Chicago Theater
and the
Riviera
, or treating your better half to a jazz quartet performance at the
Green Mill
? Yeah, us too. Chicago's a music town through and through, and although the coronavirus has delivered our fair city's concert calendar a near-fatal blow, we're looking ahead to a 2021 with a socially distanced pep in our step and shoegaze-inspired bob in our chin. Between promising federal proposals like the
Save Our Stages Act
, backed by Illinois Senators Dick Durbin and Tammy Duckworth, virtual fundraising efforts like Chicago Independent Venue League's
CIVILization
, myriad GoFundMe campaigns, and good old fashioned grassroots organizing, Chicagoans have shown unparalleled commitment to getting their favorite juke joints back on track.
Courtesy of Bill's Original Tavern Pizza
Sandwiches and slices stealing the show
Scan over a list of 2020's most successful culinary ventures and two very distinct cuisines immediately emerge as no-brainer victors: pizza and sandwiches. The ultimate in comfort and convenience, these endlessly versatile and markedly take-out friendly crowd-pleasers are poised to maintain their market dominance throughout 2021's gradual transition back to normalcy. Expect to see even more top chefs throwing their hats into the saucy, cheesy, and foldable ring, joining the likes of
Oriole
vet Noah Sandoval and
16" on Center
managing partner Bruce Finkelman at
Pizza Friendly Pizza
,
Pizza Fried Chicken Ice Cream
whiz kid Ed Marszewski of
Kimski
fame, Heisler Hospitality's
Pizza Lobo
, and RPM spin-off
Bill's Original Tavern Pizza
. On the stuffed and breaded side, a merry troupe of boundary-pushers like ex-Blackbird chef Ryan Pfeiffer and Turkey & the Wolf's Mason Hereford's brainchild
Big Kids
and Japanese-inspired hot shots
Cat-Su Sando
and
Mom's
lead the charge for sandwich-centric pivots like wine mecca
Rootstock's
new deli counter and
Schwa's
summertime po'boy experiment followed closely by an up-and-coming Jewish(ish) deli revival lead by
Jeff & Judes
and
Rye Deli + Drink
.
Courtesy of Lost Lake
The continued rise of virtual cocktail bars
When the lockdown first started last March, Chicago barkeeps were at a total loss, unable to dazzle patrons behind the sticks while simultaneously barred from peddling their delicious wares via delivery or take-out due to strict liquor laws. That's when
Kumiko
cocktail maven (and
Thrillist Local Hero
) Julia Mamose stepped up to the plate and spearheaded
Cocktails for Hope
, her hard fought and ultimately successful campaign to legalize to-go mixed drinks. Thanks to those valiant efforts, 2021 is shaping up to be the year of take-away tipples, with new and retrofitted operations popping up all over the city. Not to be missed:
Gin and Juice
, a tiki-tinged service fueled by celebrated Three Dots and a Dash beverage director Kevin Beary, Blackbird and Spiaggia alum Derek Mercer's concept
Present Tense
, Mamose's very own lineup at
Kumiko
, kits from craft cocktail pioneers like the
Whistler
and
Violet Hour
, innovative flavor combos from
Superkhana International
and
Be Cordials
, plus rare spirits specialist
Billy Sunday's CSC
(yes, that's Community Supported Cocktails) program and tiki titan Lost Lake's similarly styled
Lost Lake at Home
, to name just a few.
Sports!
If 2020 has taught us anything, it's that this city's sports fandom is a true ride-or-die phenomenon. There have been bubbles, wubbles, and challenge cups, botched seasons, countless injuries, and canceled games, and, for the first time ever, empty stands at Soldier Field, yet loyal Chicagoans continue to show up for their number ones. Fingers crossed, 2021 will have us once again pounding Old Style and exchanging high fives as we bear communal witness to all the exciting lineup changes, fresh new additions (hello Zach Davies!), and explosive talent coursing through the veins of 'da
Bulls
and 'da
Bears
(not to mention the
Cubs
,
Sox
,
Sky
,
Blackhawks
,
Fire FC
, and World Cup champ-laden
Red Stars
).
Dive bars, full stop.
Oh, Chicago dive bars, how do we love thee? Let us count the ways. Malort shots and two dollar tall boys, sticky bathroom floors and overflowing pints served with a semi-toothless smile, bear hugs from bouncers and jukeboxes blasting, photo booths crammed full and blinding flashbulbs, spontaneous dance parties and sleepy day drinking, creaky pool tables and happy dogs underfoot—and that's barely scratching the graffiti-strewn surface. From downtown stalwarts like
Old Town Ale House
and
Rossi's
, to northwest hideaways like
Rainbo
,
Ola's
,
J & M Tap
,
Chipp Inn
,
Archie's
,
Alice's
,
Reed's
, and
Whirlaway
, Lakeview time capsules like
Nisei Lounge
, and
L & L Tavern
, and South Side smashes like
Skylark
,
Shinnick's
, and
Woodlawn Tap
(née Jimmy's), few locales are more dearly missed—or more eagerly anticipated—as our good old fashioned neighborhood dives. Sleep well, dingey darlings, as thirsty denizens the city over prepare for the welcome back bash of a lifetime.