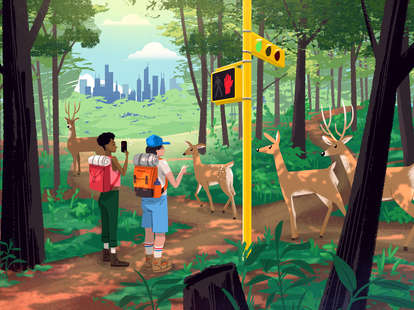 The Chicago Outerbelt is a 210-mile loop of nature that encircles the city.

| Jason Hoffman/Thrillist
The Chicago Outerbelt is a 210-mile loop of nature that encircles the city.

| Jason Hoffman/Thrillist
Chicago is known for many things -- skyline-perfecting architecture, waistline-expanding cuisine, the most revolting booze known to man. Natural beauty is not one of those things. Growing up in Chicago, the closest I got to the outdoors was observing rats around garbage cans and looking up at a starless sky during clandestine keggers in the woods. But it didn't have to be that way. A massive greenbelt of spectacular nature was right here all along.
Last summer, a group of intrepid local hikers discovered a way to hike around the entire Chicago metro area in one go. It's called the Chicago Outerbelt, an uninterrupted 210-mile nature trail that pieces together existing forest preserves and park land into one contiguous loop. With highlights along the trail ranging from scenic lakes and rustic campsites to forested woodlands and lakefront beaches, let no one ever tell you again that there's no such thing as nature in Chicago. You just gotta know where to find it.
What is the Chicago Outerbelt?
Simply put, the Chicago Outerbelt is a trail that connects some of the best nature surrounding our city. It extends from Downtown's Buckingham Fountain to the south suburbs, west to the Des Plaines River Trail, up north to Lake County, and finally back south along the Chicago lakefront. Primarily it consists of municipal properties pieced together for the first time -- like the Cook County Forest Preserve District, Chicago Park District, and Lake County Forest Preserves. With some sections traversing secluded wilderness, and others right near urban populations, the result is a hiking experience you won't find anywhere besides Chicago.
"You just get this weird combination of green space and rolling hills and then you pop out and you can have a beer at Imperial Oak," says REI outdoor programs coordinator Emily Leu, who was one of the first to hike the full trail with a small group of urban hiking explorers over two weeks last summer. "You get the best of both worlds."
"It's a little bit mind-blowing just to see how much there is this close to the city," says hiker Jay Readey, a Flossmoor-based attorney who founded the non-profit Outerbelt Alliance, a small group of volunteers promoting the green hiking spaces around Chicago. "You don't need to spend $5,000 and take two weeks off to go to Vail. You can do it all right here. And it's free."
How to visit the Chicago Outerbelt now
Check out a map (the Outerbelt Alliance has one you can view here) or dial up REI's Hiking Project app and hit the trail. Don't be intimidated: You don't have to hike all 210 miles at once. Outerbelt Alliance members encourage locals to get out and start by exploring some smaller sections of the trail nearest them.
Along the Outerbelt, you'll see a vast cross-section of wildlife including deer, herons, egrets, eagles, hawks, frogs, toads, and fish, says Readey, adding that the only dangers you're likely to encounter are some poison ivy, a few bug bites, and maybe a little sunburn.
The best spots to hit along the trail
One of the longest stretches of unbroken hiking on the trail is Middlefork Savanna, cited by both Leu and Readey as a stunning highlight. Part of the Lake County Forest Preserves, about 40 miles north of the city, this rare tallgrass savannah offers some epic wildlife spotting opportunities. In one day alone, the group spotted 10 great blue herons there. "It felt Jurassic," Leu says. "It was awesome." Des Plaines River Trail is another favorite, particularly the beginning of the trail near Oak Park, where Leu says "you feel like you're in a rainforest."
In the city, Montrose Point Bird Sanctuary is one of the trail's gems. The Outerbelt passes through a vast expanse of stunning lakefront terrain as well -- the hike from Lincoln Park Zoo and the Peggy Notebaert Nature Museum up north to the Chicago Botanic Garden is a spectacular day hike. It also runs along both the Lincoln Park Zoo and Brookfield Zoo. "What other thru-hike takes you through the zoo?" asks Leu with a laugh.
The Outerbelt also touches the Chicago Museum Campus, the future site of the Barack Obama Presidential Library, Navy Pier, and North Avenue Beach. It highlights "the best of Chicago," Readey says, an experience that's heightened when reaching these famous civic destinations on foot versus by car. "It feels really democratic," he says. "It feels so empowering to walk into these places."

Some of Readey's other favorite sections of the trail are in the Calumet Region in southeast Chicago, where "there's a ton of green space that isn't on most people's radar." He cites a diversity of terrain in this oft-overlooked area, including forests, fields, grasslands, and wetlands, with a richness of flora and fauna that would stun most Chicagoans.

The section of the trail around Palos Hills is also among the Outerbelt's best spots. This popular mountain biking area "proves that not all Chicago is flat," says Readey. "It's exceptional because you can really lose yourself. You can really get out in nature."
Where to eat and drink along the way
Food and drink options near the trail are plentiful. "We intended to cook out more," Readey said of his group's initial Outerbelt excursion, but the call to "cycle in the glories of Chicago food" often proved too strong to ignore. And for good reason.
The Marnell Drive In in Chicago Heights and Bot Bakery on South Shore Drive are particularly worthwhile stopovers along the trail. Grab old-school barbeque at Russell's in Elmwood Park, and then sip craft beer after your hike at Imperial Oak Brewing in Willow Springs.

The trail also passes by the original location of Chicago's iconic Superdawg, which, it goes without saying, you should hit whenever you get the chance. According to Leu there's a taco stand along the Burnham Greenway called Taquizas Castillo with such magnificent guacamole that a fellow hiker hauled an entire tub of it back to camp.
"You don't need to spend $5,000 and take two weeks off to go to Vail. You can do it all right here. And it's free."
Yep, you can (and should!) camp along the trail
Since 2015, the Cook County Forest Preserve District has opened five new or rehabilitated campsites across the city, an enormous resource that most Chicagoans remain unaware of. The Outerbelt is a perfect way to experience them, as four or five of the forest preserve campsites are located along its path. (You can also camp at a cozy private site near the northern section of the trail called Little House of Glencoe.)
These public campsites are undervalued local treasures, like Camp Bullfrog Lake in the Palos Hills area and Camp Sullivan in Oak Forest (which used to be a Boy Scout camp and includes an indoor climbing wall). There's also Camp Shabbona Woods in South Holland, which boasts new facilities like a shower house and picnic shelter with trail access to the nearby Sand Ridge Nature Center and free access to the Green Lake Aquatic Center.
For a more secluded site, Camp Dan Beard in Northbrook features renovated rustic cabins and open fields for group tent camping. The walk from Camp Sullivan to Camp Bullfrog Lake is also an ideal day hike.
What's in the future for the Outerbelt?
"People are really interested in what we're doing," Readey says of the Outerbelt Trail. "It's one of the lowest-cost ways to experience Chicago." In the future, Readey envisions curated "coming-of-age experiences" along the Outerbelt for local high school grads or international college students. The Outerbelt Alliance is also placing a premium on promoting outdoor recreation among more diverse populations in the Chicago region to reach a demographic "beyond those typically marketed to by the outdoor industry," says Ready. The location of the Outerbelt, particularly its southern section, "brings this right to the doorsteps of people living in diverse communities.
"It's just gonna get better and better."
Wanna hit the trail? REI's hiking project has a detailed overview of the entire Outerbelt route, or check out this interactive map to find a section of the trail near you.
Sign up here for our daily Chicago email and be the first to get all the food/drink/fun in town.
Jay Gentile is a Thrillist contributor and he is out on the Outerbelt the minute he's done writing this. Follow @thejaygentile.