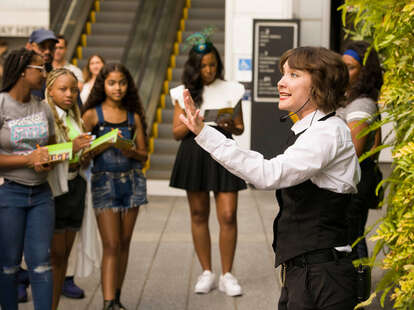 Courtesy of Clue: A Walking Mystery
Courtesy of Clue: A Walking Mystery
From Agatha Christie to Knives Out, everyone loves a good whodunnit—except, presumably, the person found clobbered with a candlestick. And it doesn't get more whimsically morbid than "Clue," the classic Hasbro game that helped cement murder mysteries as quintessential game night fodder.
As fun as it is to rally a group of friends around a board game, though, wouldn't it be more entertaining to explore a city uncovering clues to solve a murderous puzzle? That's the premise behind "Clue: A Walking Mystery," which hit the streets in downtown Chicago this summer, inviting teams to trek through various buildings and businesses to solve the demise—including the who, what, and where—of a fictitious Mr. Boddy.
The immersive game, whose rights were granted by Hasbro and which feels like a hilariously macabre Amazing Race, is the handiwork of Right Angle Entertainment, originating the concept as an outdoorsy reprieve in Los Angeles during the pandemic, before moving it to Chicago for indoorsy settings more akin to actual spaces and rooms that hearkened to the board game's ornate, old-school motif. Now running through Labor Day, with the potential of extending depending on how successful it is, teams of up to five people can choose their character color and hit the streets in the Loop and River North, following catalogs and maps to visit specific locations and reveal clues that'll help them determine how Mr. Boddy was killed, where the place took place, and the culprit.
Like the original game, teams are divvied into colors like Plum, Green, and Mustard. Unlike the game, "rooms" include Magnolia Bakery, Harry Caray's Italian Steakhouse, and the LondonHouse hotel, all within a few blocks from each other, and all sprinkled with subtle clues. Another departure from the source material, as explained by "butlers" who go over the rules at the start of each game, is that Mr. Boddy's murder took place 25 years prior, clue-laden furniture from his mansion has been scattered around downtown Chicago, and ancestors of the kaleidoscopic characters are now tasked with piecing it all together.
All games start every day, except Mondays, at 5 pm at Block 37 in the Loop. While most games take about three hours to complete, they're not timed, and teams are encouraged to linger wherever they'd like—because nothing says "crime-solver" like a banana pudding break at Magnolia.
"Clue: A Walking Mystery" runs at least through Labor Day, September 3, and tickets are $35 per team.
Matt Kirouac is a Thrillist contributor.