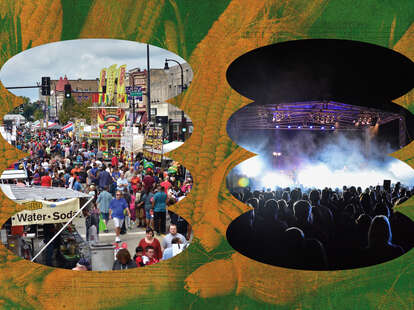 Design by Maitane Romagosa for Thrillist | Photos courtesy of JPM photography
Design by Maitane Romagosa for Thrillist | Photos courtesy of JPM photography
Leave it to the Midwest to turn a corn boil into a full-blown summer spectacle of carnival rides, funnel cakes, beer gardens, and rock 'n' roll. What started as a modest, homespun corny community tradition in 1957, as a way to celebrate the start of corn season in Illinois, has evolved into Corn Fest, a quintessential summer staple with live music, state fair-style food, activities, art, and of course, all the boiled corn you could eat.
In its current festival-style iteration since 1977, attracting upwards of 100,000 annual visitors, Corn Fest takes place in downtown DeKalb, in the far western exurbs of Chicago. A volunteer-run non-profit, it's basically a colossal carnival mixed with a music festival, featuring a sound stage next to the historic Egyptian Theatre, a beer garden in Palmer Court, and a slew of vendors, games, and rides in between.
From its modest roots to its present-day hoopla, Corn Fest has ballooned into a requisite late-summer attraction for folks of all ages, along with big-name musicians like Joan Jett, Lady Antebellum, and Phil Vassar. Taking place August 25 - 27, this year's lineup set to hit the soundstage includes rock- and country-centric acts like Project Nostalgia, The Relics, Whiskey Romance, and Scott McCreery. Elsewhere, attendees can look forward to a full-blown carnival with requisite Midway-style games and rides, like Ferris wheels, carousels, and the kinds of high-velocity spinning rides you should probably not go on immediately after eating. Situated on the north end of the festival, in the city and Frontier parking lots in between 2nd and 3rd Street, rides require either coupons (one coupon = $1.50) or an unlimited daily wristband for $33. Meanwhile, the Kid Fest section contains face painting, organic Henna tattoos, and a rock climbing wall, while the family-friendly beer garden slings alcoholic beverages and various food vendors sling everything from funnel cakes and curly fries to barbecue and jumbo turkey legs.
And let's not forget about the headlining act: the corn. The main draw on August 26 is the Chuck Siebrasse Corn Boil, named after a lifelong DeKalb resident and chairman of the Corn Boil for 25 years. From 11 am - 2 pm, guests can get their fill of free steamed sweet corn, which amasses to about 70 tons of cobs served. Festival hours are 3 - 11 pm August 25, 11 am - 11 pm August 26, and 11 am - 6 pm August 27. General admission to Corn Fest is free, but access to premium viewing areas near the soundstage is $10 a day or $25 for the weekend.
Drive time:
1 hour from Chicago.
2 hours from Milwaukee.
More things to do in DeKalb:
In addition to checking out the historic Egyptian Theatre, right in the heart of Corn Fest and host to free-to-attend performances from local dance troops and music groups, there's plenty more to see and do in DeKalb beyond corn. For a different kind of history, the kind rooted in barbed wire, check out the Ellwood House Museum, an ornate Victorian home-turned-museum originally owned by barbed wire entrepreneur Isaac Ellwood. Today, the manse is open for tours and filled with decadent architecture and art exhibits, along with lush gardens and wine tastings on the terrace.
Outside, visitors have plenty of trails to stroll and woods to explore at parks and preserves like Adee's Woods, the Afton Forest Preserve, and the Chief Shabbona Forest Preserve, or you can embark on a self-guided tour of the region's barn quilts—there are a lot of them!
In nearby Waterman, you'll find Honey Hill Orchard, one of the best orchards for apple-picking in all of Chicagoland, and home to quaint attractions like a country store, wagon rides, and a vintage barn wafting with cider donuts. There are also numerous other farms, home to corn mazes, pumpkins, and later in the year, Christmas trees.
Where to stay in DeKalb:
In addition to the basic comforts of budget-friendly chain hotels and motels, DeKalb County is home to some charming B&Bs, like Parkside Bed & Breakfast and Paper Doll House, while The Montcler Hotel provides a boutique-y experience—and cozy lodge vibe—in the town of Sandwich.
Where to eat in DeKalb:
Since one probably shouldn't subsist on corn and jumbo turkey legs alone, you'd be wise to seek out some of the other dining options in town. In the morning, coffee shops and bakeries include homey Open Door Coffee, Angie's Sugar Buzz Bakery, and Barb City Bagels, where scratch-made flavors run the gamut from the classic (everything, sesame, etc.) to the decidedly not classic (Hawaiian, sun-dried tomato, etc.).
Later, dining options take all sorts of shapes. Like a vintage Pullman Palace dining car from 1893. Bull Moose Bar & Grille, so named for the train that President Roosevelt used in his "Bull Moose Party" campaign in 1912, features all-day comfort food options, like caramel banana hot cakes, country-fried steak and eggs, mac & cheese, brisket sliders, and fried cheesecake. For more sweet nostalgia, the iconic Dairy Ripple is a longstanding institution known for its dipped ice cream cones, flurries, and malts, all adorned with googly eyes.
Another great option is The Dirty Bird, a deep-fried fixture known for its hand-battered tenders, pork tenderloin sandwiches, onion rings, and craft beer. Or you can veer upscale at the Ellwood Steak and Fish House, a handsome throwback of a dining room teeming with swanky Americana-like shrimp cocktail, rib-eye pork chops, and filet mignon.
To drink, DeKalb County boasts its fair share of boozy innovations. Sip for yourself at Waterman Winery, Byers Brewing, and Whiskey Acres, a distillery and tasting room in a pastoral barn-like setting.
Matt Kirouac is a Thrillist contributor.