A 3-Floor Immersive Harry Potter Experience Just Opened in Chicago
The 30,000 square foot enchanted attraction is taking over Water Tower Place.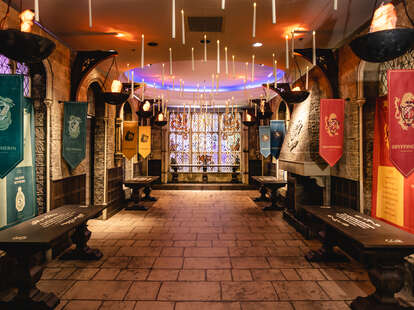 Chicago continues to prove it's second to none: this time, with the worldwide debut of Harry Potter: Magic at Play, an immersive 30,000 square foot experience transporting you into the fantastical world of wizards that's also one of the few places you can get Butterbeer outside of Orlando's Universal Studios.
Created by Warner Bros. Themed Entertainment and Original X Productions (the team behind the Friends Experience and The Office Experience), the journey kicks off at an owl-lined Dursley home on 4 Privet Drive. Step into the home where you'll be greeted by a tornado of letters addressed to "Mr. H. Potter, The Cupboard Under the Stairs." The family-friendly production allows for people of all ages to climb through the fireplace and ride down a slide meant to mimic the chaos that ensues when Uncle Dursley tries to prevent the delivery of Harry's letters.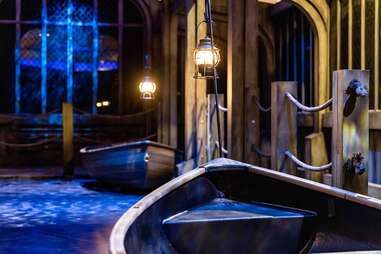 "Harry Potter requires the highest level of creativity in the highest level of detail," says Stacy Moscatelli, Co-President and Chief Strategy Officer at OGX. "We didn't want to recreate the Universal Studios experience. Instead we created an experience you can't get anywhere else. We took some creative liberties to make it more hands-on and put you in Harry's shoes versus you just watching Harry's journey."
From there, visitors travel to platform 9¾ to be whisked away to Hogwarts where boats await the first years to take them across the Black Lake and to the castle. A set of double-panel doors embossed with the Griffyndor, Hufflepuff, Ravenclaw, and Slytherin seal greet visitors before they step into the Great Hall, complete with floating candles, to stand with the banners of their chosen house.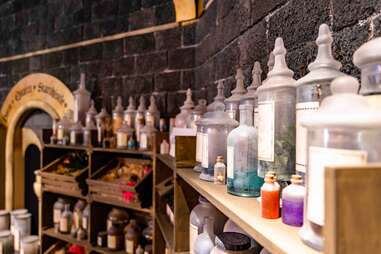 "We didn't want it to be all props and costumes, that kind of version of Harry Potter already exists [in London]," Moscatelli says. "This is a celebration of Harry Potter and his journey. Things are interpreted in a different way here."
That means visitors can expect to see elements from the entire Wizarding World franchise woven into the narrative. Nifflers, for instance, from the Fantastic Beasts franchise show up towards the end of the experience in the Triwizard Maze—an expansive labyrinth with a play area at its center to entertain the young children of the people who grew up with Harry Potter.
But there's plenty to do in between the start and finish. Head to Charms class where a wave of the wand and the use of Wingardium Leviosa will make a feather float. Explore a variety of scents from the ingredients needed in Potions class or ward off a swarm of Cornish Pixies in Defense Against the Dark Arts before heading to the Quidditch field for practice. Guests can visit the Forbidden Forest where they'll likely uncover a patronus or dementor, and stop by Hagrid's Home (complete with a nearby pumpkin patch).
One of the experiences unexpected delights is in partnership with Lego where visitors can create a minifigure in their likeness—and then see it come to life in a full-size Mirror of Erised, in which the Lego follows the person's body movements.
After a year and a half of meetings, ideation and build-out, Harry Potter: Magic at Play opened Friday, November 11, 2022 in Chicago in Water Tower Place, 835 N. Michigan Avenue, and runs through May 14, 2023 before touring nationwide. Click here for tickets.