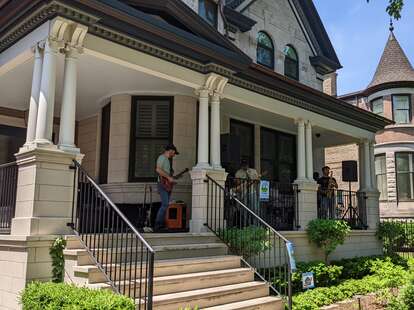 Lakeview Roscoe Village Chamber
Lakeview Roscoe Village Chamber
Most of the year in Chicago is spent waiting patiently for summer, so when it finally arrives, all we want to do is be outside. We eat on the patios of our favorite restaurants, hang out at rooftop bars, and attend every music festival that hits our city. But you don't have to wait for the likes of Lollapalooza to enjoy the sunshine along with some live tunes. You can enjoy local music performed on the porches you walk by everyday.
Porchfest is returning this year to Roscoe Village. For a few hours on a Sunday afternoon, local music acts perform—usually 45-minute sets—on the front porches of neighbors who sign up to host. This year, the festival takes place on Sunday, August 20, 2023—between Addison to Wellington and Ravenswood to Western—from 1-5 pm.
If you make your way over, you can expect 40 performers across multiple genres. There's R&B artist Rell Summa, femme strings collective Midtown Strings, rock/blues band Holler 'n' Honey, and many more. You won't know who is performing where or when too far in advance, which is part of the fun. After you purchase your ticket you'll get an email of the porch locations and performers the Friday before the festival.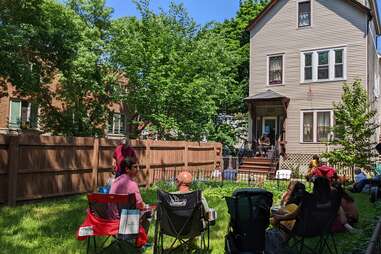 In years past, the neighborhood has really come together to turn this event into something to look forward to, bringing chairs out with drinks and food to line the curbs, creating front row seats to the fest while getting to know their neighbors. Ticket sales go toward the event—and the performers—to keep the fest coming back while encouraging community connection.
Single tickets cost $15 and group tickets for up to four are $50. Discounts from local businesses before and during the fest encourage folks who aren't from the neighborhood to come out. Chicago is such a big city filled with inexhaustible neighborhoods, so spend a Sunday afternoon exploring a new one, supporting local music and businesses, and creating another Chicago summer memory before the season is up.
Shelli Nicole is a Thrillist contributor.