Follow Lake Michigan's curving shoreline about an hour or so east of Chicago to the Michigan-Indiana border, and you'll find gargantuan singing sand dunes (more on that later), some of the country's most ecologically rich vegetation, and neon lakefront sunsets that will remind you that God does, in fact, exist.
Okay—maybe that last part was a tad dramatic, but the region and its accompanying National and State Parks will undoubtedly impress with its menagerie of ascending trails, sweeping prairies, boggy wetlands, and towering sand mounds cascading into crystal clear glacial waters. And that goes double come fall, when the trees explode into a dazzling canopy of red, orange, and yellow.
Fun fact: This particular stretch of Midwestern beauty served as the birthplace of modern(ish) ecology, thanks to renowned researcher Henry Chandler Cowles who set his sights on the humble borderland back in 1899. The fluctuating growth that flows from sand to forest—aka plant succession—laid the groundwork for much of today's scientific understanding. Conservation groups have for generations fought to preserve this land, as the dunes are sadly eroding from water fluctuation, climate change-induced wind speeds, and unauthorized off-path foot traffic (i.e. leave no trace, jerk-o).
That's not to say it's all sandy hikes and lakefront lookouts. Michigan City and the towns that follow it act as the ideal homebase for park-goers, dripping with history and small town appeal and providing both restful accommodations and a bounty of enticing cuisine. Postcard-worthy vacation homes line the shore, while inland farms supply grapes for wineries, grain for craft breweries, and fresher-than-fresh produce for local eateries. Admire the cresting dunes and expansiveness of Lake Michigan from your beach chair, work up a sweat along grassy trails, and lose yourself in dense oak and pine forests. And when you've had your nature fix, head into town to discover just what this little fleck on the map is all about—namely beer, seafood, and some of the cutest beachside hotels imaginable.
Here are seven top-notch reasons to get packing before ol' man winter returns and ushers us all back indoors.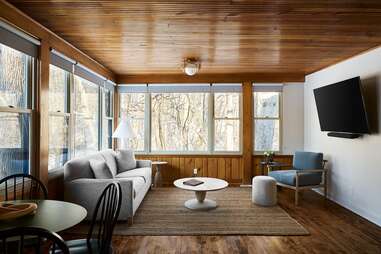 Rest your head at a retro roadside motel, cool new hotel concept, or handsome lodge
Warm beds with crisp, freshly laundered sheets feel oh-so-good after a long day at the lake. Here are a few options in spitting distance of the dunes that will make your stay utterly delightful.
Sure, a few big name chain outposts are scattered around the region, but why not go the extra mile and book a stay at a place that harnesses both the rustic draws of nature as well as all the creature comforts of a leisure resort? Enter the Neighborhood at Grand Beach, a modern venture nestled in the woods just over the Michigan border. A mix of contemporary guest rooms and suites and standalone, multi-room cabins complete with washer-dryers and full kitchens cluster around a smartly appointed common area and expansive swimming pool. All around, stretches of green grass beckon travelers with abundant lawn games (cornhole, anyone?) while a secluded beachfront lies just a short walk away down the quaint residential streets. What more could you want? Oh yeah—outdoor fire pits and gourmet grills for all your steak-flipping needs. It's kind of like being at home… if your home was 10 times cooler and butted up against the dunes.
Back in Indiana, the retro-chic vibes at 4411 Inn and Suites are the ideal fix for a bout of road trip-inspired Americana nostalgia. The property is an eye-catching renovated motel balancing a charmingly throwback vibe with the modern amenities like locally roasted coffee, double suites, and private porches. Don't miss the updated gas fire pits and Adirondack chairs for late night lounging under the stars. It's also happily dog-friendly, so feel free to bring Spot along for the ride.
How about a beer with your bed? The Brewery Lodge has got you covered. Spread over 40 acres of woodland, this boutique getaway boasts a loaded wine and beer bar as well as an inhouse supper club serving American lodge cuisine for dinner and brunch. And if you're feeling lucky, head over to the flashy Four Winds Casino in New Buffalo or Blue Chip Casino in the heart of Michigan City and let the good times roll.
Or dust off those flashlights and rough it at a local campground
Screw starchy sheets and mini shampoo bottles—you came here to get close to nature, so you might as well snuggle right up against those technicolor leaves. Camping out at any of these tranquil area grounds is the perfect excuse for silencing your phone and letting the crickets and cicadas sing you to sleep.
Open year-round, Indiana State Park Campgrounds is home to hundreds of tree-covered sites with speedy access to the beach and hiking trails, not to mention simply epic lakefront views. Aside from tent-only spots, you'll also find electrical hookups for the RV-toting crowd as well as rustic cabins for rent. Make sure to book ahead of time and take note of holidays and other closures before planning your trip.
Dunewood Campgrounds offers both walk-in and drive-up non-electric sites for RV'd and tented folk over two loops studded with modern restrooms and showers. There are a few convenience stores about a quarter mile outside the park, but nothing onsite, so make sure to pick up supplies before you unload. The caveat? It's only open from April 1 through November 1, so you'll have to get your leaf-peeping in while it's good and hot.
Hike the dunes while reveling in their autumnal glory
Indiana Dunes National Park spans over 50 miles of transient and stable dune terrain alongside wooden staircases that wind hikers around the sandy hillsides with ease or added effort, whichever you fancy. Choose your own adventure with these easy, moderate, and rugged trail recommendations. Most trails are open year-round but vary in terms of difficulty, access, and temporary closures, so it's best to check online before lacing up your boots. And while dogs are welcome, please keep them securely leashed up lest they run for the hills and disturb the local fauna.
Portage Lakefront and Riverwalk Trail is a relaxing, partially paved route set on repurposed National Steel property. Take in the dune progression as you stroll closer to the water's edge and finish your jaunt with a visit to the enclosed pavilion, open to visitors and fit with potable water and year-round public bathrooms.
Landing somewhere between easy and moderate, Dune Ridge Trail leads you down and around one steep dune, past older growth, and through a biodiverse habitat meandering from loose sand to grasses and forested areas. The view from the top of the climb overlooks The Great Marsh and serves as a prime vantage point for birders.
The more strenuous Cowles Bog Trail, named after groundbreaking American botanist and ecological pioneer Henry Cowles, guides hikers through black oak savannas and other stretches of rich plantlife diversity. Impressive panoramas of swamps, marshes, and Lake Michigan are just some of the highlights here. Note that this course gets a bit rough at points, so make sure to pack your granola bars and water. Year-round porta-potties are available, but there's no potable water onsite.
From the Nature Center parking lot, those who dare can set off to tackle Trail 9, a challenging route that traverses a maze of dune progressions and tree-covered expanses with varied terrain for that extra kick in the butt. Rewards come in the form of bragging rights and a magnificent dune vista with Insta-worthy views of shimmering Lake Michigan and the lush fall foliage surrounding it.
Can't decide? Hit the West Beach Dune Trail Loop for a three-in-one banger. First up, the Dune Succession Trail leads nature-lovers both up and down approximately 270 calf-busting wooden steps meant to preserve the landscape, complete with amazing views of Lake Michigan, the dunes, and Chicago's looming skyline. Keep on trucking and you'll soon discover the West Beach Trail's sand-laden stretch before making your way to the 2.2-mile finisher: Long Lake Trail. Over at West Beach proper, seasonal showers, lockers, and beach lifeguards are on-hand from Memorial Day through Labor Day.
Saddle up at a local brewery, cidery, winery, or bar
Thirsty? Why wait—Michigan City heavy-hitter Shoreline Brewery serves house-brewed beers as hoppy, tart, or malty as they come. And with an onslaught of bar snacks, stone earth oven-fired pizza, and a kid-friendly menu, there's plenty on hand to soak up all those suds. Over in nearby Buffalo City, feel #blessed with a beer in hand at Beer Church Brewery. This quaint church-turned-brewpub dishes up small batch brews alongside delicious Neapolitan-style pizza. Down the way in Stevensville, Michigan, Peat's Cider Social combines the best of both worlds: handcrafted hard cider and a full-scale bowling alley. Kiss those watered down pitchers of Bud Light goodbye, folks.
If you haven't yet experienced Michigana's budding wine scene, it's high time you got properly acquainted. Dip your toes in the rosé-spiked waters over at Anderson Winery in Valparaiso, where they've been cranking out the good stuff since 1927. Elsewhere, Shady Creek Wine spans 20 twinkling acres, incorporating both locally grown grapes and West Coast varietals into their boundary-pushing fleet and offering live music on Sunday afternoons.
Old-school watering holes run rampant in these parts, and Ritz Klub Tavern has long held court as Michigan City's finest. Established in 1890, this timeless pub is brimming with Midwest traditions, excellent burgers, and ice cold bottles of beer. Sun-tanned beach bums flock to Sunset Grille, with its rooftop seating, unparalleled waterfront views, specialty cocktails, and enticing food menu. Even better—Sunset Grille "goes German for Oktoberfest" this year, transforming into a little slice of Bavaria on the lakefront from September 2 to September 5.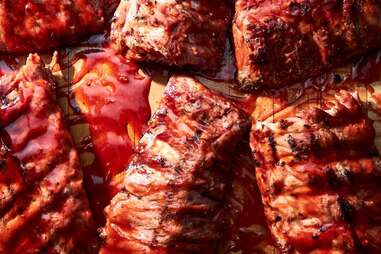 Satisfy your appetite at beachy grills, seafood joints, and farm-to-table favorites
You're in the Midwest, of course, so there's no shortage of gut-busting burgers, prime rib, and barbecue around here. But you also don't necessarily have to succumb to all those meaty temptations—Michigan City is home to plenty of standout seafood spots peddling everything from fish fries and clam chowder to oysters and fresh-caught fish. Fish Camp's majestic deck provides a scenic backdrop for folks chomping their way through stellar plates of swordfish, lobster, crabakes, and mussels.
Looking for some overstuffed burritos and other Cali-style Mexican favorites? Mucho Mas has your number. Need to line your stomach before hitting the trails? Dune Billies is your one-stop-shop for breakfast and lunch classics like reubens, biscuits and gravy, breakfast burritos, and hot coffee for the caffeine faithful. Goblin & the Grocer is a bonafide trifecta—a market, pub, and cafe with a sweet patio for sipping coffee or wine while digging into the many raw bar, charcuterie, and hearty entree offerings. And, last but not least, 21-and-up Porter institution Wagner's Ribs is the place to be when it comes to all things booze and saucey, pristinely tender barbecue.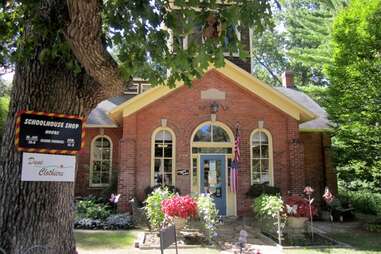 Restock your wardrobe with choice finds, both old and new
It's back to school time, y'all. Polish off your to-do list with a stop into Lighthouse Premium Outlets, a massive outdoor mall boasting more than 84 top retailers. Drop by Nike or Adidas to load up on fresh kicks and streetwear to complement your late summer tan or venture into the Northface outlet to start prepping your winter 'fits on the cheap.
The Schoolhouse Shop in nearby Chesterton has become a must-visit for Dunes locals and vacationing urbanites alike. Stationed in a Porter brick 1886 schoolhouse (obviously), the historic venue later spent time as an art gallery in the late 1940s before stepping into its current role as one of the area's most celebrated gift and lifestyle shops. Spanning 12 different departments, browsers can expect to find everything from high-quality clothing and flower arrangements to stationary, gourmet snacks, and other coveted keepsakes. As a bonus, the storybook front porch makes an excellent spot for enjoying an early afternoon coffee or picnic lunch, weather permitting.
Searching high and low for the mid-century modern hutch of your dreams? Dedicate an afternoon to cruising the region's many antique markets and you just might find your dusty white whale. The aptly named Antique Market of Michigan City houses more than 140 vetted dealers peddling some of the finest collectables and period furniture around. Back in Chesterton, Yesterday's Treasures Antique Mall operates in a similar format, bursting with a treasure trove of artisan wares, rare books, and second-hand items sure to please your inner Coastal Grandma.
Get in on some other inland action
Coastal Indiana's main attraction is nature, for sure, but don't sleep on this postcard-perfect region's turfside activities. From shopping to museums, there's more than enough on land to lure you away from Lake Michigan… at least for a few blissful hours.
In terms of culture, you'll be surprised how compelling the exhibitions are at The Lubeznik Center for the Arts. An eclectic museum and arts center in downtown Michigan City, LCA consistently lines its walls with innovative and poignant works. Originally opened in 1978, the space is small but overflowing with thought-provoking curiosities as well as community events. History buffs beeline it out to Old Lighthouse Museum, a 1858 lighthouse and living quarters that gives guests a taste of just how essential this post was for the Great Lakes navigators of yore.
For the animal-inclined, Michigan City's Washington Park Zoo wows with 15 acres of furry and not-so-furry friends, including Australian wallabies and emus, African tortoises, bobcats, bears, cougars, lions, zebras, reptiles, and more. And flower nuts could do worse than a visit to Friendship Botanic Gardens, where a peaceful stroll through the flora is bound to tickle the senses (not to mention the sinuses). Stop by early, though—the seasonal attraction closes up shop after October 31
Elanor Bock is a Chicago born, New York-based professional dancer, writer, and renaissance woman. Follow her on instagram @rathernotthanks.
Meredith Heil is a Senior Cities Editor at Thrillist. She's originally from St. Louis, now lives in Chicago, and in between has been to all 50 states (that's boots on the ground, no airport BS). She enjoys all things cocktails, crosswords, and women's soccer. Challenge her to a game of Hoop Shot at @mereditto.