Courtesy of Park Hyatt Chicago
Courtesy of Park Hyatt Chicago
From craft breweries and world-class cocktails to sports bars, speakeasies, and neighborhood taverns, Chicago is certainly not lacking in booze. But if you don't imbibe, or you're just cutting back on the ABV, that doesn't mean you're out of options. In fact, with the rise of non-alcoholic cocktail culture across the country, there's never been a better time to go spirit-free—especially in a city like Chicago, teeming with booze-less recreation, beverages, and wellness opportunities.

Nowadays, Chicago bars and restaurants offer N/A cocktails, beer, and wine that are just as intricate and interesting as their boozy counterparts, and with so many entertainment options out there that don't hinge on alcohol, from mini golf to murder mysteries, it's easier than ever to have fun beyond a bar crawl. Whatever the reason, whether you're completely cutting out alcohol, or just reducing consumption, there's no shortage of options in Chicago. Here is the ultimate guide to exploring the Windy City while sober.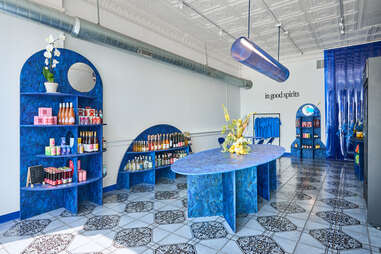 Non-Alcoholic Food and Drink Things to Do in Chicago
Zero-proof cocktails
Non-alcoholic cocktails have come a long way from soda water and juice. Lately, bartenders and mixologists have been pouring as much diligent effort and thought into zero-proof cocktails as they do their alcoholic offerings, enabling customers to savor the same craft without the hangover—and often at a lower price point.
This means that some of Chicago's most revered cocktail bars, like Billy Sunday and Kumiko, offer elaborate mixed drinks that are well-balanced, flavorful, and Insta-ready, without a drop of alcohol. At the former, spirit-free options include the Lupine Lady, a floral tipple made with lavender- and thyme-infused verjus, mint and basil syrup, sparkling water, and black lime salt, and the Strawberry Handshake, a shrub-based cocktail featuring strawberry-peppercorn shrub, apple cider vinegar, basil-agave syrup, olive brine, and ginger syrup. Kumiko, meanwhile, is the "Japanese dining bar" known for Julia Momosé's potable tasting flights. In addition to delicate martinis, daiquiris, and sakes, this includes artful spirit-free options like the Umeboshi Swizzle, a tart mix of shiso-pickled umé (Japanese plum blossom), brown rice vinegar, lemon, and Japanese seven spice, and the Bright One, with yuzu juice, clover honey, ginger beer, and Seedlip Garden 108, a non-alcoholic spirit made with herbs and peas.
Another Japanese hot spot emphasizing spirit-free cocktails is Miru, a newcomer in the St. Regis Chicago. Here, diners can sample N/A drinks that are just as pretty as the maki—like the Tropical Mule with passion fruit, honey, and ginger beer, or the Shiso Fancy-ish with ginger, honey, lemon, shiso, and mint. For a more elaborate experience, The Omakase Room offers N/A cocktail pairings. Drinks change occasionally, but the current lineup—priced at just $65—is a kaleidoscopic spree that includes a Strawberry Lapsang Old Fashioned with Lapsang Souchong tea and clarified strawberry, the Subtle Banger with Cider Spice Noir tea, passion fruit, and cinnamon, and Banana Brain with Genmaicha green tea, banana, and sesame.
Heading north, stop off at Andersonville's Nobody's Darling, one of the city's foremost queer bars, for spirit-free spritzes and CBD-infused bubbly, or head to Bokeh for sips and snacks in Albany Park. Home to some of the most stunning cocktails on the northwest side, customers have plenty of zero-proof options to mull over, like the Bollywood Walk of Fame with honeydew, lemon, ginger beer, blackberry, and jaljeera syrup, made from a cumin-infused Indian drink. Or the Teetotaling Toucan, which you'll be able to say five times fast when you're sober-sipping the coconut-guava puree with agave and lime.
Non-alcoholic bottle shops
The spirit-free renaissance has not only rippled through cocktail bars and breweries, but it begets the rise of entirely alcohol-free bars and bottle shops. Like In Fine Spirits, a sober newcomer in West Town that's as cool and hip as any of its boozy brethren. Here, the emphasis is on inclusivity, community, and connection—in ways that undo the stigma that you need to be buzzed to socialize. After running some successful sober pop-ups, Adriana Gaspar and Hector Diaz launched their own brick and mortar to provide a space for sober customers to mingle, and be able to enjoy craft drinks without the alcohol. Beer, wine, and spirits are all available for consumption on-site or in to-go bottles, as are spirit-free cocktails.
Tea
If there's one alcohol-free beverage that sports a similar dexterity and creativity to cocktails, it's tea. And in Chicago, there's a lot of it. A newer option, Eli Tea Bar is a rainbow-clad tea shop and sober bar in Andersonville that offers more than 100 loose-leaf options, plus tea lattes, kombucha, and bubble tea. Doubling as a sober social hub, the shop hosts regular community events, like open mic nights, trivia, book clubs, and queer meet-ups. With an emphasis on Nepalese and Indian offerings, Chiya Chai—with locations in Logan Square and on the downtown Riverwalk—offers a wide world of chai, fruity lassis, and all manner of hot and iced teas. The chais, in particular, are the way to go, from traditional masala chai to more esoteric flavors like eucalyptus, ginger-fennel, and pink salt with almond butter.
At Wake 'n Bacon, a Lakeview brunch fixture that just added weekend dinner service, teas and mocktails are among the plethora of booze-free drink options. Which means customers can pair their ube pancakes and togarashi popcorn with hot tea, chai, kombucha, and tonics.
For a little extra pomp and circumstance, up the ante with a full-blown afternoon tea party. Kostali by Naha offers a 90-minute experience with bottomless non-alcoholic teas—like green tea matcha and turmeric ginger—and optional zero-proof cocktails, like The Ian, with spirit-free Amaretto, spiced sarsaparilla syrup, and oat milk. It's all served with Mediterranean snacks, like Greek chicken skewers, dolmades, and halva. Another chic option is Bar Pendry, where savory and sweet tea towers come filled with truffled egg tartlets, butternut squash espuma, and brown butter chai scones, along with teas from Rare Tea Cellar, like Wild Blueberry Noir and Autumn Harvest Cranberry Apple.
Wellness Things to Do in Chicago
Park Hyatt Chicago
If you're looking to really treat yourself, in a multi-sensory kinda way, spend some time at Park Hyatt Chicago. It's an idyllic way to while away an afternoon, by viewing the "Not Your Mother's Dining Room" exhibit at NoMI Gallery, drinking a non-alcoholic cocktail at NoMI Garden overlooking Michigan Avenue, and enjoying a hydrafacial at the NoMI Spa.
Forest therapy walk
Nature, in all its healing serenity, isn't as inaccessible in Chicago as you might think. In addition to a wide array of parks and green spaces, the always-soothing Morton Arboretum offers forest bathing—the practice of "bathing" your senses in the all-natural calm of the forest. Guided forest therapy walks are hosted by certified guides, who take guests to different areas of the arboretum and help them to fully immerse themselves in their quiet environment. It culminates with a ceremony that features tea made from plants foraged throughout the arboretum.
Roman baths
There's no better way to melt your stresses away than with a soothing soak in a bath inspired by traditional Roman, Greek, and Ottoman wellness rituals. Aire Ancient Baths, housed within a restored factory in River West, offers a wealth of bathing options, from enormous pools to intimate tubs for couples, all within an ornate space lined with bricks and beams. Massages, steam rooms, and aromatherapy are also available.
Sports Things to Do in Chicago
WhirlyBall
The best kinds of sports are those that combine four different sports in one, like the one-of-a-kind spectacle that is WhirlyBall. Basically a mix of lacrosse, basketball, hockey, and bumper cars, it's a fun team activity that involves players scooping up wiffle balls and hurling them into nets, all while dodging each others' slow-moving vehicles on a court. The massive Bucktown facility also offers a bowling alley and laser tag, plus things like ping-pong, giant Jenga, and cornhole.
Big Mini Putt Club
Mini golf is always a fun Americana activity, for couples and groups alike, but since Chicago winters are less kind to retro outdoor courses, like Bunny Hutch, it's not typically a year round endeavor. That's where Big Mini Putt Club comes in, a new indoor mini golf concept with locations in Wicker Park and Lakeview. Each nine-hole course is quirky and fun, and full bars offer alcohol-free drinks like the Prickly Par Mule with prickly pear, lime juice, and ginger beer.
Bowling
For some folks, bowling might be an opportunity to engage in a leisurely social sport while drinking beer (or, umm, White Russians), and while you can certainly do that at retro-chic Avondale Bowl (they even have a vegan frozen White Russian), the vintage-inspired business also offers an expansive selection of N/A drinks to match with your strike. This includes spirit-free Negronis, N/A beers, and CBD sodas.
Other Things to Do in Chicago
Garfield Park Conservatory
Across two acres of indoor greenhouse space and 10 acres of outdoor gardens, the Garfield Park Conservatory is among the most impressive and expansive of its kind. Its numerous soaring rooms are filled with flora from all over the world, from gnarly cacti and towering palm trees to fragrant ferns and lustrous flowers. In addition to simply exploring the grounds and soaking it all in, the conservatory hosts periodic events, from kids' classes and cooking demos to live music nights.
Magic, mysteries, escape rooms
If your preferred method of recreation entails probing your brain for some level of mystery or intrigue, then Chicago surely has the outlet for you. For something immersive and thematic, there's a real-life game of 'Clue' that you can play downtown, while The Chicago Murder Mystery Tour is equal parts historical walking tour, outdoor escape room, and murder mystery party. While navigating Chicago landmarks, the tour explores the city's notorious criminal past while simultaneously implementing a murder mystery game where attendees become detectives and suspects.
It's a different kind of mystery at the Chicago Magic Lounge, a speakeasy-style parlor in Andersonville, where the whodunnit is less about murder and more about sleight of hand trickery. The adults-only space, comprised of a cabaret theater, performance bar, and stage, is as fun and funny as it is mind-blowing. There's also a full menu of food and drinks, including some spirit-free elixirs, like The Anniversary Waltz with non-alcoholic gin, raspberry syrup, lemon juice, pineapple juice, and non-alcoholic sparkling wine.
In River North, The Escape Game is really the gold standard for escape rooms in Chicago. Always a prime idea for a night out with friends, sober or otherwise, each game entails sleuthing your way through multiple elaborate rooms, with intricate themes like Prison Break, The Heist, Gold Rush, and Mission: Mars. Each one can have up to eight guests, and the difficulty ranges from challenging to downright impossible (but don't worry, clues are always available if you need any).
The 606 Urban Trail
Sometimes, the simplest pastime can be the best. Like something as pure as a stroll by the lake or a ride on an urban trail. Fortunately, Chicago is teeming with all of it, from the 18.5-mile Lakefront Path trail that runs north and south of downtown, and The 606, an elevated rail line-turned-trail that stretches nearly three miles from Bucktown to Humboldt Park, offering plenty of landscaped turf for walking, biking, rollerblading, and jogging. Parks and nature reserves, like LaBagh Woods and the North Park Village Nature Center, provide plenty of solace and DIY forest bathing, while places like Northerly Island in the South Loop, or the Japanese Garden in Hyde Park, are ripe for their own outdoor zen.
Matt Kirouac is a Thrillist contributor.