How to Spend the Perfect Summer Weekend on Chicago's Waterfronts
Paid Content For
Choose Chicago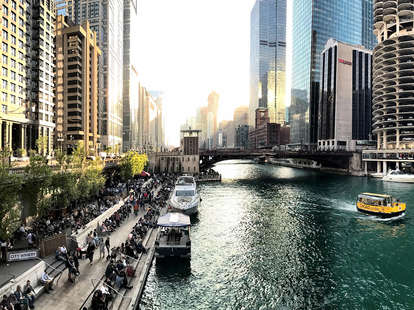 Let's be honest: The best place to spend summer is on the water. There's just something about the breeze whipping off the river or dipping your toes in the lake that makes you feel like a kid on summer vacation again. Luckily, visiting Chicago means you have access to not one, but two bodies of water: Lake Michigan and the Chicago River. A weekend trip here means sandy beaches to chill at with a frozen cocktail in hand, riverfront cafes to feast on Great Lakes seafood, and plenty of outdoor adventures to be had. So whether you choose to spend your time in Chi-town by the lake, river, or both, we've highlighted all the best ways to spend Friday through Sunday on its waterfronts this summer. You'll be wishing there were more days in the weekend.
LAKE MICHIGAN
Chicago shares a shoreline with the fifth largest lake in the world -- and it really comes alive as soon as Memorial Day hits. All summer long, locals head onto the water to boat, jet ski, and otherwise live it up lakeside. Between the 24 free beaches to explore and the city's 18-mile long waterfront pedestrian path to bike, rollerblade, and run along, there's something for every kind of summer thrill. So you can bet there's a ton to cover in one weekend… starting with the food scene.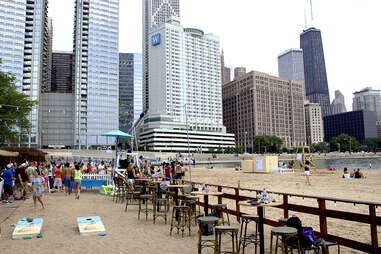 Where to eat
After you're done riding the Ferris Wheel at Navy Pier, walk a mere six minutes to Caffe Olivia for casual seafood fare and a Bloody Mary at Ohio Street Beach (beach chairs are waiting for you). For a late brunch, head down the pier to Odyssey Cruises to dine while you sail on Lake Michigan. The two-hour cruise comes with a three-course buffet and an onboard DJ for when the blood orange mimosas kick in. For dinner, head back to land and dine at The Lakefront Restaurant, an upscale tavern serving Midwestern fare like Lake Superior whitefish alongside choice views of Lake Michigan from its Skyline Patio. If you're there on a Friday night, you may also be able to take in a pre- or post-dinner show at Theater on the Lake, located inside the same building.
Where to drink
Start your bar-hopping in the Edgewater neighborhood at Waterfront Cafe -- because you know you're doing summer right when you're listening to live music on the lake and drinking craft beer. Just be sure to get there early, since this is a no-reservation zone. For more live tunes, continue south down the shoreline to the 3,000-square-foot beach bar that is The Dock at Montrose Beach. Order from its Caribbean-inspired cocktail menu and enjoy whatever local band is playing the lineup that evening (the music starts at 6:30-7pm). Round out the weekend by sipping on a Oaxacan Highball at one of the city's best rooftop bars, Cindy's, whose picturesque open-air terrace overlooks the lake and Millennium Park. If you can't tear yourself away from the sand, head to Shore Club at North Avenue Beach and order a "Mayor Daley" (made with apricot-infused bourbon), or for the true VIP experience, reserve one of their cabanas or daybeds right on the sand.

What to do
Chicago is considered one of the most bike-friendly cities in the country, so a quintessential summer day there should definitely include cycling around Lake Michigan. Rent some wheels from Bike and Roll and head to Belmont Harbor Dog Beach to pet some cute doggos, then hit up The Lincoln Park Zoo and Conservatory. Ditch your bike when you get to North Avenue Beach to indulge in a picnic, volleyball match, or a cold drink at Castaways Bar and Grill. Rather board than bike? Head to Ohio Street Beach for a new take on "namaste" with Chicago SUP. Their paddle board yoga classes are held on the lake at 9am every Saturday and Sunday, or if the timing's right, make it even more of a summer experience by taking one of their evening "Full Moon Yoga Flow" classes. To end your day on the lake with a bang, take a Navy Pier Fireworks Cruise with Seadog Cruises. This one-hour speedboat tour, heading out every Wednesday and Saturday night, guarantees you'll have the best seat in the house for the show.
THE CHICAGO RIVER
There's so much more to do on the Chicago River than partaking in its nearly 60-year celebration of dyeing the river green every St. Patrick's Day. The 1.25-mile Chicago Riverwalk along its south bank is dotted with buzzing bars, wineries, restaurants, urban art, and museums, making it an elevated adult playground. And with plenty of boat and kayak tour options, getting out onto the river is just as easy as looking at it.

Where to eat
Kick off the morning with shareable brunch apps and stellar river views on the patio at The Kitchen. When lunch hunger pangs hit, head to Riverwalk favorite Tiny Tapp for a quick bite (definitely order the street corn nachos or the "Chicago dog" sandwich). Choosing where to make a dinner reservation won't be easy, but put River Roast at the top of your list. The plates and views are both Instagram-worthy and the menu's backbone, roasted meats, are all carved tableside for added drama. You can also go full Chicago and eat a proper steak, of course. Gibsons Italia takes the modern steakhouse and gives it an Italian twist (note: it's closed on Sundays). And if trying seven-year aged Acquerello risotto alongside a Chicago cut steak wasn't enough, the restaurant's beautiful patio and floor-to-ceiling glass windows that show off the river from all angles means there's not a bad seat in the house.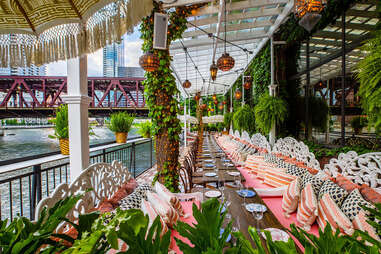 Where to drink
Finding a decent bar along the river isn't hard -- but no Riverwalk bar crawl is complete without a trip to Beatnik on the River. Prepare to teleport back to the '50s and '60s thanks to vibrant bohemian-chic decor and inventive craft cocktails made with ingredients like Ceylon cinnamon and Szechuan-chipotle honey. With live music and an 80-seat riverfront patio complete with daybeds, it's got everything you need for a lazy summer evening (but heads up -- the space is closed on Sundays). When it's time for wine, make your way to City Winery for a glass of vino; you'll be the picture of relaxation drinking California rosé in the sun as you gaze at the water. Continue your search for stunning river views on the open-air rooftop deck at Raised (open Monday through Saturday) with one of their 40 beers by the bottle, many from neighborhood breweries like Off Color and Around the Bend.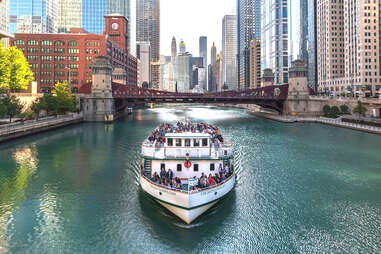 What to do
It's easy to eat and drink your way along the river, but there's more to do that doesn't involve ABV. Kick start your day on an architecture tour aboard Chicago's First Lady, a world-famous river cruise where you'll hear the stories behind more than 50 iconic buildings along the waterfront. Don't be so distracted by the scenery that you forget about making a plan for sunset, though -- because a kayak tour down the river during magic hour is calling your name. This 90-minute guided trip takes you to some of the city's earliest historical spots and gives you one of the best photo ops of the skyline. By the time you're done paddling, the Riverwalk's permanent public art installation will have come to life. Spanning two city blocks and a height of 25 stories, the beautiful projections and light show on theMART building at night is something every Chicago visitor needs to experience.