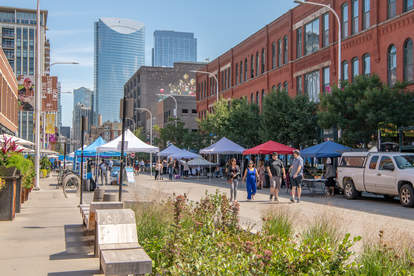 The Best Neighborhoods in Chicago to Spend a Weekend
Whether you're visiting Chicago for the first time or booking a staycation to see another side of the city you call home, here's a tip -- throw that Magnificent Mile guidebook over the Michigan Avenue bridge. Made-up of 77 diverse neighborhoods, each offering its own sights, sounds, tastes, and history, Chicago far exceeds its "Second City" reputation, and you'll experience that for yourself if you just get off the beaten path. Whether you're looking for a non-stop weekend, some serious R&R, or hoping to discover some of the city's hidden gems -- any of these six neighborhoods are perfect places to start falling in love (or to fall in love all over again) with Chicago.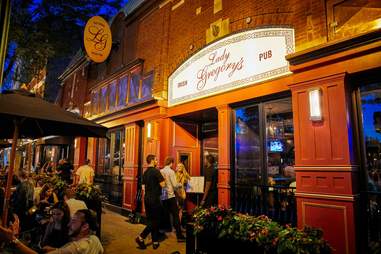 Stop by Lady Gregory's for brunch

| Lady Gregory's
Far North Side
Made up of neighborhoods including
Edgewater
,
Ravenswood
, and
Andersonville
, the far north side is ideal for those looking for calm corners of city life. Just a short L-ride away from the city's longest stretch of beaches, with cafes, art, and antique stores lining quaint, sleepy streets, you're far enough away from the downtown noise to feel as if you're someplace completely new for the weekend.
Where to stay: House 5863 Bed & Breakfast in Edgewater offers five private rooms and is within walking distance from the lakefront, as well as quirky, one-of-a-kind shops like Woolly Mammoth. For a hotel experience, The Guesthouse Hotel extends a variety of amenities to its guests including fitness and business centers, boutique retail, a rooftop deck, a "kids menu" of items -- from baby monitors and strollers to board games and puzzles -- for families staying with little ones, and is dog-friendly.
Best restaurants: Locals love Lady Gregory's for brunch. The Irish pub serves up favorites like Irish bangers with roasted potatoes, bacon and eggs, and fish and chips, as well as a Roasted Prime Rib Benedict. LG's also has a full menu of gluten-free options for brunch, lunch, and dinner. In nearby Lincoln Square, Luella's Southern Kitchen celebrates the recipes of chef/owner Darnell Reed's grandmother who moved from Mississippi to Chicago in 1943. Go for what was voted "Chicago's Best Gumbo," stay for the warm, family feeling.
Things to do: Feminist bookstore Women & Children First in Andersonville offers much more than just books promoting equality, liberty, and justice for all. Drop in for an author reading or creative workshop, maybe you'll even catch Storytime with Drag Queens. One of Chicago's weirdest, underground traditions, Turtle racing at Big Joe's in Ravenswood draws big crowds despite its shelled participants' "slow and steady" approach to competition.
Bars and nightlife: Lose yourself in the quintessential neighborhood bar. Specializing in providing an inviting environment and great conversation, Hopleaf is a favorite of craft beer enthusiasts and those that miss the days of drinking and dining without being surrounded by flatscreen TVs. Fireside also has a place in the hearts of locals, thanks to heavy pours and the bar's covered, heated patio.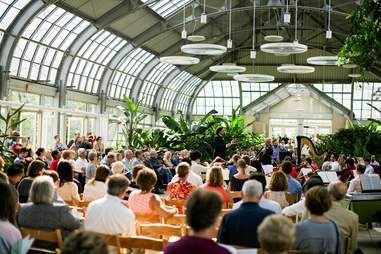 Garfield Park Conservatory's Music Under Glass series

| Garfield Park Conservatory
West Side
Rich in culture and history, the West Side has often been stymied by negative media attention perpetuating misconceptions around its communities. Experience for yourself the city's vibrant Latinx, Afro-Latinx, and Black roots in neighborhoods like
Humboldt Park, Garfield Park
, and
Austin
by exploring public spaces, checking out local small businesses, and of course, digging into the food.
Where to stay: Take advantage of the buffet of affordable Airbnb options including restored vintage homes and walk-up condos. This self-described "Traveler's Lodge" on the border of Humboldt Park and Ukrainian Village is the perfect place to recharge between adventures, complete with a fireplace and a gaming console for guests to use for $44 a night. There's also this quintessential Humboldt Park house, with two bedrooms including queen-sized beds, a common deck area, and all the essential items you'll need to cook during your stay for $90/night. It's also within walking distance of Chicago's 606 Trail -- an elevated walking and bike trail featuring art installations and unique landscape design connecting the West Side and Wicker Park.
Best restaurants: The Boathouse Café is nestled in the Humboldt Park Boathouse, with views of the park's gardens and lagoons from its dog-friendly patio. The menu has one of Chicago's best sandwiches (the Lechón burger), and you can feast on fried chicken, fries, and a slice cake for just $6. Inspiration Kitchens in East Garfield Park employs community members who are working toward a better future, learning food industry tools and techniques to overcome homelessness and poverty. Expect Southern comfort foods -- including monkey bread, shrimp & grits, fried green tomatoes -- for breakfast and lunch. Finally, Joe Willie's Seafood & Bar has some of the best Cajun-spiced crawfish, alligator, shrimp, and more to the west side.
Things to do: GlennArt Farm in Austin is a community-focused, urban farm that hosts ever-trendy goat yoga sessions at the nearby Waller Pasture. Folks can visit the actual farm to get to know the animals up close and personal with a "Goat Chill," purchase raw goat milk and other produce, eggs, and honey, and learn more about the neighborhood's history. For those looking for a different kind of tranquility, Garfield Park Conservatory is one of the largest botanical conservatories in the country. Thousands of species are housed across eight gardens in temperature-controlled rooms and over 10 acres of outdoors. The conservatory also hosts weekend composting demonstrations, kids activities, and classical music concerts in the afternoons.
Bars and nightlife: One Lake Brewing is a family-friendly brewpub in the former First National Bank of Oak Park building. Book a reservation to check out its seasonally rotating menu featuring locally sourced goods and brews or stop in on a Wednesday for Geeks Who Drink trivia night. The California Clipper in Humboldt Park echoes another era. Part cocktail bar, part intimate, cabaret-style live venue, the Clipper hosts everything from improvisational jazz jam sessions and soul trios to vinyl DJ nights and burlesque performances.
Indulge in pasta and wine at Monteverde

| Monteverde Restaurant & Pastificio
West Loop
Looking to be among the city's most trendy? The
West Loop
, just blocks away from Chicago's Greektown and the United Center (home of the Chicago Bulls and Chicago Blackhawks), is defined by boutique shopping, public art, and adventurous dining. Basically anything you eat, drink, or do here will be Instagrammable.
Where to stay: On the border of the West Loop and equally hip Fulton Market District, The Hoxton has a complimentary breakfast of overnight oats, bookshelves curated by select Chicago creatives, locally sourced art, and Bluetooth speakers outfitted in every room -- as well as one of Chicago's best bars in its basement lounge, Lazy Bird. It also offers "flexy time" check-in/out that fits your schedule, a shared workspace, three bars, a full food menu, and enough events to tempt you into staying in.
For a more unique experience, The Publishing House Bed & Breakfast, housed in the former Free Methodist Publishing House built in 1909, balances modern style and Midwest hospitality. The B&B only hosts 24 guests at a time across 11 private rooms, each with an en-suite bathroom (complete with claw-foot tub), highly personalized service, and fully customized breakfast options.
Best restaurants: Some of Chicago's best restaurants line West Loop. Aba's fresh spin on Mediterranean small plates, boasting big flavors and reimagined classics from Greece, Israel, Lebanon, and Turkey. Monteverde, helmed by James Beard Award-winning Chef Sarah Grueneberg, reinvigorates Italian comfort classics and homemade pastas in an upscale yet cozy atmosphere. For something more "meat and potatoes," Green Street Smoked Meats brings smokey, Texas BBQ to the West Loop.
Things to do: Stop by M2057 by Maria Pinto, the local designer celebrated and worn by the likes of former First Lady Michelle Obama, on Washington Street and treat yourself to some affordable luxury in quality, Italian ready-to-wear. Kristin Cavallari's Uncommon James calls the neighborhood home along with popular brands like Free People and Anthropologie. Plus, there's an incredible Goodwill for those who love a good deal and surprise finds.
You can also check out a show at City Winery, live readings at the Drinking and Writing Theater at Haymarket Brewery and Pub, and much more.
Bars and nightlife: Drinking at The Darling is like falling down Alice's rabbit hole into Wonderland (the good parts, at least). Charming, intimate, and featuring a reservation-only library with hidden entrance and pop-up cabaret performances, the cocktail lounge serves a number of exquisitely balanced cocktails and food options while hosting some of the city's best DJs. On the opposite side of Randolph Street, there's Maude's Liquor Bar, where the cocktails are strong and French pop music plays all night long. Enjoy a French-centric menu of rustic cuisine and wine in a dimly lit, velvet and black leather couch lounge that just oozes sexy-cool.
Edra Soto's exhibit, "GRAFT (Cuba)"

| National Museum of Mexican Art
Southwest Side
Voted Chicago's "coolest" neighborhood,
Pilsen
and
Little Village
next door sit at the convergence of art and politics in the city. Gentrification has had a strong effect on the neighborhood in the last few years, but the history and generations of Latinx families that have called it home since migrating to Chicago are still at the heart of what makes this community so singular.
Where to stay: The Pilsen Roadhouse, in the heart of the neighborhood, is an ideal spot for couples. For a truly classic experience, this Airbnb in a vintage Pilsen Redstone showcases the vibrancy and color of the neighborhood. Pink, blue, and yellow walls are decorated with works by local Latinx artists, and there's tons of natural light. The space is also LGBTQI+ friendly, with informative literature and hometown zines highlighting city subcultures.
Best restaurants: Taqueria Los Comales -- a Chicagoland staple since 1973 -- serves some of the city's best Mexican food 'til 1am. Café Jumping Bean is hands-down Pilsen's best coffee shop and café, as well as its very first (it opened in 1994). Doubling as an art gallery, the shop is decorated in for-sale pieces by local artists and occasionally hosts live music while offering sandwiches, salads, burgers (as well as the vegan-option black bean burger), focaccia pizzas desserts, and bagels, in addition to its full coffee bar. Little Village spot La Casa de Samuel serves up frog legs, baby eel, bull testicles, rattlesnake, and iguana, in addition to delicious classics.
Things to do: A true artist community, the streets of Pilsen are lined with numerous art galleries and bookstores, a number of tattoo shops, and unique small businesses. The National Museum of Mexican Art is a must-see if you're in the neighborhood. With rotating and permanent exhibitions, as well as the upcoming Frida Kahlo, Her Photos exhibit highlighting the famous painter's personal collection of photographs from throughout her life, the museum offers a beautiful, moving look at Mexican identity and history. Pinwheel Records has an exceptional collection of glam and garage rock. 606 Records
across from Thalia Hall is your go-to for electronic and Chicago house, international releases, and new and used LPs.
Pilsen is also one of the best parts of the city to shop vintage. From Knee Deep and Pilsen Vintage to Very Best, Tianguis Consignment Shop, Shady Rest Vintage & Vinyl, Whiskey Ginger, and others -- there are some buried treasures waiting just for you.
Bars and nightlife: Punch House stands out, even though it's on the lower level of the structure that also houses music venue Thalia Hall, Dusek's restaurant, and Tack Room piano bar. Purchase cocktails by the punch bowl for the best bang for your buck if you plan on staying awhile. Still there at midnight when the fish in the tank behind the bar get fed? Complimentary shots for everyone! Really. Harbee Liquor & Tavern will keep the drinks flowing as long as you're still dancing. Everything from Latin cumbia and bachata to EDM and the latest in Anglo-pop music reverberates throughout this tiny but mighty watering hole. While The Barrel is cash-only, its refreshing and surprising cocktails top $5 at the most, so $20 will take you a long way into the night.
Don't leave the neighborhood without stopping by this colorful coffee shop

| Jackalope Coffee & Tea House
Near South Side
The near south side, which includes the working-class neighborhoods of
Chinatown
,
Bridgeport
, and
Back of the Yards
on its west end, is currently on the rise as an epicenter of "hipness" thanks to its grassroots arts scene, funky novelty shops, and diverse array of delicious neighborhood mainstays serving up exceptional Caribbean, Polish, Korean, Chinese, and Latin flavors. If you want to say you ate there, drank there, and stayed there first, this is a great area to explore.
Where to stay: The Jaslin Hotel brings eye-catching aesthetics and affordable rates to the heart of Chinatown, just east of Bridgeport. Guests are greeted by the hotel's glowing, color-changing neon lobby, and rooms have views of the city's skyline usually only seen from the CTA's orange line route. In bordering Bridgeport, The Polo Inn offers a "classic South Side" (dated and kitschy, but in a cozy way) experience -- with rooms named for the Chicago White Sox (who play at Guaranteed Rate Field just blocks away) and more. The B&B also offers one of the best brunches in the city and is in walking distance of some of the neighborhood's most popular haunts.
Best restaurants: For a delicious, home-cooked taste of Belize, head to Garifuna Flava in Back of the Yards for classic Caribbean. Kimski, attached to bar and storefront Maria's Packaged Goods in the Bridgeport neighborhood, fuses Korean and Polish flavors in tasty bites including sausages, wings, and pierogi. On the opposite end of Morgan Street, there's Martinez Supermercado -- half grocery store, half taqueria, the family-owned spot has been voted as having Chicago's best burrito and best chorizo tacos. And there's always all-night dim sum in Chinatown at a number of places in the Square.
Things to do: Part gallery, part live performance space, Co-Prosperity Sphere on Morgan Street in Bridgeport highlights local visual artists and is home to Lumpen Radio. It's also in walking distance of spiritual shops The Bitten Hand and Augustine's, cash-only Let's Boogie Records, and coffee shops Jackalope Coffee & Tea House and Bridgeport Coffee.
The first Friday of every month, Zhou B Art Center opens its doors to the public, allowing guests to roam its sprawling, warehouse space as well as explore the works of its multiple artists-in-residence. For those who love a flea market dig for hidden treasures, Swap-O-Rama in Back of the Yards is one of the city's finest.
K-Pop of Chinatown draws thousands of fans of the Japanese music genre from all across the country to its storefront a year since opening. Stocked with everything from posters of K-Pop idols such as BTS, Blackpink, Monsta X, and others, action figures, collectible merchandise, CDs, DVDs, and more. It's also in walking distance of one of the city's best karaoke bars, Sakura.
Bars and nightlife: Whiner Brewing Company in Back of the Yards follows a sustainable, environmentally responsible model of beer-making, as well as energy conservation. The Duck Inn, on the border of Pilsen and Bridgeport, is best known for its Sunday brunch, but you never need a reservation to drink at its stellar bar, which highlights local beers from breweries like Marz and Lagunitas, as well as handcrafted cocktails.
After, take a moonlight stroll along the Chicago River -- it's right around the corner. Looking for a down-to-Earth dive? Bernice's Tavern, a beloved neighborhood staple in Bridgeport, will hold you down until 3am. Hungry after you leave? Taqueria San Jose, an unassuming hole-in-the-wall with some of the tastiest Mexican food in Bridgeport, is right across the street and open until 4am on Saturdays.
Visit The Promontory during the day, or at night to catch live performances and silent dance parties

| The Promontory
South Side
A weekend on the South Side is not enough time to see everything, but it is enough time to fall in love with it. Neighborhoods
Hyde Park, Woodlawn
, and
South Shore
brim with art and culture, with many things to do open and free to the public. History continues to be made on Chicago's South Side, and its lasting influences and traditions are being revived and celebrated almost daily by the folks that live there. Come see for yourself.
Where to stay: The ultra-chic Sophy Hotel in Hyde Park, near the massive, always fun Museum of Science & Industry, offers specials and packages for visitors -- including the "SO - In Love" package, which recreates the Obamas' first date in the neighborhood, the "SO - Cozy Package," a discounted "Winter in Hyde Park" deal, and more. The hotel also houses Mesler Kitchen, which offers a full menu of breakfast, lunch, and dinner, as well as brunch. Then there's the mini-mansion. Built in 1905 for Chicago opera singer George Hamlin, Hamlin House Bed & Breakfast on the University of Chicago campus is beautifully restored, with five guest rooms -- each with its own bathroom, a Victorian-style dining room, and gardens. Rooms vary in size and additional perks; the Green Room option occupies the entire third floor of the mansion, while the Orange Room includes a luxurious sauna tub, heated bathroom floors, and a California King bed. Visit the Smart Museum of Art during your stay, just steps away from the B&B's front door.
Best restaurants: Virtue, led by chef/owner and South Side native Erick Williams, has been voted one of the best restaurants in Chicago time and time again, with Williams often cited as one of many Black chefs changing food in America. Built on a foundation of warm Southern hospitality and respect, Virtue serves unpretentious, upscale takes on soul food including catfish, red beans and rice, corn bread and honey butter, banana pudding, and more. Virtue also offers vegan and vegetarian options.
Daley's Restaurant is Chicago's oldest -- marking 128 years serving the Woodlawn neighborhood in 2020. The casual dining spot is a favorite of notable locals like President Barack Obama and has been used as a filming location in films such as Widows. Though the establishment moved to its new, more modern location at Woodlawn Station in 2019, its delicious staples -- chicken & waffles, homemade sweet potato pies, and rib-eye steak sandwiches to name a few -- have stayed the same.
Things to do: Stony Island Arts Bank, a former bank-turned-gallery and archive thanks to artist and educator Theaster Gates, in Chicago's South Shore neighborhood often hosts curated events highlighting and supporting creatives looking to redefine or celebrate the history of Black art and life. It's also close to Gates' Currency Exchange Cafe.
For those looking to spend more time outdoors, Midway Plaisance -- designed by Olmsted & Vaux, the nationally renowned designers of New York's Central Park -- knits the South Side together, taking you from Jackson Park on the east to Washington Park on the west, the University of Chicago campus to the north, and Woodlawn at its southern point. Lined with trees and gardens, the park also boasts soccer fields, an ice rink, and special events such as summer movies in the park and live performances.
A Blues town through and through, Johnny Twist Blues Museum in Woodlawn celebrates the Chicago Blues through the eyes of Johnny Twist himself. The musician will tell you everything you need to know as you peruse memorabilia, hundreds of photos, and more -- all for the bargain price of $5.
History nerds can also visit a number of notable homes and historical landmarks on the South Side including the Frederick C. Robie house designed by renowned architect Frank Lloyd Wright, as well as the homes of pioneering journalist and activist Ida B. Wells and playwright (best known for A Raisin in the Sun) and writer Lorraine Hansberry, Muhammad Ali, Louis "Satchmo" Armstrong, Al Capone, the Marx Brothers, and others.
More of a night owl? Promontory in Hyde Park is half restaurant, half live venue -- offering nearly nightly events from silent dance parties and salsa lessons to performers like Bbymutha, Jay Electronica, and Jidenna; curated parties, fashion shows, and more.
Bars and nightlife: Chant brings sounds and flavors from around the globe to Hyde Park. There's live music, including Brazilian jazz and reggae, every Friday and Saturday, and over a dozen signature martinis make up part of the cocktail menu. For a place to drink and kick-back without the flash of the club, Peach's at Currency Exchange Café hosts its weekly Cobber and Cocktails on Fridays. Yes -- homemade peach cobbler and craft cocktails served with a side of DJ sets and musical performances.
Sign up here for our daily Chicago email and be the first to get all the food/drink/fun in town.
Jessi Roti is a contributor for Thrillist.