Ohio's Best Pumpkin Patches to Visit for a Perfect Fall Day
It's that time of year again, Ohio… no, I'm not talking about the start of Ohio State football (Muck Fichigan). And I'm not talking about the start of Oktoberfest season, either (although prost to that). No, I'm talking about pumpkin picking!
Whether you carve pumpkins, bake them into pies, or like to watch them explode out of air-powered cannons (there's actually a lot of that going on in Ohio), heading to a pumpkin patch lets you make the most of the changing leaves and perfect fall weather. Take a break from enjoying all things pumpkin spice, wrap yourself in layers of your finest flannel, and get ready for an adventure at Ohio's best pumpkin patches.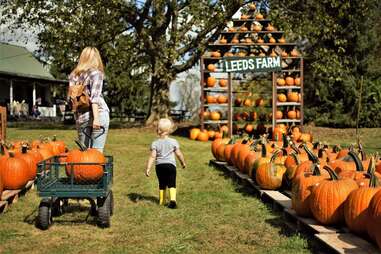 Ostrander (Near Columbus)
If you're looking for a distinctive pumpkin to match your unique personality, the exotic (yes, exotic pumpkins are a thing) options at Leeds Farm will tickle your fancy. Besides classic carving pumpkins, they offer blue pumpkins, white pumpkins, pie pumpkins, Galeaux d'Eysines, mini-pumpkins, and the beautiful Fairytale pumpkin (Disclaimer: I don't think it turns into a carriage or anything like that). If exotic gourds don't do it for you, there's a lot of general farm fun to be had here, including corn boxes, paintball, zip lines, hay barns… and they've also, for some reason, turned a retired John Deere 8820 Titan II Combine tractor into a slide/play area, for kids interested in learning how crops get harvested.
Open:
September 22 - October 28; Saturday - Sunday 10am - 5pm.
Lebanon
Irons is one of a few farms that offer a u-pick pumpkin patch option. A hayride will take you out into the fields, where you can spend as much time as you need hunting for the absolute perfect pumpkin. The fourth-generation family farm also grows apples, so while you're here you can pick up a bushel of Cortlands or Stayman Winesaps for
snacking or baking
. And like any good farm, there's a corn maze too. You might want to budget in some extra time in case you get epically lost here. It happens to the best of us.
Open:
Monday - Saturday 9am - 6pm, Sunday 11am - 6pm
Germantown
You know what's more fun than picking pumpkins? Blasting them over a quarter-mile out of an air-powered cannon mounted to a vintage 1968 Ford fire truck. Tom's Maze's Punkin' Chunkin' Cannon does just that. Employees launch pumpkins from the cannon a few times a day, and it's oddly satisfying to watch. If you'd rather carve or roast your pumpkin and not launch it into the forest, they sell carving and specialty pumpkins at their farm market as well. Their corn maze is a main attraction that's just as much a game as it is a maze, and if you have a large enough group, you can reserve a campfire as well. They'll get the fire blazing, all you have to do is provide s'mores fixins and hot dogs for the crew.
Open:
September 14 - November 3; Thursday - Sunday 12pm - 6pm
Circleville
If you're truly dedicated to all things pumpkin, then you've probably heard of the annual Circleville Pumpkin Show, which lasts for nearly a week in mid-to-late October. It goes without saying that this festival celebrates all things pumpkin, but it's also just as much a celebration of this adorable small town, too. The main event that spawned the madness is their largest pumpkin contest (Will any contenders this year top the previous champion, which weighed in at a whopping 1,701 pounds?) but that's just one event among many. Parades, a Miss Pumpkin pageant, concerts, performers, and more are constantly taking place. And the largest pumpkin contest isn't the only competition; you can show off your skills at pumpkin pie eating, hog calling, or even enter their "prettiest pumpkin" competition.
2018 Show Dates:
October 17 - 20
Yellow Springs
Young's is a year-round favorite for their amazing ice cream (Cow Patty might be an off-putting name for a flavor, but it certainly tastes delicious). Come fall, they open their acres and acres of pumpkin patches for u-pick fun. The wagon ride out is always fun, and their flat rate of $9 a pumpkin is convenient. If you'd rather not tromp around in a muddy field, they harvest and display some gourds for easy picking as well. Add in a pumpkin festival (with pumpkin donut hole-making demonstrations and a human-powered pumpkin launcher you can try yourself, among other things), a corn maze, and haunted hayrides, and you've got everything you need for a perfect day on the farm.
Open:
September 22 - October 21
Fredericktown
If you're looking to support a local business and get a taste of what life is like on a real, working farm, check out Pheasantview. Hayrides, pumpkin picking, horse-drawn wagon rides through the woods as the leaves change… it's all just as quaint as it sounds. Stop into their shop to pick up a jar of their own pecan pumpkin butter jam (or one of their other homemade products) to enjoy as you carve up your prize pumpkin. And, bonus, they sell turkeys… it's never too early to start thinking about Thanksgiving and Christmas dinners.
Open:
October 6 - 28; Saturday - Sunday 12pm - 5pm
Albany
Three acres of u-pick pumpkin patch is great, but what really sets Libby's Pumpkin Patch apart from the others are the sustainable farming practices they use, including proper crop coverage and organic manure. They also boast a great variety… if you're looking for something impressive, they sell 20-to-30-pound vine-ripened pumpkins (specifically grown with sturdy stems you can use as a handle), along with funky looking gourds, "Cinderella pumpkins," and pie pumpkins. They have hay rides, slides, and a corn maze, but their more unique offerings include fresh pumpkin ice cream and on-site jack-o'-lantern carving (which is really great if the idea of handing your kid a dull knife to hack up a pumpkin is what you would consider to be one of Halloween's scarier activities).
Open:
September 29 - October 28; Saturday - Sunday 12pm - 5pm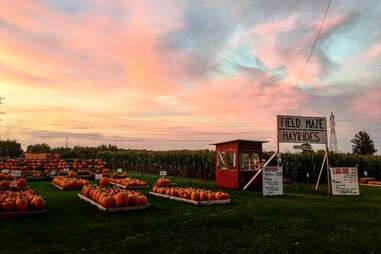 Oregon (Near Toledo)
For a superbly picture-perfect farm setting, plan a trip to Fleitz Pumpkin Farm. Besides the scenery (picture a classic red barn with white trim, surrounded by trees with changing leaves and rolling farmland as far as the eye can see), they offer hayrides, corn mazes, farm animals to feed, and the ability to pick your own pumpkin from their beautiful selection. They're known for going all-out with their cider and pumpkin donut toppings, and for their cider slushies and cider ice cream floats.
Open:
September 13 - October 31; 10am - 7pm
Berlin Heights
Burnham Orchards has a rich history dating back to the early 19th century, and the Burnham family still runs the orchard and farm to this day. While they're best known for peaches and apples, they also have a pumpkin patch, and really go all-out for fall. We're talking scarecrow making, hayrides, corn mazes, live music, apple picking… the whole nine yards. On site you'll also find Grandma Bea's Bakery, with freshly baked pumpkin rolls, apple dumplings, pumpkin donuts, apple fritters, pies, and more, along with the Redhead Ciderhouse, which makes fresh hard cider with apples from Burnham's orchards.
Open:
September 22 - October 28; Saturday - Sunday 11am - 5pm
Hartville (Near Akron)
Get back to the simple things at Maize Valley Winery with a climb on their straw bale mountain and tractor tire pile, or by exploring their 8-acre corn maze. Ride a wagon out to their u-pick patch for pumpkin picking, and watch duck, pig, and chicken races. There's also a pumpkin cannon, which they've named "Marlboro Madness." And since this is actually a winery and craft brewery with a restaurant and market on the grounds, you can end the day with dinner or a few drinks. May I suggest their Apple Pie fruit wine?
Open:
Saturday - Sunday starting September 15, daily starting October 1; see website for hours
Genoa (Near Toledo)
After you've picked your pumpkin right off the vine from the patch at Country Lane, wander over to their fall festival to keep the fun going. Milk a cow, feed goats or llamas, hold a baby bunny, shoot corn out of the corn cannon, and meet their mini-cows (yes, they're just as adorable as they sound.) They're also home to Northwest Ohio's only after-dark haunted hayride/trail, Panic in the Pines. Zombies, ghosts, deranged murderers… whatever is hiding in the corn is bound to terrify.
Open:
October 6 - 28; Saturday - Sunday 11am - 4pm
Sign up here for our daily Cleveland email and be the first to get all the food/drink/fun in town.