7 Museums in New York Worth Planning a Trip Around
There's more to The Empire State than the MoMA and the Met.
Paid Content For

Whether you were born and bred in one of New York City's boroughs (a rare breed these days), or a Manhattan transplant, museums are the axis of your amusement when you really think about it. Hosting visitors and the forecast shows an 100 percent chance of monsoon and misery? Museums are your fail-safe. Lazy Sunday in soupy August heat? Seek refuge in air-conditioned galleries. Desperate for a diversion that doesn't involve a hovering salesperson or waiter champing at the bit for you to leave? Museums!
There's no shortage in the state of New York, either. In fact, we'd argue it's worth hopping on public transit or renting a car to explore some lesser-known gems, if you've already visited the heavy hitters.
So, if you've done no less than 4,372 laps around ​​the Museum of Natural History, make time to visit these stellar museums around New York. They'll expand your mind, fill you with whimsy, and give you that joyful buzz we've all been longing for during these difficult times.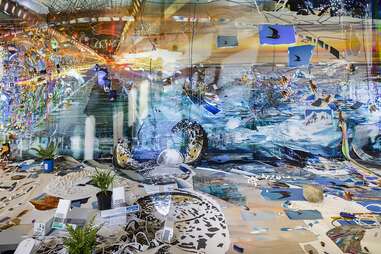 New Windsor
If you want a museum that exists beyond the confines of four walls, seek out Storm King in all its natural, sprawling wonder in New York's Hudson Valley. The newest permanent commission in the 500-acre outdoor museum is Sarah Sze's "Fallen Sky," made of 132 mirror-polished stainless steel components embedded in the hillside, like remnants of a meteorite. Its reflective quality lends a duality to the piece, so you can appreciate it in its physical form, as well as what's happening in the sky above—rolling clouds, migrating birds, watercolor sunsets. It's accompanied by another installation from Sze called "Fifth Season" in Storm King's Museum Building, a gargantuan 50-foot collage of fractal elements to intuit our relationship with nature.
Need to know: Advance tickets are required for all visitors (see here for general admission pricing per person and vehicle). Note the museum is only open Wednesday to Monday, 10 a.m. to 6:30 p.m.
New York City
Picture this: Projectors splay the ethereal, swirling blues of Van Gogh's Starry Night, fade to black, then pulse back to color, oscillating through golden sunflowers and twitchy flies on the walls and floor of a warehouse on Pier 36 along the East River. It's like you're experiencing a weird and wonderful fever dream. The Immersive Van Gogh Exhibition was created by Italian artist Massimiliano Siccardi and composer Luca Longobardi, who created the original exhibit in Paris' Atelier des Lumieres. The addition of sound and movement make Van Gogh's artwork even more accessible — figuratively and literally, if you've ever tried to catch a glimpse of the original in MoMA. It's visceral and, at times, unnerving to put yourself in the kinetic, turbulent mind of the tortured artist, but it's a can't-miss experience. The first showing wrapped its summer stint at the end of August, but is returning for the holidays in early November.
Need to know: This is different from the "Van Gogh Immersive Experience" in Brookfield mall. Tickets start at $39.99 for a basic off-peak visit. Take things up a notch by booking a soul-soothing yoga flow, sponsored by Lifeway Kefir, or Date Night, a semi-private viewing experience that includes tickets for two, a private booth, and Neuhaus chocolate truffles and a gift set from L'Occitane.
Saratoga Springs
You don't have to be a motorhead to appreciate the swanky Saratoga Automobile Museum—especially since it's smack-dab in the middle of Saratoga Spa State Park, which will have you marveling at mineral springs and classical bath and spa houses, along with beautiful, gentle trails to hit via bike or foot. But, holy smokes, are you in for a treat if you do fancy yourself a car enthusiast: The museum is showcasing its second exhibition this year, "Rennsport: The Complete Collection." The name doesn't hide much; this is considered the only complete collection of Porsche 911 RSs in the world, and pays homage to the automaker's obsessive quest to perfect its iconic 911. Porsche only slaps the RS badge on its extremely limited motorsport-derived street cars. Case in point: Only 55 of the 964 RS 3.8L were made and a scant 21 for the SC/RS, which was really only to adhere to the vehicle approval process that green lights a car for racing.
Need to know: Admission from $10; reservations aren't mandatory, but encouraged. "Rennsport: The Complete Collection" will be on display from September to spring 2022.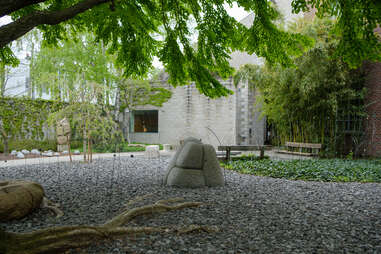 New York City
If it seems like a 1920s industrial brick building in Long Island City is an unorthodox place to find a Japanese-inspired sculpture garden and multi-level indoor-outdoor gallery space, you're right—but that's New York for ya. Noguchi's zenned out space is like balm for frayed nerves with its permanent marble, granite, and basalt stone installations and airy "floating" galleries. Its latest exhibitions include "Noguchi: Useless Architecture" (through May 8, 2022), which explores how the museum's founder used architecture to create a social purpose for sculpture, and Christian Boltanski's "Animitas" (through September 5), a dark yet whimsical sound work of 180 bronze bells hanging from steel stems to mimic the "music of lost souls," which is even more poignant as the artist unexpectedly passed away this summer. Up next is "Objects of Common Interest: Hard, Soft, and All Lit Up with Nowhere to Go" (September 15 to February 13, 2022), a compilation of chairs, lighting fixtures, and more that'll play off the museum's permanent installations.
Need to know: Admission is free on the first Friday of every month by advance reservation, and general admission is $10. Tickets are released two weeks before each date online or via tickets@noguchi.org. Timed reservations enforced through October 3. The museum is open Wednesday through Sunday, 11 a.m. to 6 p.m.
New York City
Beacon, in the lower Hudson Valley, draws tourists to the Dia: Beacon installation space—but don't sleep on Dia:Chelsea if you're in Manhattan. Rather than rendering it blindingly white and shiny, the building's recent two-year renovation unveiled a massive yet modest transformation of brick walls, exposed wood beams, and concrete walls awash with natural light that complements the newly commissioned works of American artist Lucy Raven. On view until January 2022, you can marvel at kinetic light sculptures and watch a film about a concrete plant in Bellevue, Idaho. Her pieces perfectly juxtapose the man-made and geological, spotlighting "issues of labor, technology, and the hidden mechanisms of power." At 20,000 square-feet, the venue lets you appreciate the full magnitude of Raven's works.
Need to know: Admission is free; the studio is open Wednesday to Saturday, 12 to 6 p.m.
Howes Cave
Everything about the Iroquois Museum pays homage to the indigenous confederacy. The building is designed as a longhouse—lofty structures, which peppered the valleys of upstate New York 400 years ago—and the adjacent outdoor amphitheater, traditionally used for social dancing, is where the museum holds storytelling, talks, and various performing arts.
Inside you'll find the most comprehensive collection of modern Iroquois artwork in the world. Its newest exhibition is a combination of video, sculpture, beadwork, and photography called "Identity/Identify," (unveiled on Oct 17), which explores what it means to be a part of the Haudenosaunee (among the six Native American nations that make up the Iroquois Confederacy), and how that membership dictates tribal rights, federal resources, residency, and more. It's located in Howes Cave, NY, so if you're making the 3.5-hour drive from NYC, take time to tour the museum's 45-acre nature park. There are guided and self-guided tours, hiking trails, birdwatching, and plenty of wide open space ideal for snowshoeing and cross-country skiing in the winter months.
Need to know: Regular admission is $8; see here for the seasonal hours and days of operation.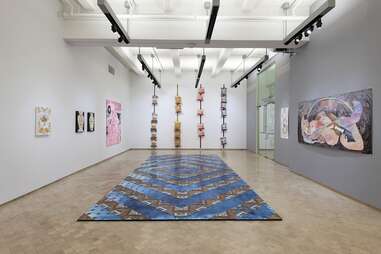 New York City
A year after East Harlem's El Museo del Barrio was shuttered from COVID-19, it reopened in what can only be described as a dazzling revival with "Estamos Bien" (closing September 26) The triennial show is the museum's first large-scale exhibition showcasing Latinx contemporary art from 42 artists—some well known, some up and coming—from the U.S. and Puerto Rico. It's a celebration of generations, genders, and ethnic backgrounds. The title is a hat tip to a painting Candida Alvarez—the only featured artist with former ties to El Museo—created after Hurricane Maria, entitled "I'm Good." The museum pluralized it to be more inclusive of the collective we and exist as an anthem of resilience, hence "Estamos Bien"—plus it's a cheeky nod to the Bad Bunny song of the same name.
Need to know: Suggested admission (pay what you wish) is $9; reservations are recommended as walk-ins are admitted on a first-come, first-serve basis.