With so many great things to do in Dallas on any given weekend, you might wonder why you'd ever want to leave. The simple answer is this: Road trips are undeniably fun, and a quality road trip playlist makes the time fly by (which is important in Texas). Whether you're looking for an outdoor adventure through a cypress forest, a day of wine sampling, or an entire town dedicated to smoked meats, there's a weekend destination that's sure to meet your needs. That said, "not too far" is especially relevant when traveling in Texas, so we've kept our roster of weekend getaways within a five-hour drive of Dallas. Here are the spots you need to mark on your map.
Lockhart is the undisputed capital of smoked meats in Texas. This town defines the style of Central Texas barbecue, known for beef seasoned heavily with only salt and pepper (no sauce needed). Arrive hungry and be sure to pace yourself -- a visit to Lockhart is the Ironman of barbecue-eating.

Start your day at Kreuz Market for a sampling of their famous hand-made sausage. The story goes that the recipe has never been written down; five generations of Schmidts have been making it the same way for over 100 years, so they never needed to. Be sure to try the Jalapeno cheese sausage as well.
Next, head to Smitty's Market for some brisket. Heavily smoked and sold by the pound (like at any respectable barbecue joint), this brisket is the gold standard that all smoked meats should be judged. And for the pièce de résistance of Central Texas barbecue, make sure to score a beef rib on your journey. Few pitmasters have mastered this notoriously difficult cut of beef like Black's Barbecue. Tender, fatty and covered in smokey "bark," it's Texas barbecue elevated to fine art.

There are decent roadside motels for lodging in Lockhart, but your best bet is to stay at the Hyatt Regency Lost Pines 30 minutes away, or just head back up to Austin where you'll find superior hotels (and even more barbecue).
By car: Three hours, 30 minutes
You've got the place locked down. The route is planned. Reservations? Made. Now, the only thing you need to do is stock your cooler. With 12 styles, 5% alc./vol., and only 100 calories, there's a Truly Hard Seltzer for everyone (over 21, of course) who's coming along for the trip. So, whether you're heading to a cozy cabin or a beach retreat, make sure you're drinking what you TRULY want throughout your getaway.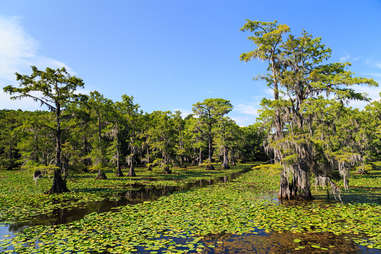 There are plenty of lakes around Dallas for a boating weekend, but none are as unique as Caddo Lake in east Texas. It's the second-largest lake in the southern US, and the 300-year-old bald cypress trees that line its banks give the area a swampy, prehistoric feel. It's no wonder this place has seen hundreds of Bigfoot sightings over the years… not that you believe in Bigfoot, right?
Make you way to Caddo Lake State Park to set up your campsite or rent one of the rustic cabins. Canoes are available for rent onsite to explore over 50 miles of canoe and kayak trails. Book a guided swamp tour with Captain Ron to (safely) get up close to some alligators and learn about the rich history of the area, which once served as an inland port from New Orleans. If you're open to catching your dinner, the lake is also known for great bass fishing; otherwise, head into nearby Jefferson for a hot meal. Check out Auntie Skinner's Riverboat Club for a mean chicken fried steak, or the Stillwater Inn for a classic small town steakhouse experience.

By car: Two hours, 45 minutes
Fort Worth gets lumped together with Dallas all too often. The Metroplex is one continuous sprawl of city in a lot of ways, but if you spend some time in Fort Worth you'll quickly realize just how decidedly un-Dallas it is.

Start your day by exploring the Fort Worth Stockyards to see how the city earned its Cowtown name. There's a twice-daily cattle drive down East Exchange Ave at 11:30am or 4:00pm, and all the historic (mostly retired) cattle pens are free to explore. From there, head straight to Heim Barbecue for its famous bacon burnt ends; the line will be long, but it is absolutely worth the wait. Walk off that meal with a trip down the hip(ster) Magnolia Ave, and try a scoop of ice cream from Melt while you're at it.

Fort Worth also has a collection of world-class museums to peruse. The Kimbell Art Museum attracts top international exhibits and the museum's building is itself an architectural work of art designed by Louis Kahn. The Amon Carter Museum of American Art and Fort Worth Modern are not to be overlooked either.

Finish the night downtown in Sundance Square and find the well-hidden Scat Jazz Lounge. The entrance to this underground speakeasy-style jazz club is down an alleyway off W. 4th Street; look for the neon arrow and hope there is a table. You never know when the likes of Leon Bridges might jump onstage for an impromptu appearance.
By car: 45 minutes
By train: One hour -- take the Trinity River Express train from Union Station to Fort Worth Central Station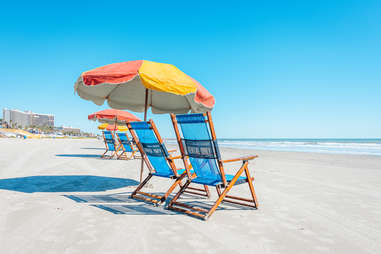 Make Galveston your go-to beach getaway when you need to replace the sound of traffic with crashing waves and seagulls. Sure, there are prettier beaches in Texas, but none are close enough for a weekend -- plus, Galveston has a lot to offer beyond the sand.
Of course, the sand is why you're here: for a classic day on the shore, head to Stewart Beach where you can rent chairs and an umbrella. If you're looking for a quieter experience, drive to the west end of the island where the beaches are smaller (and the parking is free); Jamaica Beach strikes a good balance between family and party beach with enough amenities nearby to keep everyone happy. Lodging options range from beach camping at Galveston State Park to the elegant and high-end Hotel Galvez & Spa.
Once you're done with the beach, The Historic Strand District and nearby Post Office Street both have an ample supply of souvenir shops, galleries, and restaurants to explore, all housed in beautifully restored buildings that survived the Great Storm of 1900 (and every hurricane since). La Kings Confectionery is a sweet tooth's dream, serving monster sized milk shakes and fresh salt water taffy. For lunch, check out the local favorite Maceos Spice & Import Company; you can't go wrong with any sandwich from this tiny Italian grocery, but the muffaletta is always a good choice. Get your seafood fix at Gumbo Bar or, for an old-school white tablecloth seafood dinner, make a reservation at Guido's Seafood Restaurant.
By car: Five hours
When you want to get your buzz straight from the source, head to the hills west of Austin. This area has boomed in recent years, with folks making practically every type of beer, spirit, or wine you could want.

Jester King Brewery is renowned for producing some of the most exotic and exciting beers anywhere in Texas. Their farmhouse ales are fermented with wild yeast captured on their beautiful property, giving their beers a unique sense of place. Stock up on tangy sours and other specialty bottles while you're here -- your beer snob buddy will be impressed.
Travel a mile down the road from Jester King to find Texas's first hard cidery. Argus Cidery specializes in small batch ciders made from Texas apples that produce a dry, almost champaign-like taste. Primed with beer and cider, it's time to ease into some whiskey tasting at Treaty Oak Distillery; don't let the award winning whiskeys keep you from trying the array of gins distilled here as well. If it's vodka you're after, check out the recently expanded Deep Eddy Tasting Room, and/or make a stop at the area's eponymous Dripping Springs Distillery to find out what vodka tastes like after it's been distilled 20 times.

Driving's an obvious no-go after all that "tasting," but luckily you can hail a rideshare to get between each location and back to Austin where you'll find the most lodging options.
By car: Four hours
Houston is quietly the fifth largest city in America, as well as the most ethnically and racially diverse -- which is to say, it's a great place to explore if your horizons need broadening. One in four Houston residents are foreign-born, bringing with them a world of flavors that collide with traditional gulf coast ingredients; the "Viet-Cajun" crawfish at Cajun Kitchen perfectly captures this cultural mashup. For dinner, take a drive through the posh Montrose neighborhood and dine at Pondicheri Cafe for vibrant Mumbai-style Indian cuisine. Houston's also home to some of the finest restaurants in the entire country, as well as a number of James Beard-nominated chefs, so you should definitely check out our guide to H-town's best restaurants at this moment in time.
For art experiences in Houston, your first stop needs to be James Turrell's Twilight Epiphany Skyspace, one of the coolest structures in the entire country. This stunning performance hall on the Rice University Campus is interesting from every angle, especially at sunrise and sunset when an LED light sequence slowly change the mood of the building. Next, find some inspiration in the Houston Museum District with its 19 museums, galleries, and cultural centers, each with at least one day of free admission per month. A standout among these is the Menil Collection: one of the world's largest and most acclaimed private art collections, with works by Pablo Picasso, Max Ernst, Mark Rothko and Andy Warhol. Houston also has a long history of Blues music, which you can tap into at The Shakespeare Pub: a local favorite with live music every day of the week, mostly focused on local blues talent.
All the best neighborhoods to stay in are "within The Loop" meaning inside I-610. The Heights has lots of great Airbnb options with walkable coffee shops, music venues and restaurants.
By car: Three hours, 45 minutes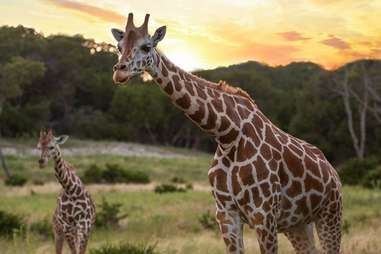 Glen Rose is a quiet town on the edge of the Hill Country southwest of Fort Worth, perfect for that family road trip you've been postponing. Take a walk in the footsteps of giants (literally) at Dinosaur Valley State Park, where prehistoric footprints are fossilized into the river bed, and wade through the shallow water of Paluxy River to count how many dino footprints you can find.
If the weather isn't conducive to splashing through the river, you can opt to interact with the African animals at Fossil Rim Wildlife Center. This self-guided safari experience can be enjoyed from the comfort of your own car, although group rides are available as well. When you arrive, buy a bag of food pellets to feed the giraffes, ostriches, and gazelles that walk right up to your car for a snack. Just note that the animals will stick their heads all the way into your car if you let them.
By car: One hour, 30 minutes
If you went to the University of North Texas, a trip to "the Little D" will take you right back to your college days spent in quirky coffee shops and bars advertising dollar beer night. Even if you're not an alumnus, though, don't rule out Denton: it's also a low-key cool town with some excellent live music.
After a stroll through the UNT campus, hit up Fry Street Tavern where you'll find a different drink special every night of the week. Denton's Downtown Square area buzzes with visitors and students alike, drawn by the quaint shops and bustling bars. Head to Oak St. Drafthouse for a huge selection of craft beers or a nice cocktail inside one of the city's oldest houses, or to Barley & Board for one of the best burgers in metro Dallas. Once you've had your fill, dig through the crates of used books and vinyl records at Recycled Books like you have all the time in the world.

Speaking of records, Denton is known for its local music scene stemming from UNT's nationally recognized music program. See who's playing at Dan's Silver Leaf or Rubber Gloves Rehearsal Studio, music venues who helped oversee the rise of Neon Indian, Sarah Jaffe, Norah Jones, Parquet Courts Midlake and other nationally touring acts.

By car: 45 minutes
By train: Two hours; take the DART Green Line train to Trinity Mills Station. Transfer to the A-Train (serviced by DCTA) to Downtown Denton Transit Center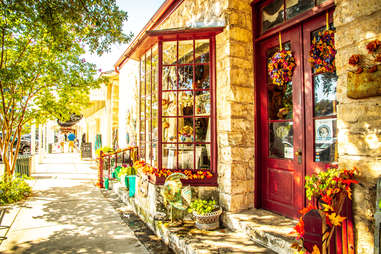 It doesn't get much more romantic than a quiet bed and breakfast in the gently rolling hills of the Texas wine country (at least not within a few hours drive of Dallas, it doesn't). Fredericksburg has German roots, but it's all about the French-style wines here. The hop-on, hop-off 290 Wine Shuttle picks up every 10 minutes one block off Main Street, and stops at more than 15 nearby wineries; be sure to check out Becker Vineyards and Inwood Estates.

There are dozens of bed and breakfast hotels within Fredericksburg city limits and the surrounding countryside. Magnolia House is consistently rated as one of the best in town, but if you're looking for a non-traditional lodging experience, try booking the 1894 Private Pullman Palace Car: a retrofitted train car that once hosted President Teddy Rosevelt. For dinner, the elevated German cuisine at Otto's German Bistro will not disappoint; most meats are sourced locally and the cocktail menu is the best in town.
By car: Four hours
Sign up here for our daily Dallas email and be the first to get all the food/drink/fun DFW has to offer.
Hayden Bernstein is a Dallasite educated by way of University of Texas in advertising (M.A.) and San Diego State in Journalism (B.A.). When he's not writing for Thrillist or CultureMap, you can find him plotting his next road trip on Google Maps and counting the days until South-by-Southwest.