Pound down Big D's top margs in one epic afternoon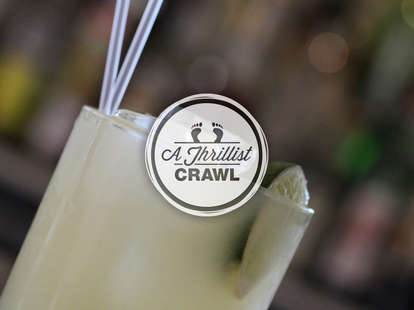 Though polling data suggests there are over 340 million Tex-Mex places in the D, not all of them are backed by decades of booze-filled history that would've made you pay attention in class. Which is exactly why we created this handy guide to help you hit up the ones that are.
Stop 1: Kick your historical tour off right with Tupinamba; after the sale of El Fenix a few years ago, the serving-it-just-right-since-1947 spot's the oldest-remaining family-owned Tex-Mex spot in Dallas, and a great spot to watch the Rangers, Stars, Mavericks, and Cowboys not live up to their potential
Stop 2: Head to East Dallas to get things going in earnest; by now you either know the story of how Mariano's invented the frozen margarita, or you haven't been paying attention because you've been drinking too many frozen margaritas, which is totally an acceptable reason for not paying attention. The original machine may be in the Smithsonian, but that doesn't mean you can't count this as an interactive cultural exhibit
Stop 3: It's Lower Greenville time, which also means it's Desperados time. Sometimes you don't need much to approach perfection; enter La Margarita, wherein you'll only find good tequila, fresh lime, Cointreau, and "a little something special", which is generally what you'll be thinking about yourself by this point
Stop 4: Stay on foot if you want, and hit up Gloria's, where you'll never find your Manik tequila watered down in a sea of former-ice, usually resulting in that elusive balance between great taste and being boozy enough to make you lose said balance
Stop 5: Zip over to the HP/Uptown border, where Javier's classic, manly version of the margarita is definitely the type of tequila cocktail The Most Interesting Man in the World would drink if he didn't always drink beer despite claiming not to.
Stop 6: Head to HP village and go to the 2nd Mi Cocina. Many a Dallasite has at least one night they can't remember thanks to the Mambo Taxi; also, many a Dallasite has been born because mama loves the Mambo a little too much
Stop 7: Get your tequila-soaked butt over to Maple, where the same family's been slinging the blessed agave 'tails for 44yrs at Ojeda's. Get the large, add a meltdown shot, and have an epiphany when you realize the term buzzworthy was probably created here
Stop 8: Head just a little up Maple, where it seems like there are always a lot of cops at Herrera's never drinking the margaritas, which is weird, because cops would be more fun with a buzzHerrera's basically exists to serve you tequla-laden slushy goodness, since they've been doing it for 40yrs
Stop 9: The Rumba Rita at the Routh St Mattito's might look like it was made with equal parts muddled Smurfs, crushed ice, and tequila, but in reality, the two-limit lemon-, lime-, and blue Curacao-aided teq-heavy bevvy'll make you feel anything but blue
Stop 10: For the end, bring it back to the beginning. There might be a sh*t ton of El Fenixes now, but almost 100yrs ago, the Martinez family set the early standard for what a Tex-Mex resto should be. It doesn't really matter which margarita you get here, and that's kinda the point: margs are Dallas's drink. Just look at the polls.