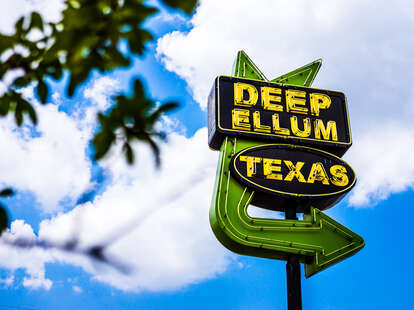 stock_photo_world/Shutterstock
stock_photo_world/Shutterstock
Deep Ellum is a vibrant neighborhood situated just east of Downtown Dallas. It buzzes with energy and packs an impressive number of bars, restaurants, music venues, and shops between its borders, giving locals and visitors endless ways to spend their days and nights. And as bustling as Deep Ellum is now, even more draws are in the works. The district continues to attract restaurateurs, club owners, and venue operators—some with national and international clout—who are rehabbing old spaces to join in on the action.
Ways to spend a night out here are endless, so what you need is a game plan. Here's a rundown of what to eat, drink, and do in Deep Ellum, from can't-miss dishes and cocktails to fun-filled concerts and bar games.
Splurge on a fantastic dinner
Not long ago, nice dinners in Deep Ellum were mostly relegated to Local, the neighborhood mainstay that's been serving top-notch plates in an intimate space for more than two decades. Today, you can pop into Elm & Good for chef Graham Dodds' seasonal farmhouse fare—think Blackened Redfish and Duck Egg Carbonara—or checkout Harper's for big steaks, fresh seafood, people-watching, and photo-ops in eye-catching environs.
Revolver Taco Lounge is still one of the best and most unassuming restaurants in Deep Ellum. It operates as a casual taqueria up front, but it also serves an eight-course, reservations-only tasting menu in the back, where chef Regino Rojas showcases traditional Michoacan flavors.
Elsewhere, Harlowe MXM has your oyster and steak frites needs covered, Vidorra is an attractive rooftop bastion of Mexican cuisine, and Nori is a cozy hand-roll counter with swoon-worthy temaki and nigiri.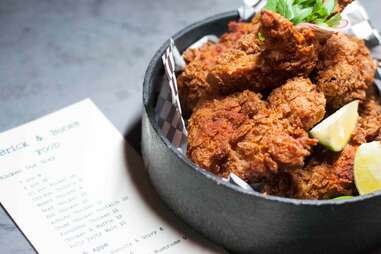 Or go for something more low-key
While the above spots provide a few welcome options for a slightly more dressed-up night on the town, the neighborhood's real strength lies in its bounty of casual eats, including barbecue, burgers, fried chicken, pizza, and ramen—all the major food groups.
Get your crispy fried chicken fix at Gus's, or head to Brick and Bones, where you can score a 10-piece bucket, Habanero-Bacon Mac, and a choice Mezcal cocktail. If it's noodles you're after, slurp down piping-hot bowls of ramen at Ichigoh, which specializes in chicken-based broths, or Oni, which spices things up with its Oni Reaper Ramen, with hellfire miso broth comes spiked with Carolina Reaper chiles and topped with pork belly. Cane Rosso is still a reliable go-to for Neapolitan-style pizza, and Pecan Lodge and Terry Black's sling great barbecue within a burnt ends' throw of one another.
If you don't want to settle for one type of cuisine, wander into newly opened Hawkers. The bright, colorful restaurant serves a menu inspired by street food stalls across Malaysia, Hong Kong, Thailand, and Korea, with dishes like Roti Canai (Malaysian flatbread with curry sauce), Laksa, and Seoul Hot Chicken Buns among the festivities.
Grab a drink at a chill local bar
Excellent cocktails are easy to come by in this neck of the woods, with some of the best served at Shoal's Sound & Service, Omar Yeefoon's love letter to classic drinks and good music. Ruins is the spot for tequila and mezcal tipples, and Armory D.E. slings creative concoctions anchored by a massive spirits list that leans heavy on amari.
When beers are in order, head over to Westlake Brewing for a few locally brewed pints, including standout hazy IPAs, blonde ales, and oatmeal stouts. Ropo & Logan is a self-proclaimed "Midwestern dive" in the old Hide space (and from the same people), where you can pair a Chicago-style hotdog with a cold beer and a fiercely polarizing shot of Malort. And Postino has the neighborhood's best happy hour, with $5 glasses of wine and 32-ounce pitchers of beer from 11 am to 5 pm—you should probably tell your boss not to expect you back after lunch.
Rock out with the city's top live bands
Deep Ellum's musical roots run deep. A century ago, it was a hotbed for blues and jazz, and today it's still one of the best places to see live music in the state. With a capacity that can accommodate 4,300 people, The Factory (FKA The Bomb Factory) is the biggest venue in the area, attracting national touring acts like Mitski, Alt-J, and Portugal the Man, while 600-person venue Trees continues to welcome popular local and national bands to its ample stage.
If you can't be bothered to buy tickets or make plans ahead of time, no worries—you can stroll into plenty of smaller bar-slash-music-venues, including Club Dada, Twilite Lounge, and The Free Man whenever the mood strikes. Just follow the tunes.
Throw down for some friendly competition
At some point during the night, you may feel the urge to challenge your friends to a lively bar game or two. Fortunately, drinking while hurling axes at the wall is not just legal, but increasingly available around town. Test your aim at Whiskey Hatchet, a spot that pairs cocktails and a giant whiskey selection with a host of designated axe-throwing bays to keep things interesting.
For something less likely to result in accidental injury, there's Punch Bowl Social, a 24,000-square-foot entertainment complex sporting three bars alongside bowling, foosball, ping pong, vintage arcade games, and karaoke. Or try Electric Shuffle, a newly opened U.K. export that came to town peddling its reimagined vision of the classic old folks game. Expect 17 custom shuffleboard tables that can accommodate up to 16 shufflers at once, each featuring high-tech scoring systems. It's true—even London wants a piece of Deep Ellum.
Kevin Gray is a freelance writer and editor covering all things food, drinks, and travel. He's written for
The Dallas Morning News, Forbes, Liquor.com, Men's Health,
and
Wine Enthusiast
, and his extensive home bar is turning into a real
Hoarders
situation
.