Given that it's now one of the hottest neighborhoods in the Dallas-Fort Worth area, it's hard to imagine North Oak Cliff wasn't always a bastion of cool. For decades, after its longtime residents fled to the suburbs in the 1970s, the area directly southwest of downtown Dallas languished. But then, something began to change.
Starting with the restoration of the Belmont Hotel around 2004, the rebirth of this once-abandoned section of town -- colloquially bounded by Fort Worth Avenue, I-35, Illinois Avenue, and Westmoreland Road -- really began to pick up steam (somewhat ironically) in the midst of the economic downturn of 2009. Centered around the Bishop Arts District, empty storefronts were reimagined as rustic restaurants, which helped turn the neighborhood into a foodie's paradise, and long-vacant theaters reopened as venues for music and art.
Slowly, the unique character and landscape of North Oak Cliff helped revive the neighborhood; as of 2015, it had grown to an estimated population of 72,000 with a median resident age of 32 years old. Meet some of the places and people that helped make this rebirth a reality.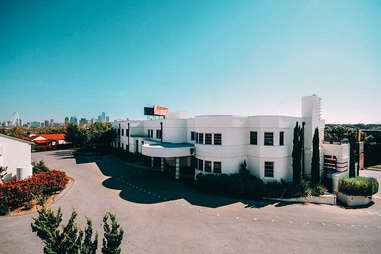 The Belmont Hotel
Someone from Dallas, who moved elsewhere any time before 1999, would likely be shocked to learn that one of the most in-demand wedding venues in town is the Belmont Hotel on Fort Worth Avenue. The now-stunning white stucco compound, offering breathtaking views of the Dallas skyline from the Bar Belmont and the legendary hotel pool, was not always such a gem.
Built in 1946, it suffered from decline for several decades. By the early 2000s, it was still in operation -- but just barely. Rooms rented for discounted rates by the week for those who were down on their luck. That is until 2004, when local developer Monte Anderson decided to buy the hotel and take it on as his new project. Anderson, a Dallas native who had watched its southern neighborhoods deteriorate, spent the previous 13 years building a reputation for his company, Options Real Estate, as the largest and most successful commercial real estate firm in this part of town. A rarity in the world of developers, Anderson was a man with a vision for North Oak Cliff -- known as "gentlefication" -- that focuses on owner-occupied properties and restoring historical buildings to make them community gathering places.
For the remainder of 2004 until its reopening the following year, Anderson restored the hotel to its former glory and made pivotal changes, such as adding a restaurant (more on that later). Long-neglected walls were given fresh paint and the hotel's original mission-style stucco, surrounded by succulents, acted as a time machine to transport guests back to the days of motor court inns.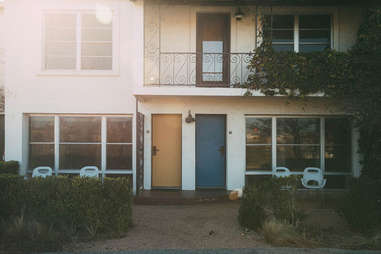 When it reopened in 2005, the 64-room hotel became a destination for weddings and a weekend retreat for romantic getaways. After a decade of ownership, Anderson handed the reigns of the Belmont over to a Dallas-based hospitality investment group run by Jordan Ford and Jeff Burns. With years of experience in hotel operations and management, the new owners sought to preserve the Belmont's storied history while improving the space.
"Everyone loves to come up and tell me their memories of the hotel," Ford says. "Whether it's remembering it from way back or maybe remembering it when it wasn't doing so well. I love that."
Part of Burns and Ford's success with the Belmont has stemmed from their embrace of the local creative scene, like hosting monthly residencies for up-and-coming musical talent. One such former house band was The Texas Gentlemen, now national darlings who connected with Kris Kristofferson through their Belmont residency. (The band eventually secured a slot opening for him at the famed Newport Folk Festival earlier this year.)
Additionally, the hotel's Bar Belmont, along with other beloved local watering holes such as Ten Bells Tavern and Nova, serves as a meeting point for creatives and young professionals to blow off steam after work, and a place for new residents to meet their neighbors. Its prime patio real estate has also made it a default go-to for those looking to impress on a first date.
"The movement in Oak Cliff has been to recreate the identity of a city comprised of actual neighborhoods," Ford says. "And the Belmont is a piece of history that ties that neighborhood together."
Bolsa
Though it's hard for most residents to think of a time when the Bishop Arts District wasn't the most popular dining hotspot in Dallas, restaurateurs Chris Jeffers and Chris Zilke remember it well -- and had a huge hand in changing it. When their farm-to-table eatery Bolsa opened in 2008, it gave North Oak Cliff its first taste of culinary credibility on a local and national scale. A year later, the duo's upscale barbecue joint, Smoke, helped the Belmont Hotel take off.
It's quite a meteoric rise for a couple of guys who put in years of work in the service industry; prior to striking out on their own, they were relatively unknown bartenders at Dallas' Hotel ZaZa.
"Chris Zielke and I were complete nobodies and Dave Spence [owner of Good Space, a real estate development firm] took a huge chance by allowing us to open Bolsa in 2008," Jeffers says. "Then Monte [Anderson] took an even bigger risk by giving us all of the food and beverage business at the Belmont Hotel. I would still be a horrible bartender in Uptown if it wasn't for either one of them."
Preferring to rehabilitate an existing space in order to respect the neighborhood's history, the partners chose an auto garage on a corner of Bishop Arts District's main drag for their project. But getting Bolsa off the ground wasn't simple, thanks in part to the labor shortage that the entire city's restaurant industry has faced for years.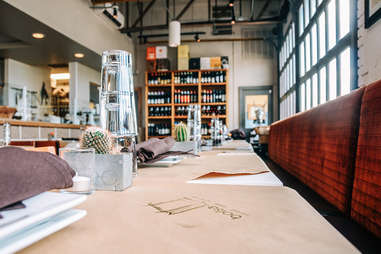 "In the beginning, it felt like there were only four servers in all of Oak Cliff and you could spot them at whatever restaurant was employing them that week. It was pretty funny," Jeffers says.
In a Field of Dreams-esque turn of events, the more buzz that Bolsa built for the renaissance of North Oak Cliff, the more that servers (and back of house staff and host staff) came to the area, both as a place to work and to live. The team had found a winning combination with original chef Graham Dodds' hearty, ever-evolving, and locally-sourced New American cuisine and an equally-lauded cocktail and wine menu, offering libations for palates both adventurous and traditional, all at a moderate price point.
When launching Smoke in 2009, the two men brought in chef Tim Byres, whose menu has been dubbed a "temple of meats" with its high-end spin on the wrapped-in-butcher-paper carnivorous offerings that are unique to Texas. Byres later went on to open another Oak Cliff favorite, Chicken Scratch, next to The Foundry -- one more neighborhood dining destination that can trace its lineage to Bolsa.
The Kessler Theater
The Kessler Theater, built in 1941 and once owned by singer-actor Gene Autry, would seem like a choice landmark to help transform the neighborhood. Located on a prime corner of Davis Street, which serves as a central artery for Bishop Arts District and North Oak Cliff, the building was also listed in the National Register of Historic Places in 2014, which makes it an important link to the neighborhood's past.
But when Edwin Cabaniss set out to convert the abandoned space into an intimate venue for touring musicians in 2009, it wasn't a guaranteed winner. The building had sat empty since a fire forced it to close in the 1960s. Cabaniss, a fixture on the Dallas social scene and former stockbroker, had a vision of the Kessler becoming a much-needed cultural hub for Oak Cliff's burgeoning revival.
While Cabaniss knew how to pull together the resources for the exhaustive (reportedly $1 million) repair and restoration process on the building, he recognized that the success of the new Kessler hinged on finding the right artistic director to bring in touring talent. So he hired Jeffrey Liles, a local music figurehead, who as a booker at the Theater Gallery in Deep Ellum in the 1980s and '90s brought groundbreaking artists (Red Hot Chili Peppers, Nirvana) in the national alternative and hip-hop music scenes to Dallas.
Down the street from the Kessler on Jefferson Boulevard, the historic Texas Theatre had recently undergone its own $3.5 million renovation and reopened in 2007. But when Cabaniss first approached Liles, who was living in Los Angeles and managing the legendary Roxy Theatre on the Sunset Strip, the latter man thought the 2009 economic downturn was the worst time to have purchased a music venue.
"Folks just weren't spending money on entertainment," Liles says. "When Edwin and I first met, my first impression is that this idea will never, ever happen. Deep Ellum was really struggling at the time and many of our treasured live music venues here in town were either struggling or had been closed down altogether."
Liles introduced the Kessler to Dallas' creative community by having local musicians tour the still-under-renovation space and posted videos of them playing acoustic sets inside the building. "By the time we finally opened the doors in March of 2010, just about every musician in town was fully aware of what we were trying to do, and had some small connection to the project," he says.
Now, the renovated Kessler regularly sells out its shows. (The theater sits 350 comfortably, while standing-room-only shows can accommodate up to 500 concertgoers.) Its smaller capacity makes for a true listening-room experience, and it hosts acts including comedy, spoken word, jazz, R&B, intimate acoustic sets, and rock 'n' roll shows from national acts.
The Kessler's goal is to occupy a "specific aesthetic niche," Liles says. "In addition, our relationship with local nonprofits like WordSpace Dallas, who have brought in iconoclastic artists like Laurie Anderson, Amy Sedaris, Dan Savage, and Sandra Bernhard, has helped us to engage a more thoughtful, intellectual audience over time."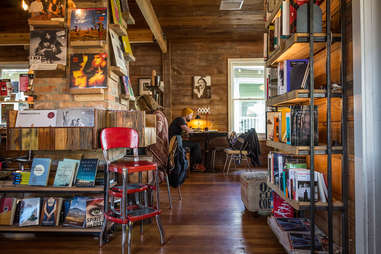 The Wild Detectives
That thoughtful, intellectual audience would soon get another cultural clubhouse at which to convene, complete with a bike rack out front. The owners of this space, The Wild Detectives, came from an unlikely place and background. In fact, they didn't come from Oak Cliff or Texas at all.
Paco Vique and Javier García del Moral, civil engineers from Spain whose work brought them to Dallas, envisioned a small bookstore housed inside a lovingly renovated turn-of-the-century home in North Oak Cliff.
"I started traveling abroad when I was 14 years old, at the same age I started consuming literature and music in a compulsive way," del Moral says. "The Wild Detectives is what happens after reading and visiting bars and bookstores all over the world for 20 years with your best friend."
After locating a house, the pair renovated it to include plenty of patio space in front and back to encourage collaboration and community, and added a small bar that offers a variety of coffees and teas as well as signature cocktails, beer, and wine. The Wild Detectives opened its doors to the same burgeoning crowd of North Oak Cliff residents who already loved going to watch an arthouse film retrospective at the Texas Theatre or listen to singer-songwriters perform at the Kessler.
"One of the things that I love about Oak Cliff is how different, open-minded, and welcoming it is all at the same time," del Moral says. "I feel like Wild Detectives helps to cement that perception of being different and unique without making anyone feel that they don't belong here."
While Vique and del Moral had no previous experience as business owners, they relied on their intuition that North Oak Cliff's vibrant and creative local community would embrace a space that allowed people to ride their bikes to the store to pick up a book or record, attend a Q&A with an author, or just enjoy a cocktail on the back patio while chatting with friends and strangers alike. Because they had never run a bookstore before, they hired management staff who were familiar with the bookselling and publishing business as well as employees who shared their passion for books and records. Together, everyone learned on the fly.
That spirit of collaboration, such as their creative partnership with local not-for-profit literary publisher Deep Vellum, has helped steer Wild Detectives' direction. Unlike most bookstores, the process of stocking titles is crowdsourced -- through suggestions from local artists, fellow Spanish expats, the creative types who work remotely from the store, and area activists from organizations such as Better Block down the street.
"We realized that the more people that got involved, the better the entire project would be. So we have numerous collaborators now suggesting ideas, moderating events, and the entire literary community curating our book selection," del Moral says. "We throw a party once a year for all the people that somehow got involved with us during that period. The party gets longer each year, which to me is the best proof that things are working."