Where to Pregame Like a Pro Near Arlington's AT&T Stadium
From tacos and tequila to lagers and lobsters, here's where to get your fill before hitting the stadium.
No longer fit to be disregarded as Dallas and Fort Worth's little sister, Arlington has had quite the glow up in recent years. In particular, the area surrounding the hulking AT&T Stadium has blossomed into a sprawling network of entertainment options, from quality dining and posh speakeasy-style cocktail dens to tailgate-ready beer gardens, and tropical hideaways—all conveniently located just a few minutes away from the home of the Cowboys (not to mention the Rangers, the convention center, and more than a few star-studded mega-concerts).
Whether you're gearing up to catch a ballgame, planning out your bucket list NFL trip, or popping in to see some of the biggest acts in the world hit the stage (we're looking at you, Taylor Swift), here's everywhere to eat, drink, and party in Arlington, Texas.
Bask in the sunny views of AT&T Stadium's lush, green grounds while downing craft cocktails at this breezy outdoor bar connected to the District, Live! By Loews Hotel. Towering marble columns, splashy water features, and cozy sunken seating add to the dramatic panorama, especially at night, when the stadium illuminates like a giant glowing orb in the near-distance. Menu-wise, shareable bites keep things light while spicy margaritas, crowd-pleasing punches, and frosty frosé fuel the pre- or post-event festivities.
Gear up with some tasty Tex-Mex at this buzzy counter-serve offering from the gut-busting team behind local gem Grease Monkey Burger Shop. Fillings run the gamut from tender, straight-forward barbacoa and smoky shrimp to the Urban Union addition's boundary-pushing signature, chicken-bacon-mac-and-cheese, plus a host of appetizers, drinks, bowls, beer, wine, and cocktails. The best part? This joint stays open late—till midnight on the weekends and 11 pm during the week—and the complex also provides a shuttle service to the stadium so you can make good use of their ample tequila selection.
Also at Urban Union, you'll find this group-friendly gastropub peddling more than 30 craft beers alongside cheffed-up comforts throughout its gorgeous open-air patio. For food, expect poutine, Korean barbecue burgers, Thai-style salmon, and more. And if nothing gets you in the mood for live entertainment quite like an extra dose of live entertainment, you're in luck—the Tipsy Oak hosts bands every Thursday through Saturday nights.
Arlington's very first locally owned and operated brewery is making its home city proud with a roster of easy-drinking blonde ales and ambers, smooth wheat beers, citrusy IPAs, robust stouts and porters, and quirky, fruit-inflected sour beers. Kick back with a pint and revel in the colorful, DIY atmosphere while taking in a quick live music set or a rousing round of pub trivia before making your way down to the stadium.
Started as a catering service, this tiny mom-and-pop shop packs a huge punch into its limited-seating Urban Union cafe. The daily lineup changes constantly, with nods to seasonality coursing through each dish, but their famous charcuterie boards are always up for grabs. If you're lucky enough to snag a table inside, prepare for home-cooked eats followed by indulgent desserts—don't worry, you'll dance it all off later at the show.
Stepping into 4 Kahunas is like walking into a dimly lit dream, one where festive porcelain glasses are set ablaze with bursts of orange fire, endless curios line the walls, and the laid-back, tropical vibes permeate every square-inch of the space. Opened by four friends back in 2018, don't be fooled by the playful decor—this spot is serious when it comes to the drinks. The tiki classics (Mai Tais, Zombies) are all accounted for, while the original creations provide a perfect platform for the talented barkeeps to strut their stuff. Don't miss the Cobra's Fang, an intoxicating blend of overproof rum, absinthe, lime, passion fruit, orange, falernum, and bitters, or the tequila-based Suffering Siren, which introduces a little Texas twang to the island oasis
Sneak into this newly opened covert cocktail bar and you'll be rewarded with an evening full of top-notch drinks, opulent surf-and-turf favorites, and live piano tunes. Consider it the anti-tailgate, a loungey take on the modern speakeasy complete with plush booths and a Gatsby-inspired aesthetic that transports you to a different era, eons away from the tech-savvy stadium lurking just outside. Leave the keg beer and hot dogs behind and instead opt for butter-roasted Maine lobster accompanied by the aptly named Fitzgerald (Citadelle gin, lemon juice, rich simple syrup, aromatic bitters, dehydrated lemon garnish).
Nothing soothes the post-late night partying soul like a gargantuan brunch spread, and Cut & Bourbon inside Live! By Loews Arlington has your back with enough sweet and savory favorites to satisfy the entire concert crew no matter how deep you've rolled. Load up on pancakes, waffles, fresh fruit, and pastries or help yourself to heaping platters of farm-fresh eggs and overstuffed breakfast burritos while downing your weight in fizzy mimosas. Or coffee, you do you.
Texas legend Revolver has officially set up shop at Texas Live!, bringing along with it a healthy showing of their award-winning beers as well as a small-batch experimental brewery cranking out never-before-tasted originals for your pre-gaming pleasure. The handsome tasting room opens onto an inviting beer garden, the perfect place to post up with a pitcher and soak up the rays before the big game.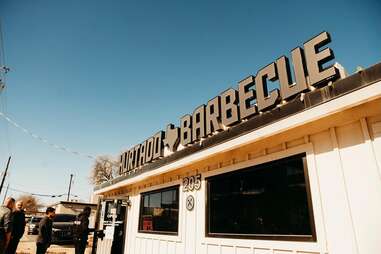 This family-run DFW darling's first brick-and-mortar space is still killing the game with a solid bill of critically acclaimed brisket, brisket, and more brisket—plus juicy spare ribs, house-made sausage, pulled pork, bacon burnt ends, hatch chile mac and cheese, and tater tot casserole. Order up a spread, polish it off with some whipped banana pudding, and you'll be in good shape for a three-hour ballgame no matter how far from the concession stands your seats may be.
Meredith Heil is the Editorial Director of Thrillist Travel. She's originally from St. Louis, now lives in Washington, DC, and in between has visited all 50 states plus dozens of countries. Rejoining Thrillist in 2021 after several years of freelancing, she earned an MA in Social Documentation from UC Santa Cruz and previously served as a content editor at Google as well as a staff writer for Thrillist's Food & Drink team. Her work has been featured in The New York Times, Wine Enthusiast, Eater, Food & Wine, Bon Appétit, PUNCH, and Condé Nast Traveler, among other publications. She loves all things cocktails, crosswords, and women's soccer. Follow along with @mereditto.